2101 - 838 W HASTINGS STREET FEATURED ON URBAN YVR
"ULTRA MODERN SUITE AT JAMESON HOUSE GOES ON THE MARKET"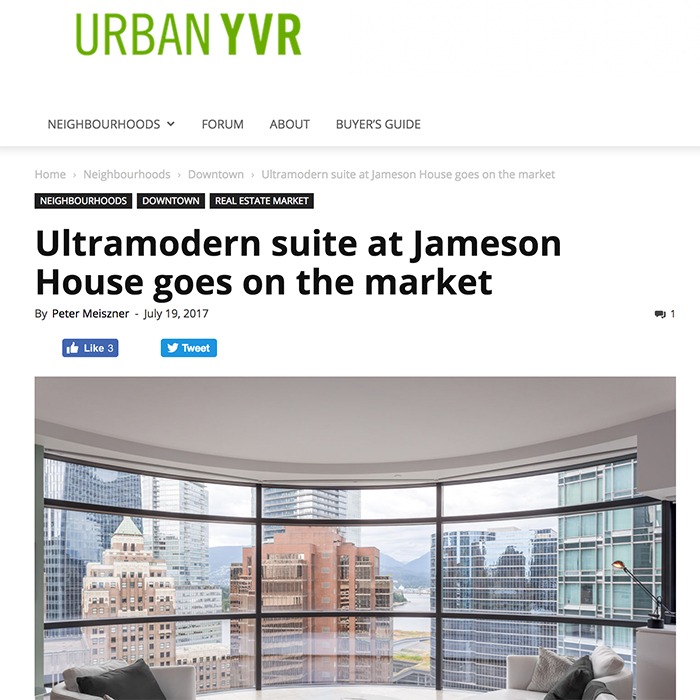 Quoted From the article:
Internationally-renowned architect Foster + Partners
Jameson House was the first high-rise building in Vancouver to bring on an internationally-acclaimed architect from outside the country, Foster + Partners of the UK. The firm is world-renowned for forward thinking design and futuristic type buildings.
They are famous within the design community for many international projects including the Hearst Tower in New York and the Millennium Bridge in London, England, a pedestrian bridge crossing the Thames River. The building was completed by Vancouver-based developer Bosa Properties.
Architectural masterpiece
The 36-storey building is ultramodern, with many hidden vents, floating walls, seamless flooring, integrated ambient lighting, hidden light switches, and luxurious materials such as Travertine and stainless steel used throughout the development. There are also sliding entry doors to lobby spaces, and curved living areas in the most desirable units.
The author gives a great feel for the uniquess of the building, and how speical suite 2101 is. See the full story below:
More information about Jameson House.