March 3, 2010
---
Vancouver Condo and Loft Market Update
The end of 2009 finished with plenty of activity and recovered prices from early 2009. This high-level of activity and price gains have continued into the early portion of 2010. In January 2010 there were 152% more sales than in January 2009 in all of Greater Vancouver. The first half of 2009 was primarily dominated by first-time buyers who were attracted to low interest rates and prices down from the peak in late 2007. The second half of 2009 proved more sales in the $500,000 - $1,000,000 range compared to the year before.
From February 2009 Vancouver condo and loft sale prices have increased 19.7% on the Vancouver Westside and 15.3% on the Vancouver Eastside. Certain segments of the Vancouver condominium market have now surpassed peak prices as seen in 2007.
Demand remains strong in all price levels, as activity has been high with limited inventory. The Olympics have just passed, and there are already signs of above-average inventory coming onto the market. The Vancouver Westside market has become very challenging for purchasers as we have been in a sellers market since Summer 2009, so increased inventory could become beneficial by finally offering people good options to choose from, and to level off the aggressive price gains seen over the past year.
Mortgage qualifications have been slightly tightened, as buyers will now have to qualify on five-year fixed rate instead of the previous three-year fixed rate (five-year fixed rates are slightly higher), this has a small effect on most buyers purchasing power, but is a positive sign to keep our market stable. This will also ensure first-time buyers are staying within their limits and further avoid risk seen with interest rate increases.
Pricing Chart for Great Vancouver - 10 Year Trend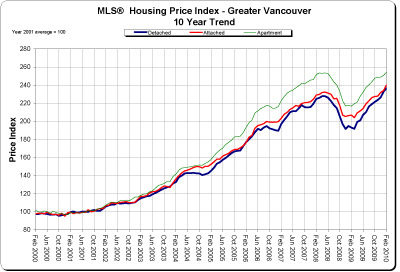 Graph from Real Estate Board of Great Vancouver Feb 2010 Market Update. Email [email protected] for full pdf copy.

Written by Paul Albrighton March 2010
---