Top 20 Buildings in Vancouver
TOP 20 MODERN BUILDINGS IN VANCOUVER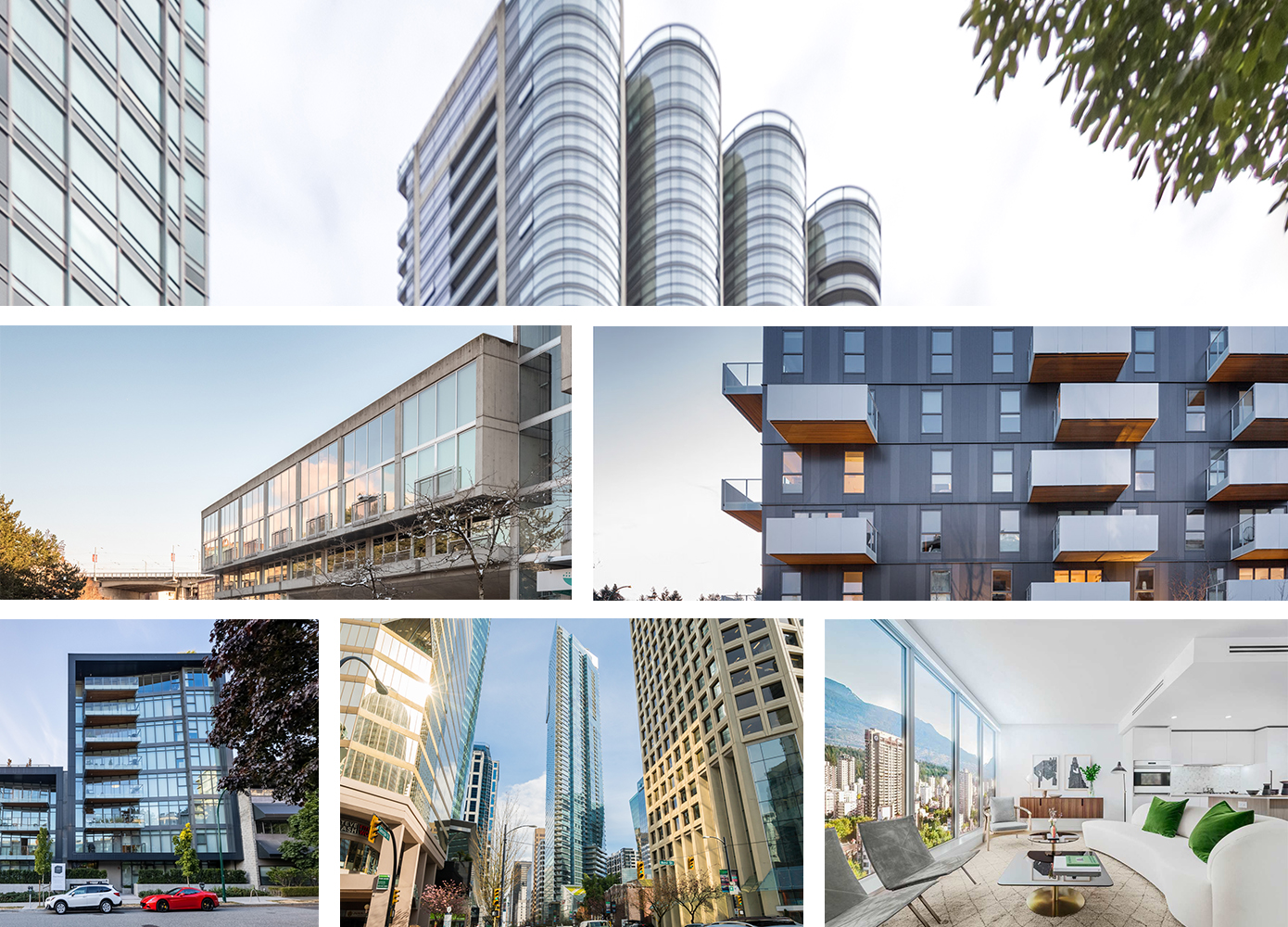 As the modern-architecture-movement is moving well in Vancouver with more statement type buildings being added to our skyline, we often get asked "what are the best modern buildings in the City?" Its hard to choose the top 5, 10 or even 20 "best" buildings in Vancouver, but we have prepared a list of our top discussed and popular buildings requested by our clients, landed on from search pages and that drive the most web traffic to our website. Enjoy the photos, videos, links and info below. As always, reach out if you have specific questions. We are personally passionate about good design and high quality developments, below is a sample of our local knowledge and focus:
1. JAMESON HOUSE - 838 W HASTINGS STREET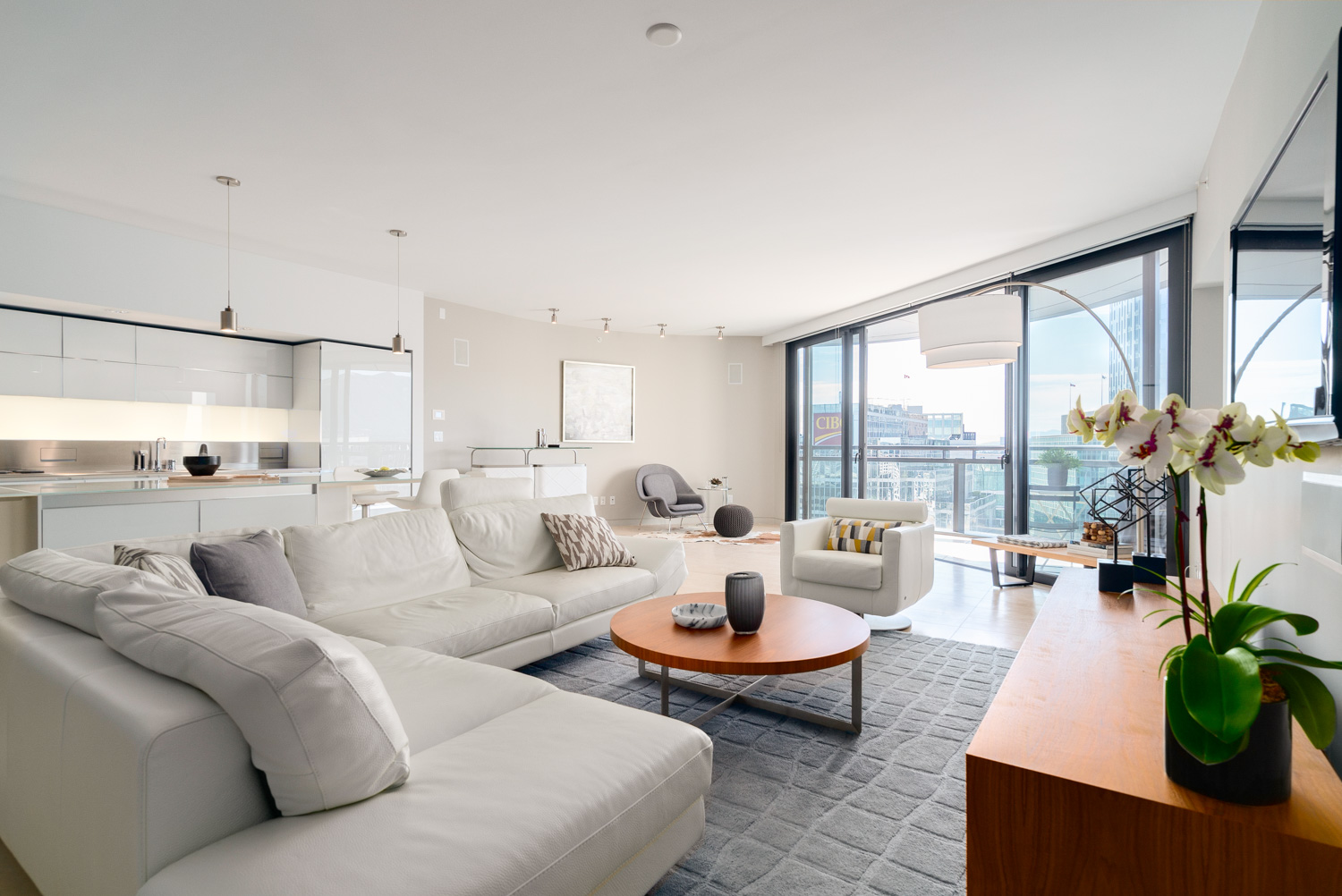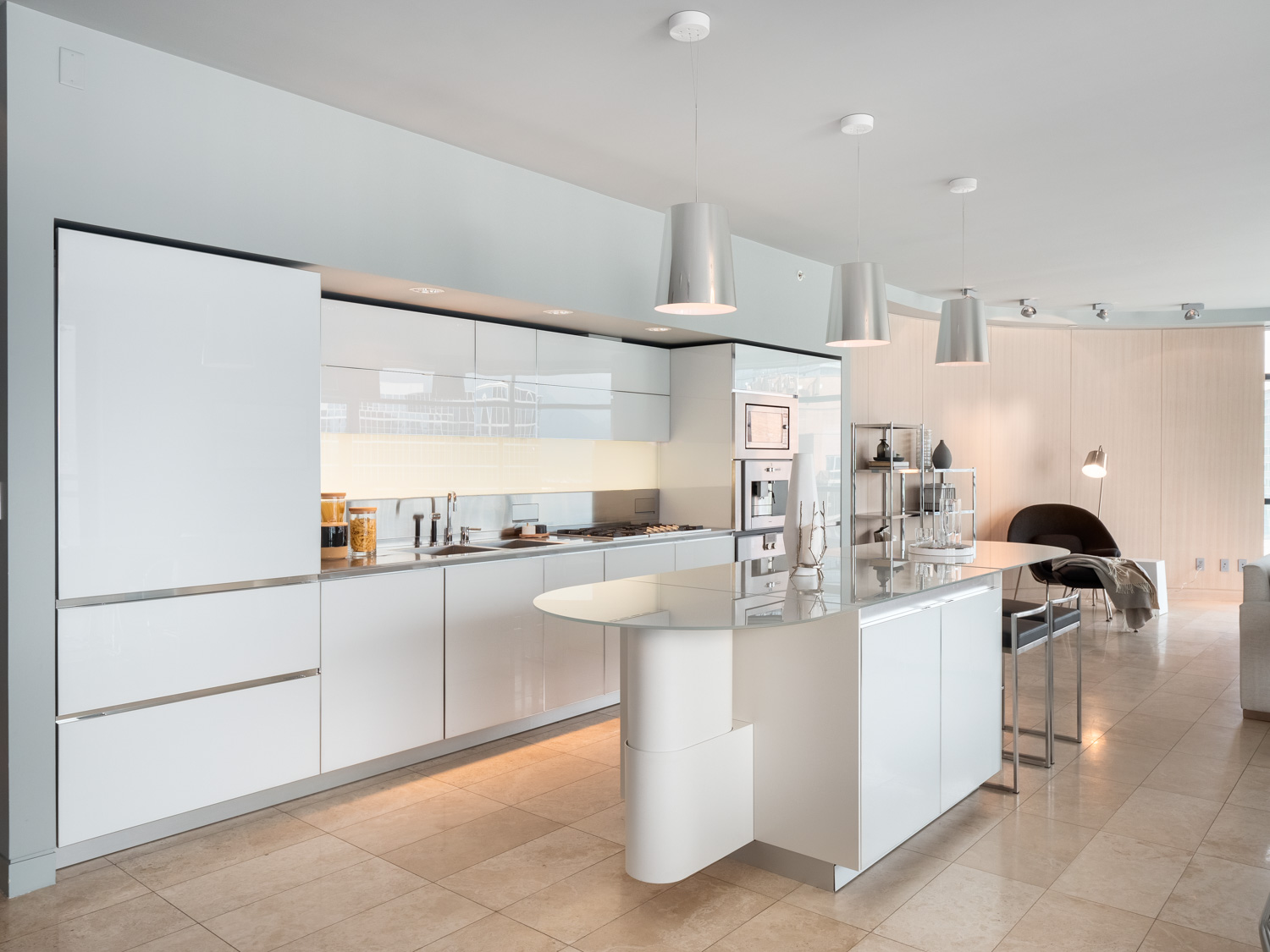 This building has been noted as a "starchitect" building, and recognized across North America as a leader in futuristic design, and a leader in Vancouver for landmark newer buildings. Located in the heart and CBD of Downtown Vancouver, where there is action by day, but quietness at night Jameson House was completed in 2011, its known as a boutique residence modernist tower in Vancouver. This a curved beautiful 36 storey structure was designed by Foster and Partners, and developed by Bosa Properties, who achieved perfectly smooth curved exterior concrete. Its also home to Bosa Properties main office space. The first 12 floors are for commercial use, and the top 15-36 are modern and chic, 138 residences. It features unique design with focuses on: green living & construction, functional seamless detailing, luxurious finishings, and cutting edge technology. The interiors are fitted with European fixtures, appliances, and unique design elements. The floors are radiant heated and cooled, and finished in Travertine Marble, with exact tile lines, matching cabinet and door way lines. The flooring is a true work of art. The suites feature beautiful Dada Italian kitchens which are equipped with high-end Gaggeneu and Sub-Zero appliances. The attention to detail and design will impress a discerning buyer. More info.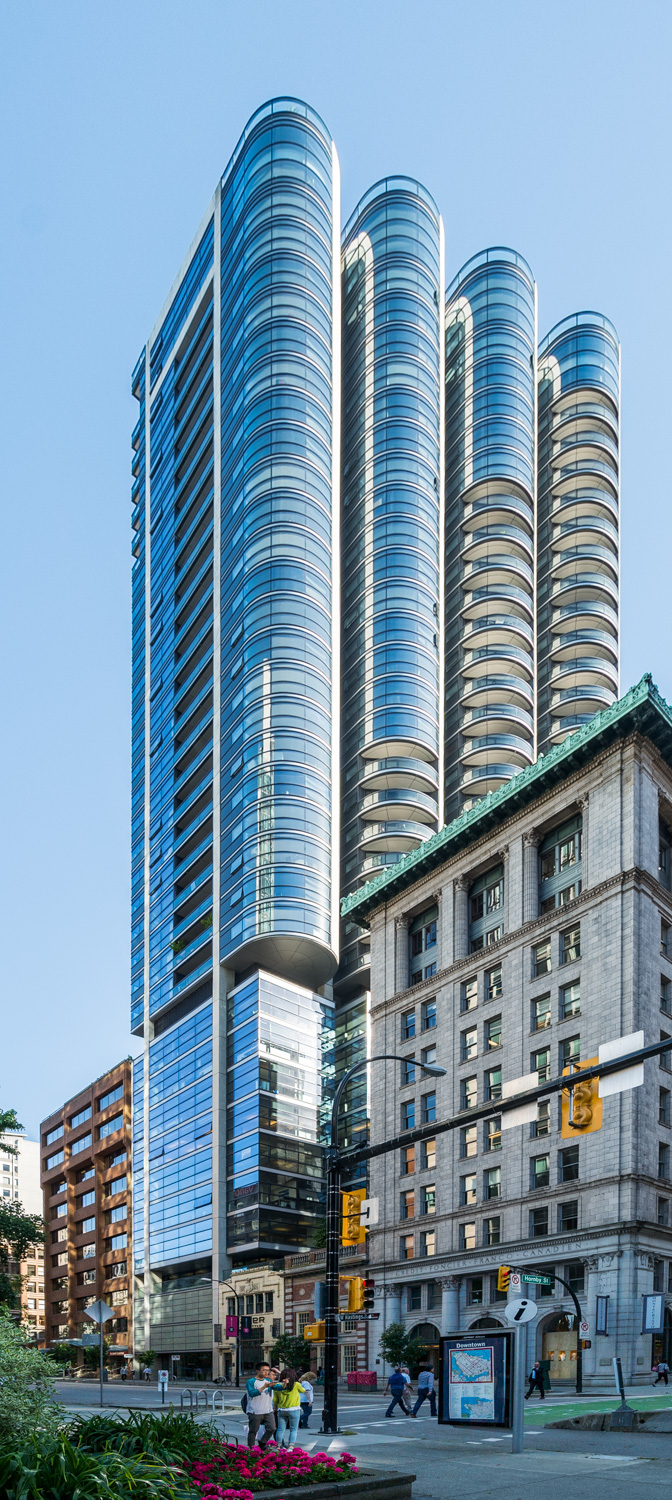 Paul's Past Building Sales:
Sold by Albrighton, #2202 - 838 W Hasatings Street
Sold by Albrighton, #2301 - 838 W Hastings Street
Sold by Albrighton, #2002 - 838 W Hastings Street
Sold by Albrighton: 2101 - 838 W Hastings Street (2017)
Sold by Albrighton: #2706 - 838 W Hastings Street
Sold by Albrighton: #2101 - 838 W Hastings Street
2. VANCOUVER HOUSE - 1480 HOWE STREET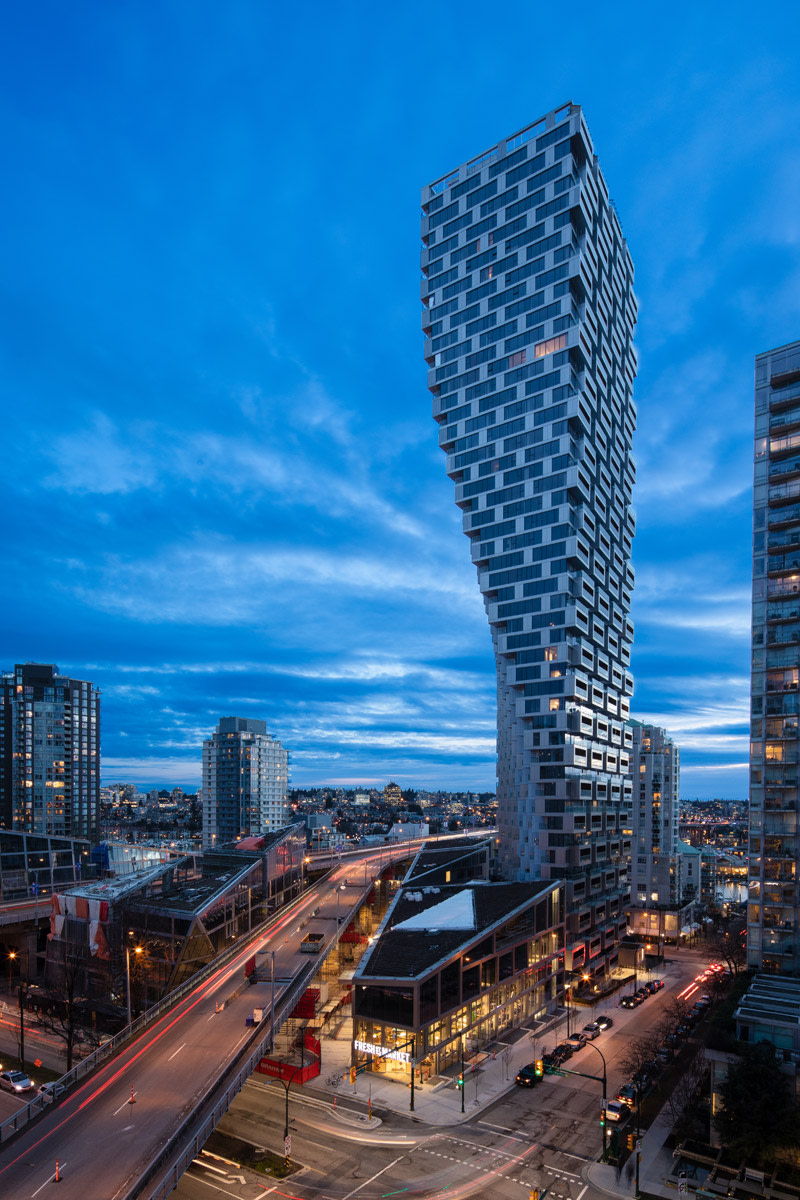 Vancouver most dramatic and latest exciting building to the Skyline. Designed by World Class Bjarke Ingles (BIG) is a curving and expanding-in-size, twisitng 59 Storey eye catching tower. Vancouver House was completed in 2019, and from the moment the project was announced in 2012 it became an internationally recognized architectural statement, and received international recognition right away. The building has been noted as a landmark address for Vancouver BC, and has inspired many other modern developments across the city to engage in more futuristic innovation designs, and bring on an internationally known architect into their project. Vancouver House has been featured by: Dezeen, Architectural Digest, Vancouver Sun, Archy Daily, and many more. Vancouver House is unique modern structure. Inside the homes are stylishly finished in light or dark themed kitchens by Boffi with optional Copper backsplash, Corian counters, Miele appliances and one-off architect designed BIG fixtures and faucets. The estates have custom twisting scultptural islands also designed by the main architect. Dialog design was the local architecture firm involved. It was developed by the major local developer, Westbank. This building is home to a local marketplace, the Yaletown seawall connecting to the West End, English Bay, and Stanley Park. Have a look at the current listings for sale at Vancouver House on this link.

3. WEST PENDER PLACE - 1499 W PENDER STREET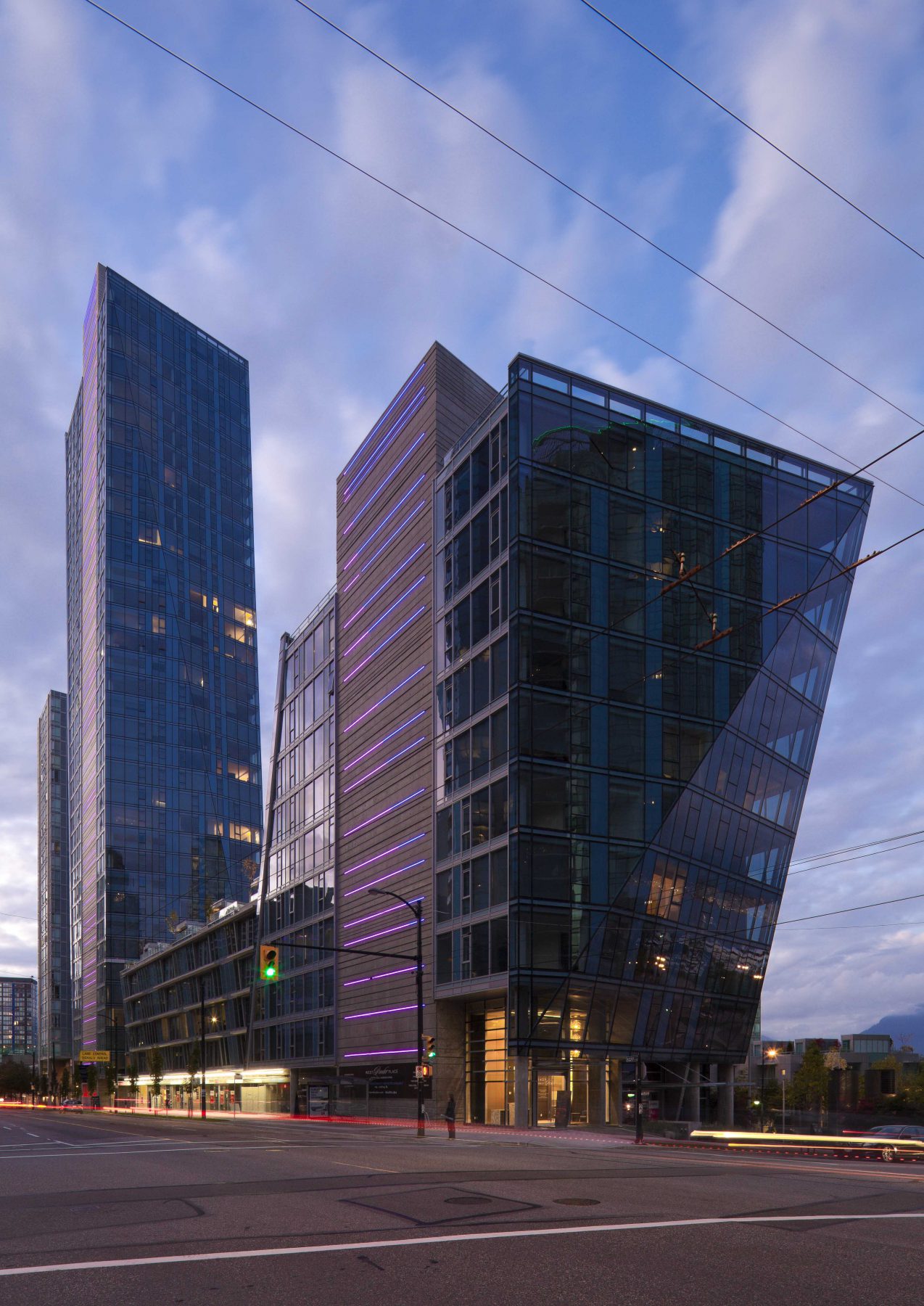 Also 1409 W Pender St & 1477 W Pender Street
West Pender Place is another sleek architectural modernist high-rise development in Coal Harbour developed by Reliance Properties, designed by IBI Group, with interiors by Alda Pereira. It was the recipient of the 2012 UDI Award of Excellence. It stands out for its dramatic exterior slightly twisting exterior styling and extensive use of sleek curves and floor to ceilings glass, along with programmable shifting LED lighting on the exterior making for an artistic and recognizable display, seen throughout the city and Waterfront of Vancouver. The Italian modern inspired interiors are finished with fine grade Italian fixtures and wide plank, white washed brushed oak floors. The solid quality modern Italian kitchens are from Dada Cucine and are finished with Gaggenau appliances and stone top surfaces. West Pender Place was the first development in Vancouver to use Gaggenau appliances, which are now the top choice for luxury condos and homes in Vancouver. The exterior is finished with high-efficiency blue glass glazing, ample rooftop green-scaping contribute to a highly functional energy-efficient building. The location is in the heart of Coal Harbour right by the seawall, Stanley Park and marina. Also a short distance from the Vibrant Robson Street, where high-end shops and great eateries can be easily walked to. This is a true example of timeless luxury design, with high quality construction. There are three addresses at West Pender Place, 1499 W Pender St is the high rise portion of the West Pender Place development, 1409 is the 7 storey second tower with larger suites, and 1477 W Pender St is the connecting podium which are home to live/work suites. West Pender Place Condos Sold by Paul:
#502 - 1499 W Pender St. & #407 - 1477 W Pender St.

See the current listings on sale, more photos and our past sales on this page:
4. SHANGRI-LA - 1111 ALBERNI ST & 1128 W GEORGIA ST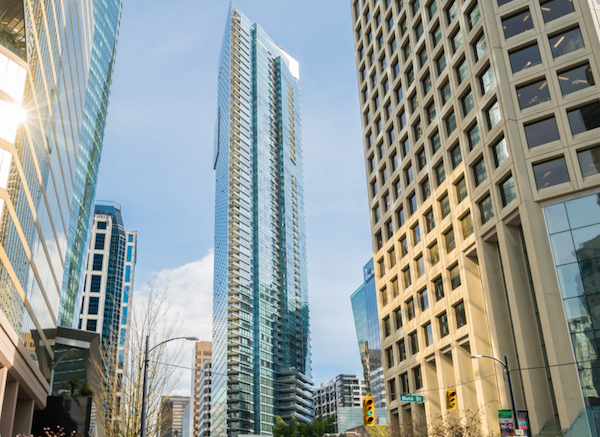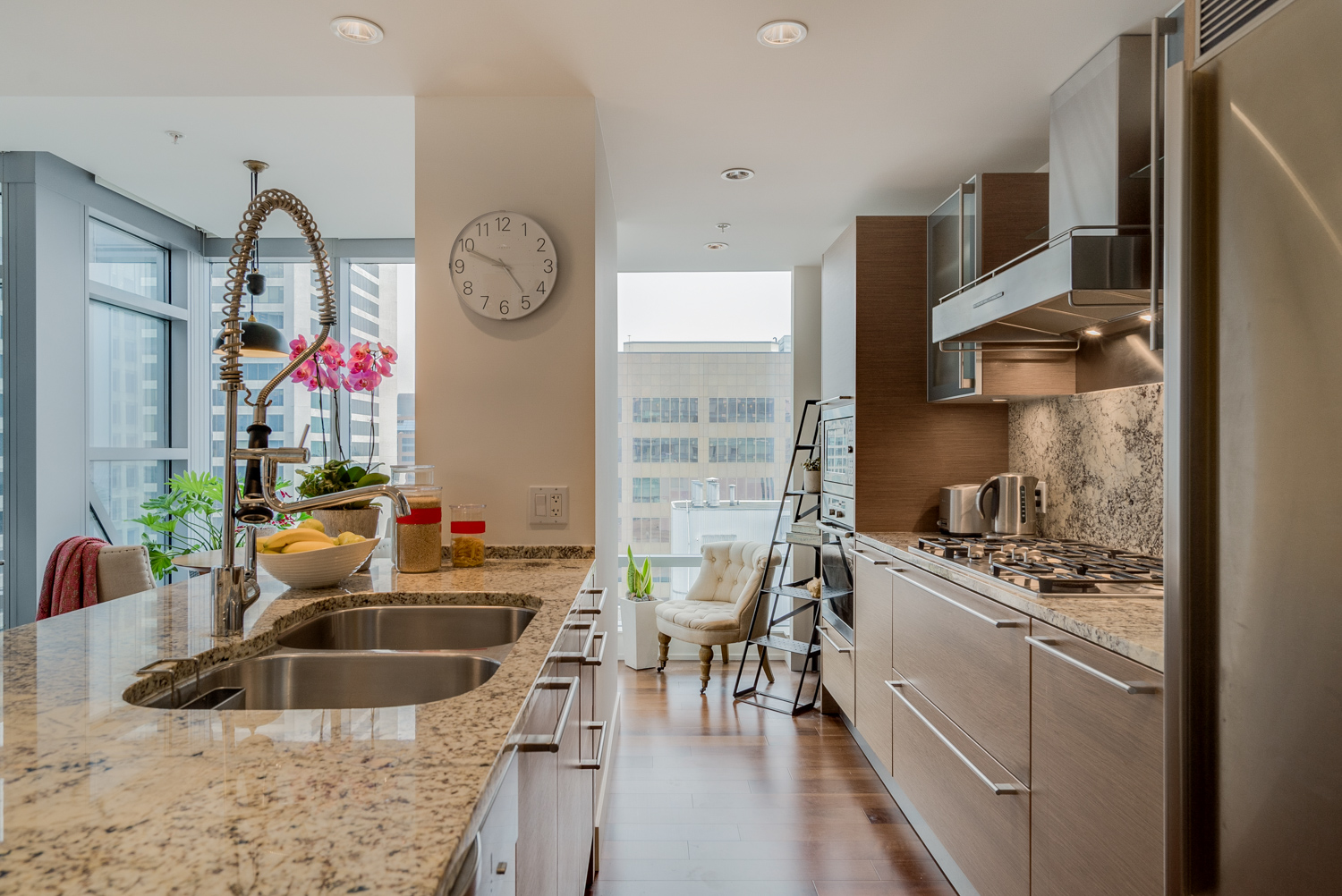 Shangri-la is one of Downtown most popular high-rise condominiums, and given the attachment to the world-class Shangri-la hotel, its often a first destination for new comers to Downtown Vancouver, and people with ties to other major Metropolis cities throughout the world. We often meet out of town buyers or new-comers through our Shangri-la dedicated website and continues promotion of this interesting sky scrapper. The first 14 floors are hotel units, the luxury residential units start on the 16th floor - ranging from 595 sq.ft. city one bedroom condos, to large 1600+ sq.ft. luxury homes with spectacular views. Developed by Westbank in 2008. These Shangri-la condos have there own separate modern designed lobby located on Alberni St near the Urban Fair and Starbucks located below on the street level. Located in the centre of Downtown, and connected to a 5-star luxury hotel featuring world-class amenities; fitness centre, outdoor pool and hot tub, Chi Spa, high-service 24 hour concierge, and lounge/restaurants. Luxurious interior design elements include Sub-Zero Fridge, Bosch and Miele appliances, Eggersmann German cabinetry, natural stone counters and engineered wood floors. One large parking stall.Ultimate luxury and centre. For the luxury sky-homes known as the "Estates" feature higher ceilings, Boffi Kitchens, unique wood flooring, higher grade finishes, and their own lobby from the W Georiga Street are located from the 43rd floor to the 62nd floor, and the top floor is home to some amazing Penthouses, some with their own pool. See our Shangri-la webpages and listings currently for sale at: Estates & Luxury Condos.
Past Albrighton Shangri-la Sales:
#2105 - 1111 Alberni - sold (2018)
#2705 - 1111 Alberni - sold (2017)
#4301 - 1111 Alberni - sold
#3303 1111 Alberni St - sold
#2705 - 1111 Alberni St - sold
#3406 1111 Alberni St - sold
5. 8X On The Park - 1111 Richards Street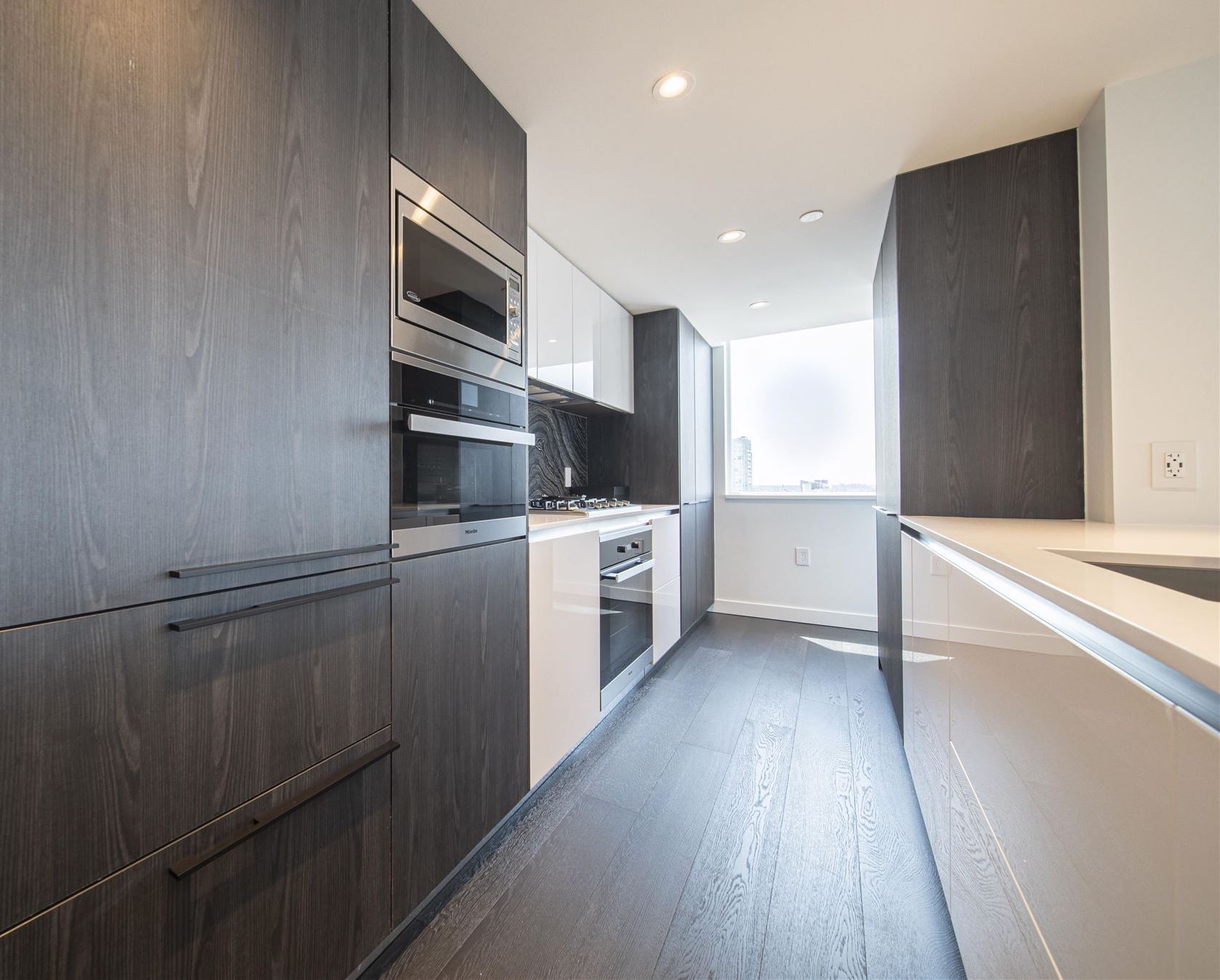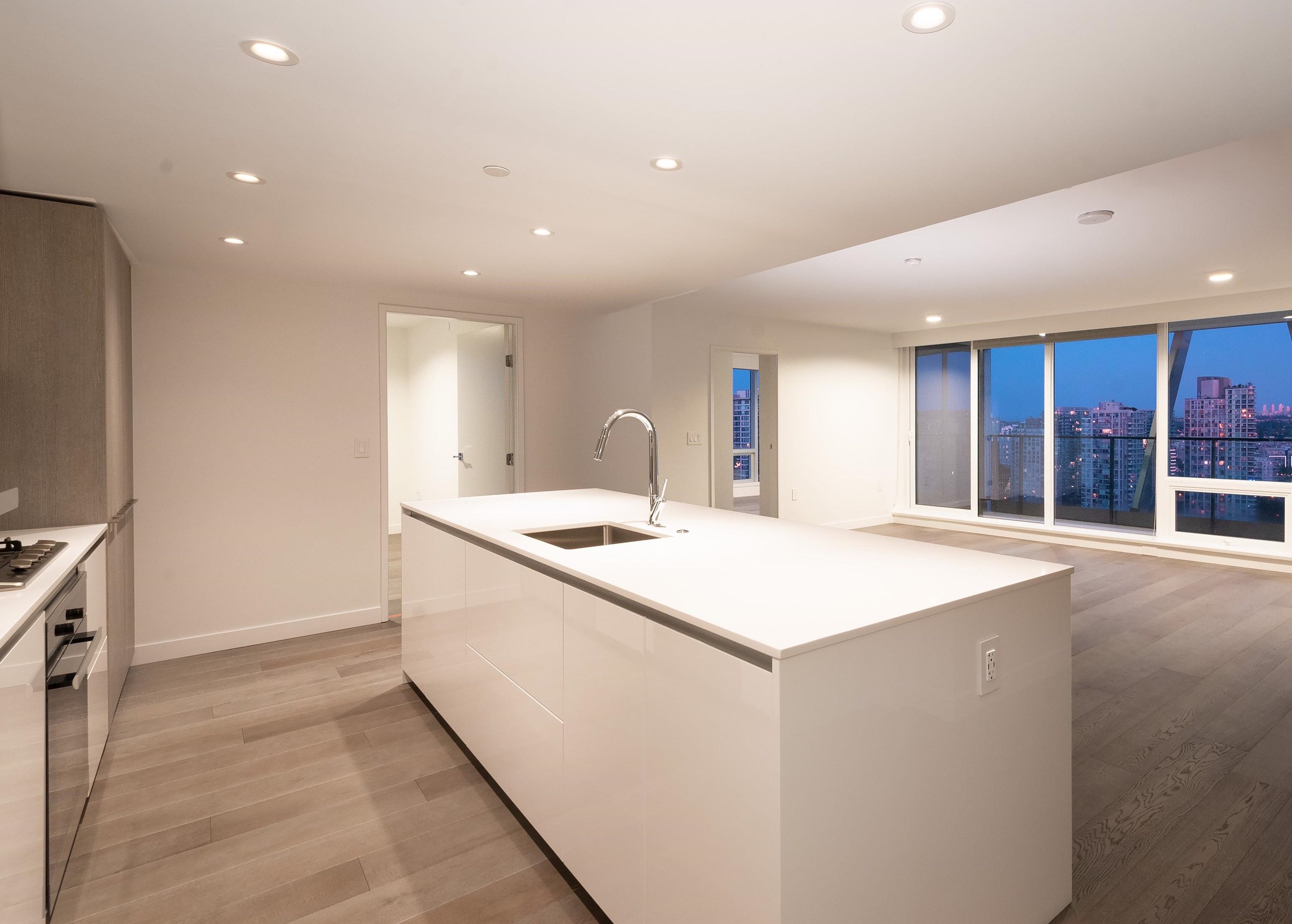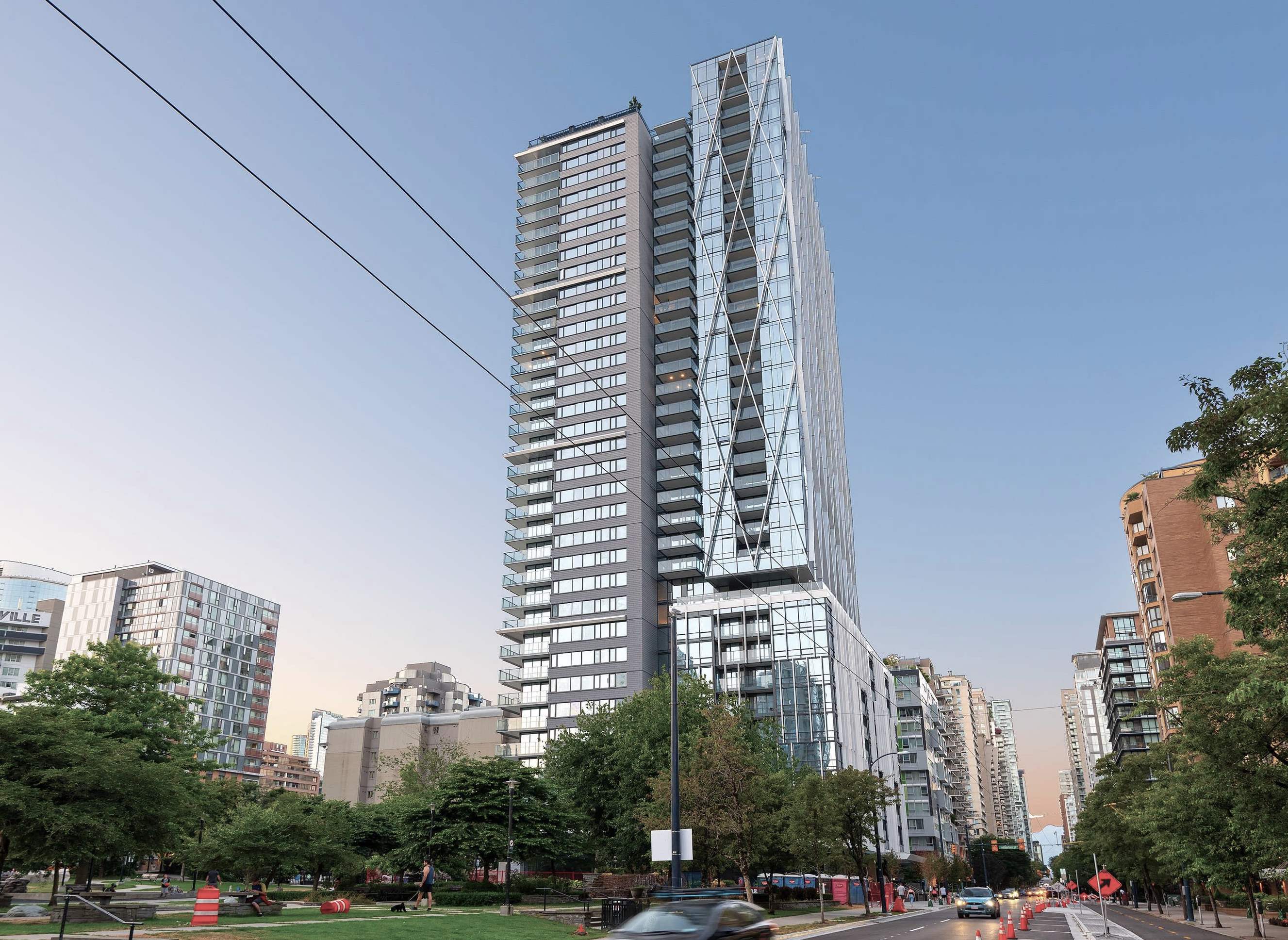 "8X On The Park" is a distinct modern Yaletown luxury boutique high-rise, located adjacent to Emery Barnes Park. Beautiful architectural exterior design with a modern feel continues to the interiors. A 35-storey development with an "8X" pattern on the exterior, and primarily larger homes throughout. The interiors and common areas are wrapped in Italian marble, and fine finishings have been used in each home, including; Italian Kitchens, German Miele appliances, Kentwood oak flooring, marble washrooms with floating vanities, high-end fixtures and clean-lines apparent throughout. The rooftop amenities including a modern-lounge, also wrapped in Marble, functional gym, and a beautiful shared rooftop patio area with a BBQ and separated seating areas, perfect for outdoor entertainment. Created by Brenhill Developments and completed in 2021. More building info and units for sale.

6. PATINA - 1028 BARCLAY STREET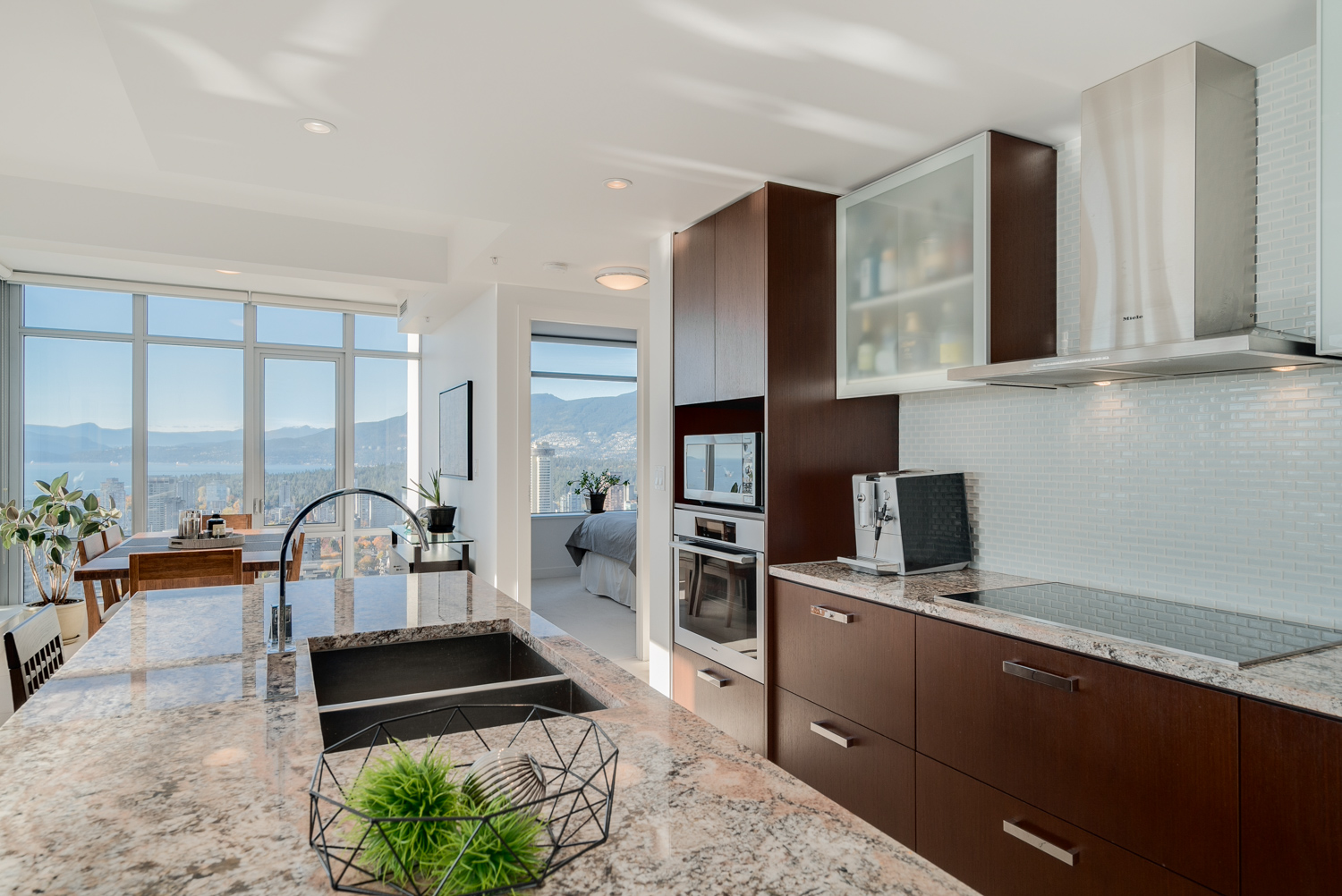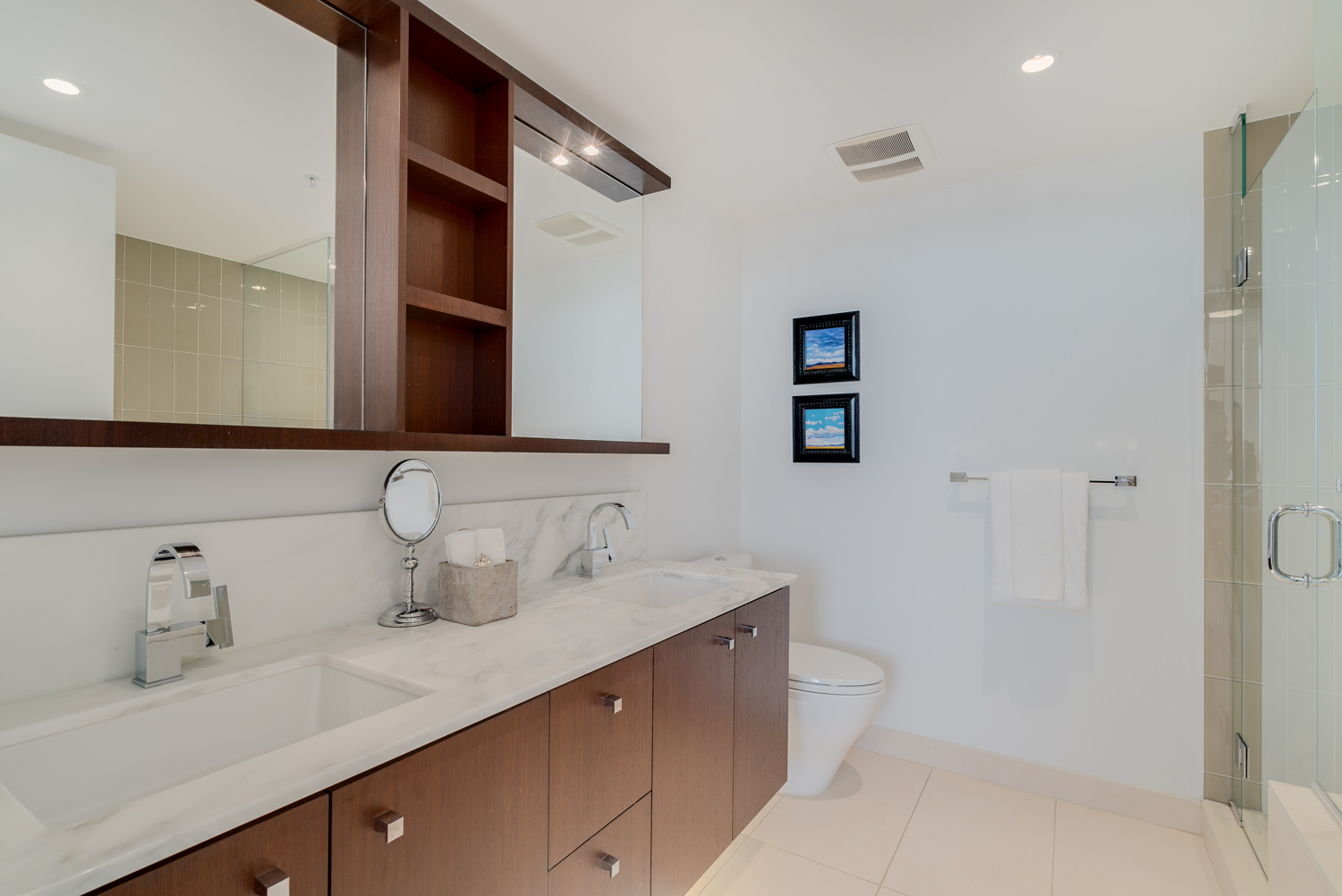 Modern and high quality Downtown development by Concert Properties and designed by Stantec Architecture Ltd in collaboration with Endall Elliot Associates. The condos are home to open concept plans finished with high end fixtures, Miele appliances, expansive stone surfaces with beautiful views of the city, mountains and water. Patina is a well known development for its build quality, attention to design, and for its architectural presences rising over 42 stories. Quality wood kitchens feature seamless wood cabinetry with integrated German Liebherr fridges, Miele Appliances, and under-mounted sinks. The bathrooms have undercounted lighting, high grade tiling, and large soaker tubs. Most units have tile flooring throughout. The building amenities include air conditioning, large gym, two lounge rooms, and a dramatic double height lobby.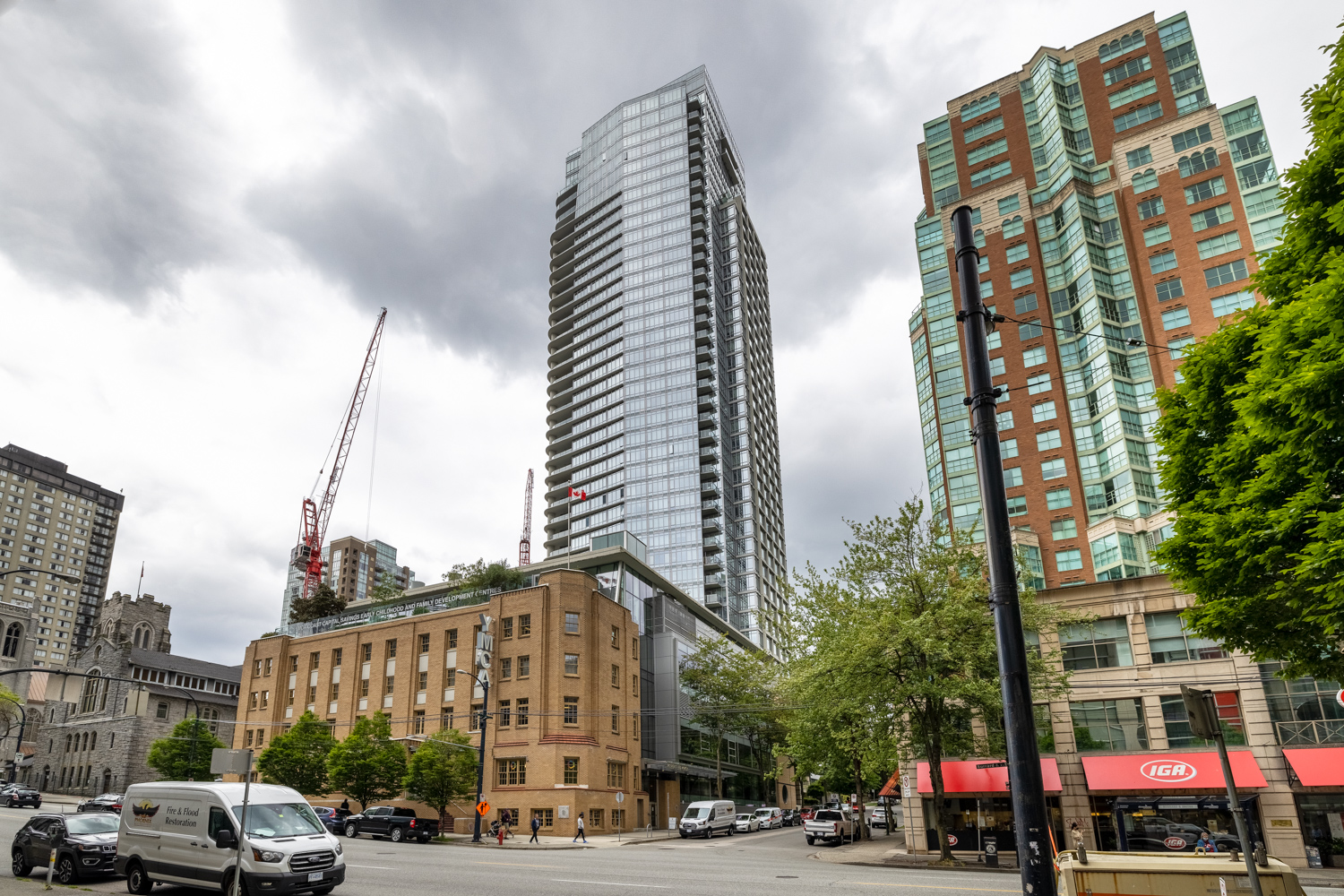 Media Attention:
- Urban YVR "Modern and Sophisticated Gastown Loft at 27 Alexander for sale"
- Tower Trip Magazine "Condo of the Week: 36th Floor Vancouver Pad with Ocean & Mountain Views"
- Decoist "Dreamy Sunsets, Ocean Views, and Urban Luxury: 36th floor Vancouver Condo Has it All"
- Globe and Mail News "Re-listing helps Vancouver condo get two quick offers"
- Decoist "Vancouver Luxury high-rise condo"
Pauls Sold Patina Condos:
#2105 - 1028 Barclay St - Sold (2021)
#1402 - 1028 Barclay St - Sold (2019)
#3603 - 1028 Barclay St - Sold by Paul Albrighton
#2305 - 1028 Barclay St - Sold by Albrighton
#2702 - 1028 Barclay St - Sold by Albrighton
#509 1028 Barclay St - Sold by Albrighton
#2307 1028 Barlcay St - Sold by Albrighton
#1402 - 1028 Barlcay St - Sold by Albrighton
7. WATERFALL BUILDING - 1540 W 2ND AVENUE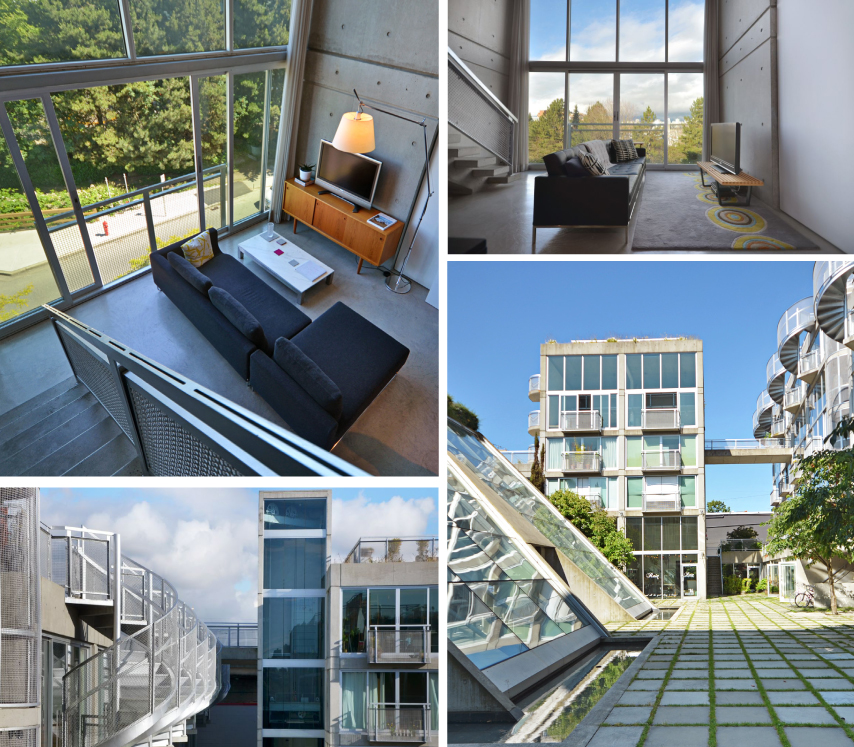 The Waterfall Building is located in False Creek at 1540 West 2nd Avenue. This is an architectural landmark building designed by Arthur Erickson, a world-wide renowned Canadian architect. This building contains commercial and residential live/work spaces and lofts. It was developed by Hillside Developments in 2001, and design by Arthur Erickson and Nick Milkovich. These are amongst the most unique and sought after lofts in Vancouver. This iconic building features plenty of concrete, glass and open style lofts. From legendary design, open courtyards, waterfalls, and top-notch build finish, The Waterfall building is a one-of-a-kind Vancouver live/work loft building. Extra Media Article.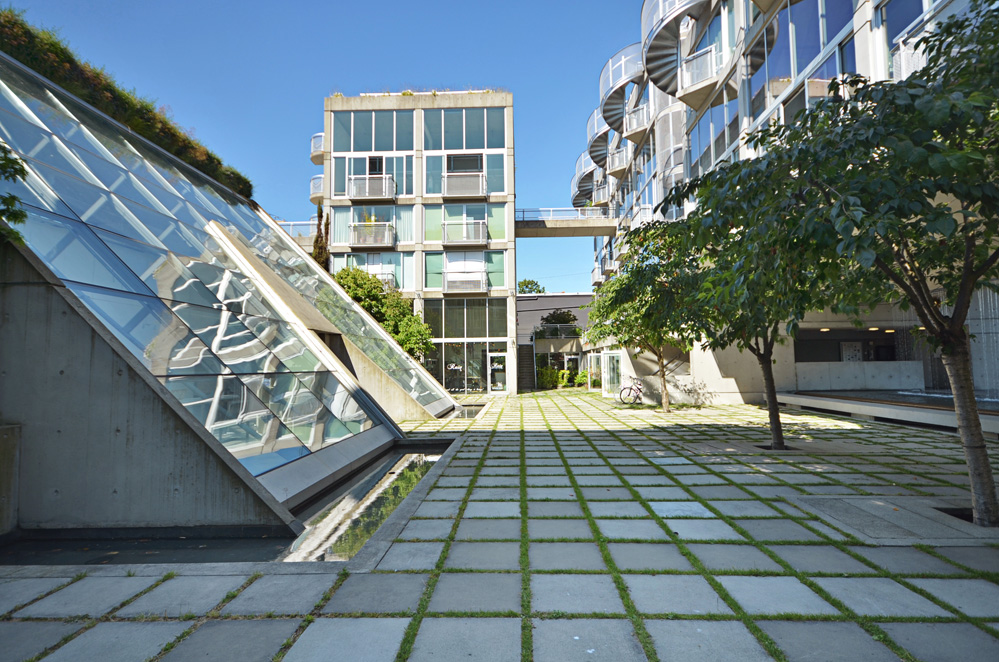 Waterfall Lofts Sold by Albrighton:
#PH610 - 1540 W 2nd Ave sold (2021)
#601 - 1540 W 2nd Ave - sold
#602 1540 W 2nd Ave - sold (2019)
#509 1540 W 2nd Ave - sold
#602 1540 W 2nd Ave - sold
#301 1540 W 2nd Ave - sold
#509 1540 W 2nd Ave - sold
#509 1540 W 2nd Ave - sold
#610/#611 1540 W 2nd Ave - sold
8. ADDITION LIVING - 1133 HORNBY STREET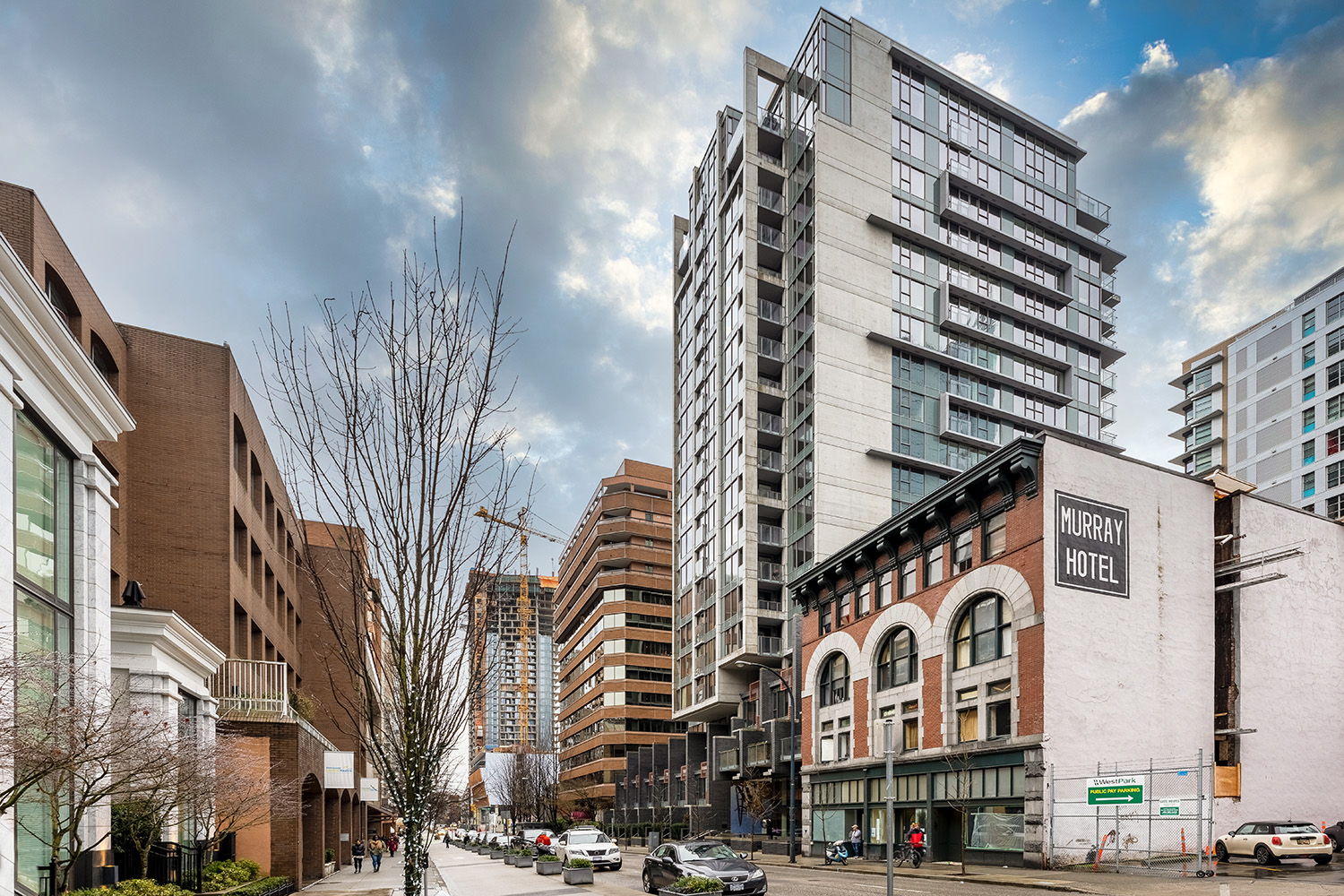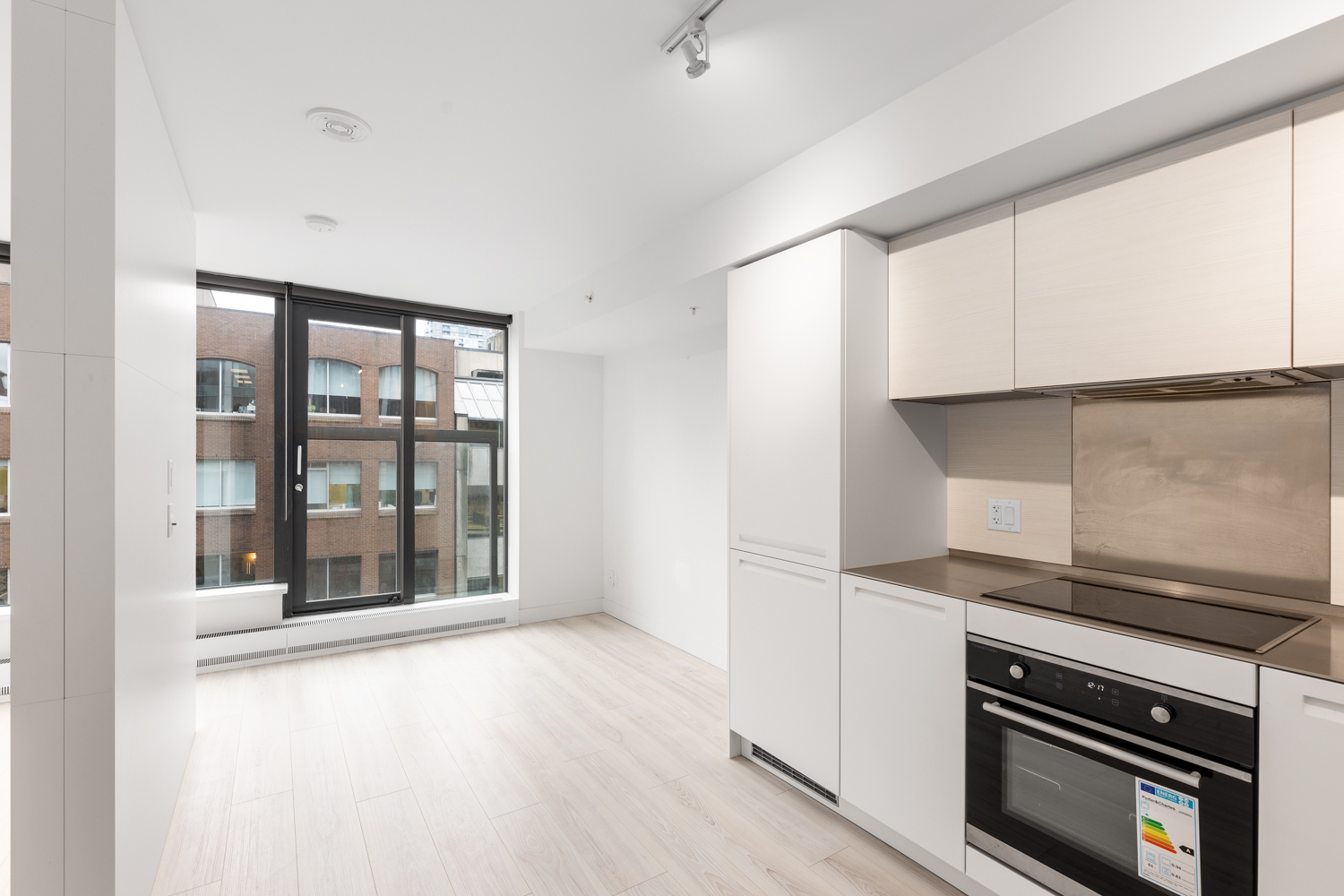 1133 Hornby Street is modern boutique development by Kenstone Properties, and a 20 storey high-rise with condos that have clean-lines, subtle modern design features, and innovative thinking to their layouts. The building features a gym, common patio, and large lobby space. "Addition Living," is located in central Downtown. The interiors have open plan living/dining areas featuring a sleek kitchen with integrated Italian cabinetry and quartz countertops and high quality laminate flooring throughout. Individually metered heating and cooling. Prime location just steps to Vancouver's best restaurants, shops, Skytrain station, and a short stroll to the Seawall. Building has gym & a guest lounge. More building info and untis for sale.

9. 1555 WEST EIGTH - 1555 W 8TH AVENUE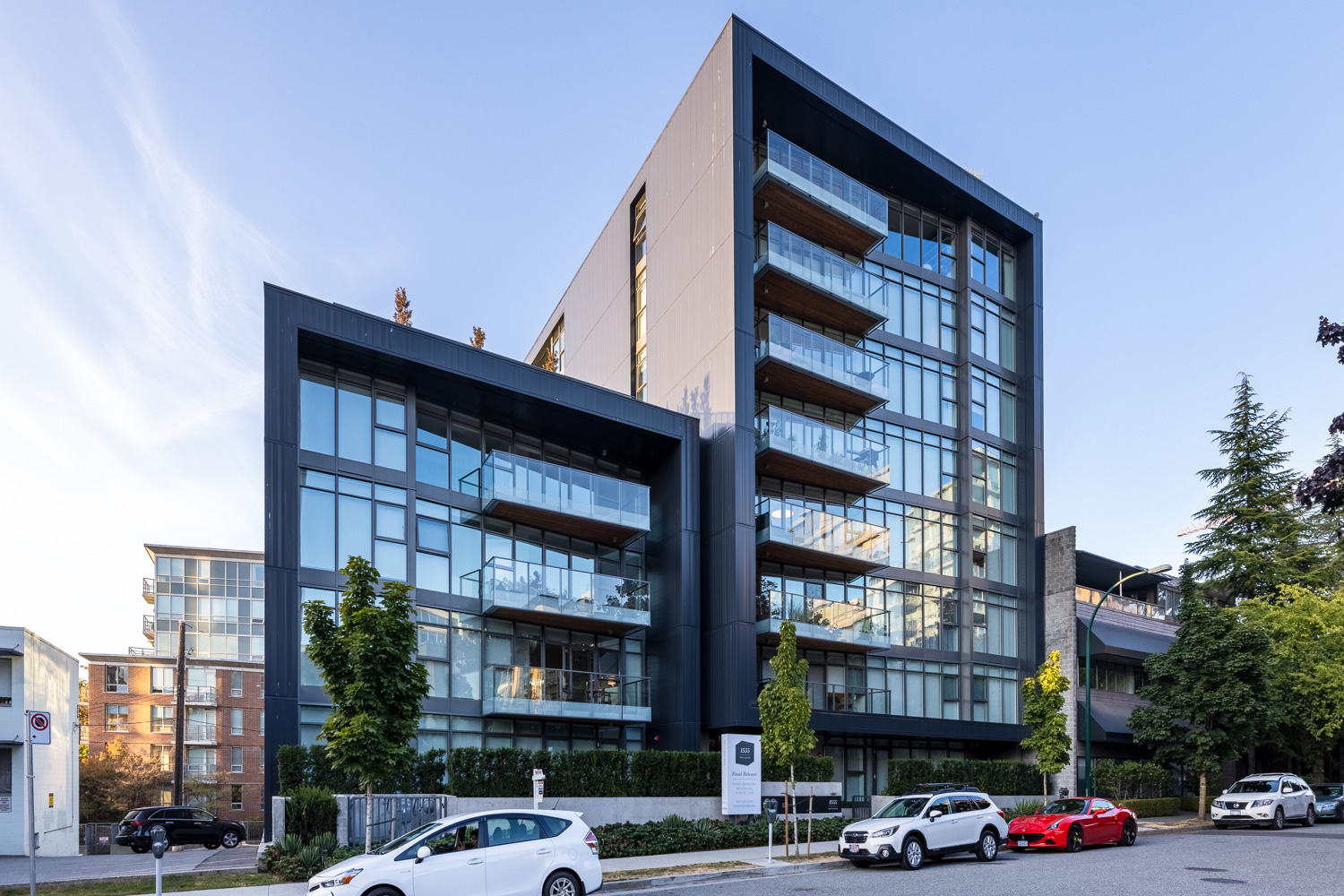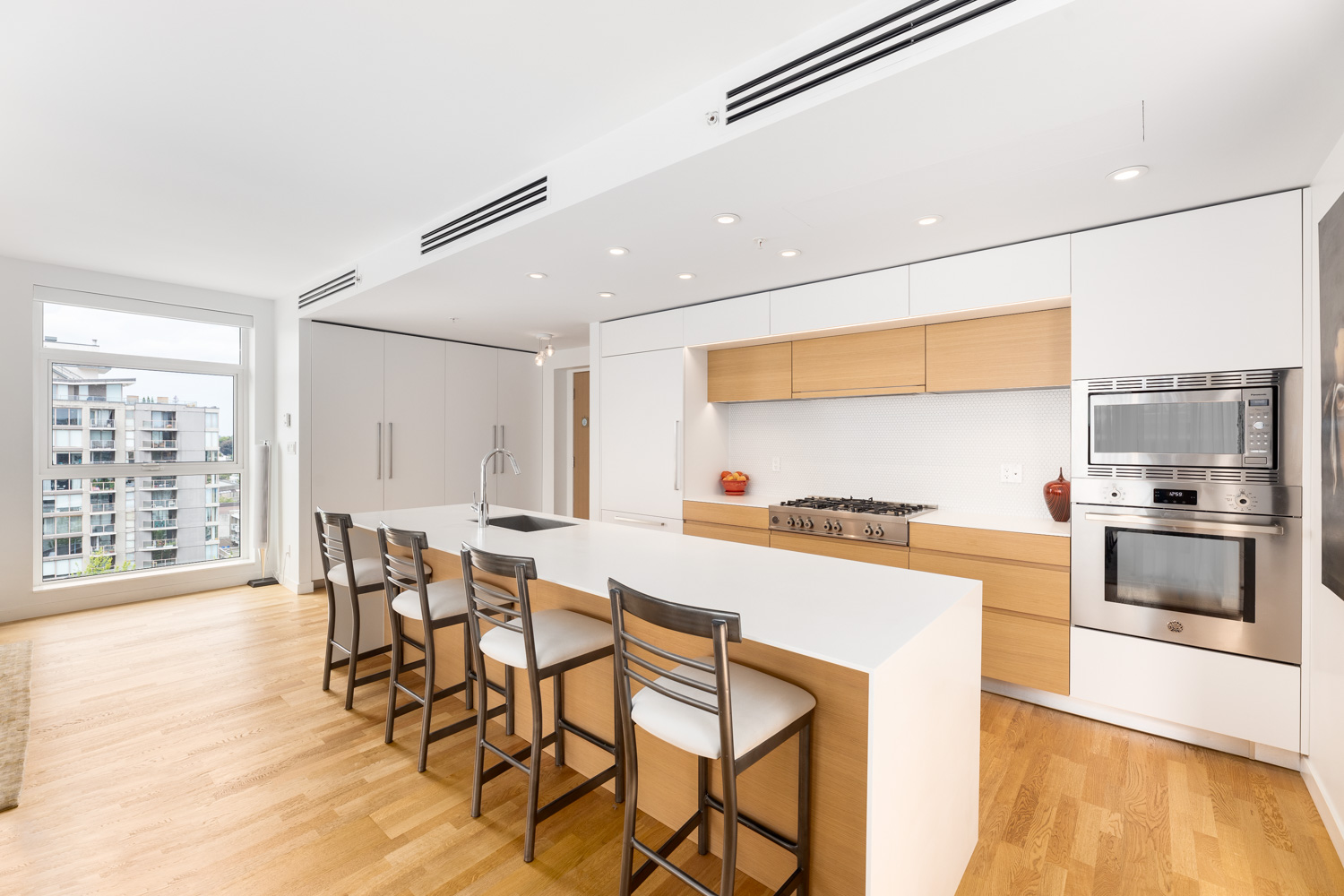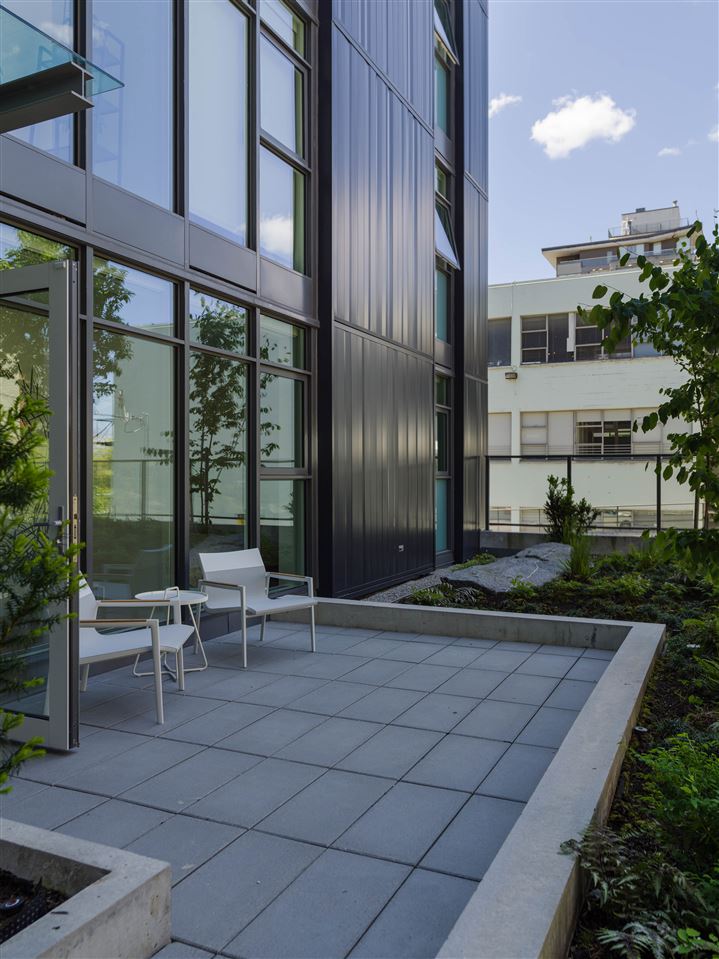 "1555 West Eighth" a boutique collection of 20 modern inspired homes. Chic modern development designed by McFarlane Biggar Architects and developed by quality focused Kenstone Properties. Family sized homes with large dimensions throughout, high ceilings, sizeable bedrooms, separate laundry room, storage/pantry, office, functional living area, and a contemporary made to measure kitchens by Friul Intagli, honed one-piece Corian counters, optimal integrated full sized European appliances with gas cooktop. Muted modern spa-inspired Bathrooms with heated floors. An urban one-of-a-kind home for the design connoisseur. The developer Kenstone Properties also developed 6th + Steel. & Addition Living. Building info link.
Pauls past building sales: 1557 W 8th Ave & PH 901 - 1555 W 8th Ave.
10. ROAR ONE - 4387 W 10TH AVENUE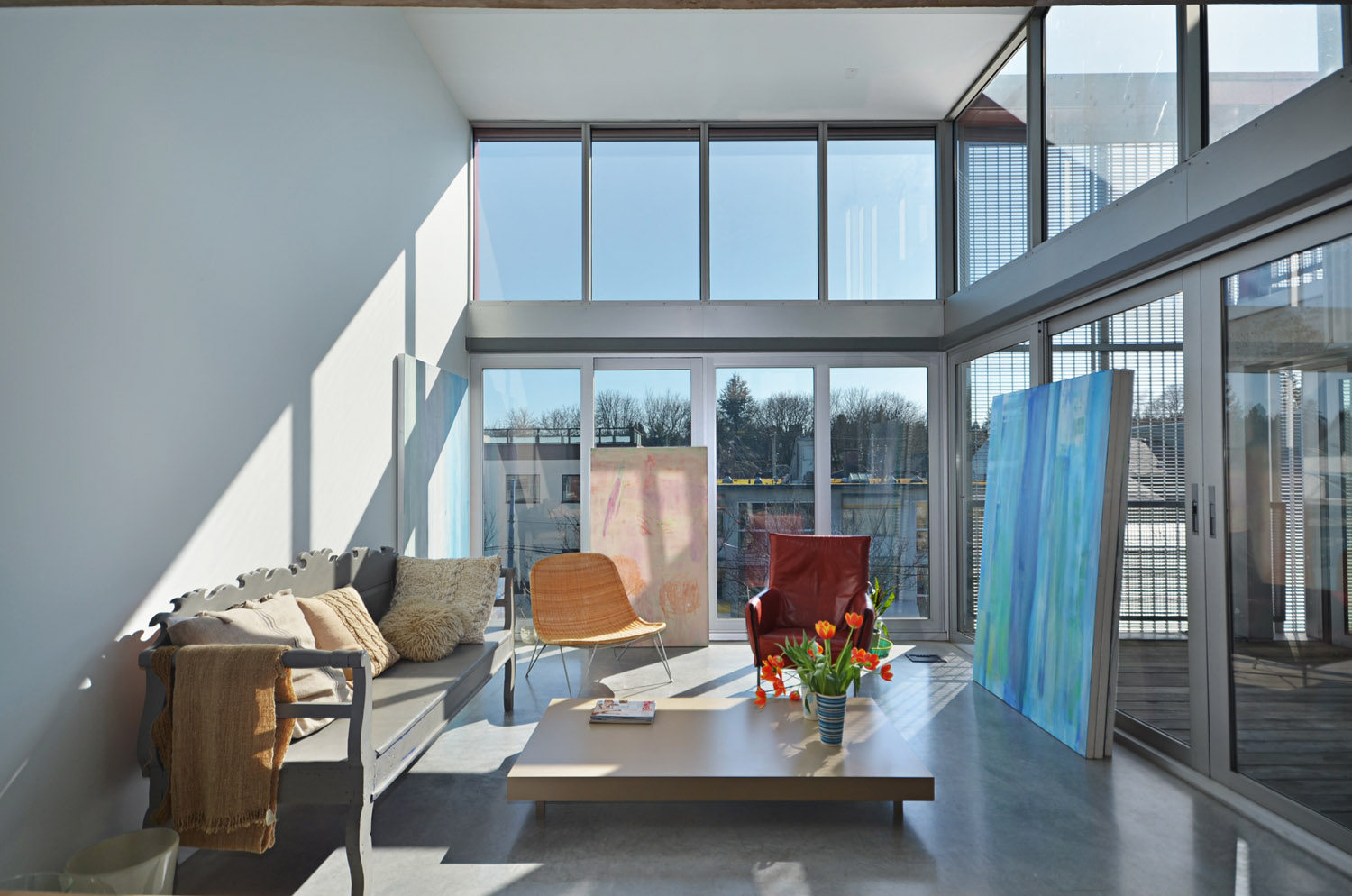 Welcome to Roar One, a distinctive unique Vancouver Loft building. The exceptional detail to design and practicality within this dramatic architectural building is not to be missed. This award winning building features contemporary design within open concept living spaces. Inside you will find European inspired lofts which offer sophisticated design matched with excellent build quality. The interior spaces feature open two level plans with plenty of glass and light. Materials include heated concrete floors, metal and concrete staircases, and minimalist modern touches. The kitchens and bathrooms are equipped with stylish efficient appliances and topped with matching sleek cabinetry and corian countertops. The architect has paid attention to making the outdoor spaces seamless to the interiors with large full length sliding doors and minimal framing. Enjoy the harmonized materials and beautiful attention to detail. This development stands out for its uniqueness and Point Grey location. More building info and photos.
Known Press: Article from Canadian Architect.com, Globe and Mail Article,
Awards: 2006 AIBC Lieutenant Governor's Medal of Excellence, 2005 National Post Design Award, 2008 Governor General's Medals in Architecture
Architects: Lwpac Lang Wilson Practice in Architecture Culture Inc. And Hotson Bakker Boniface Associated Architects.
11. MIRABEL - 1365 DAVIE STREET & 1180 BROUGHTON STREET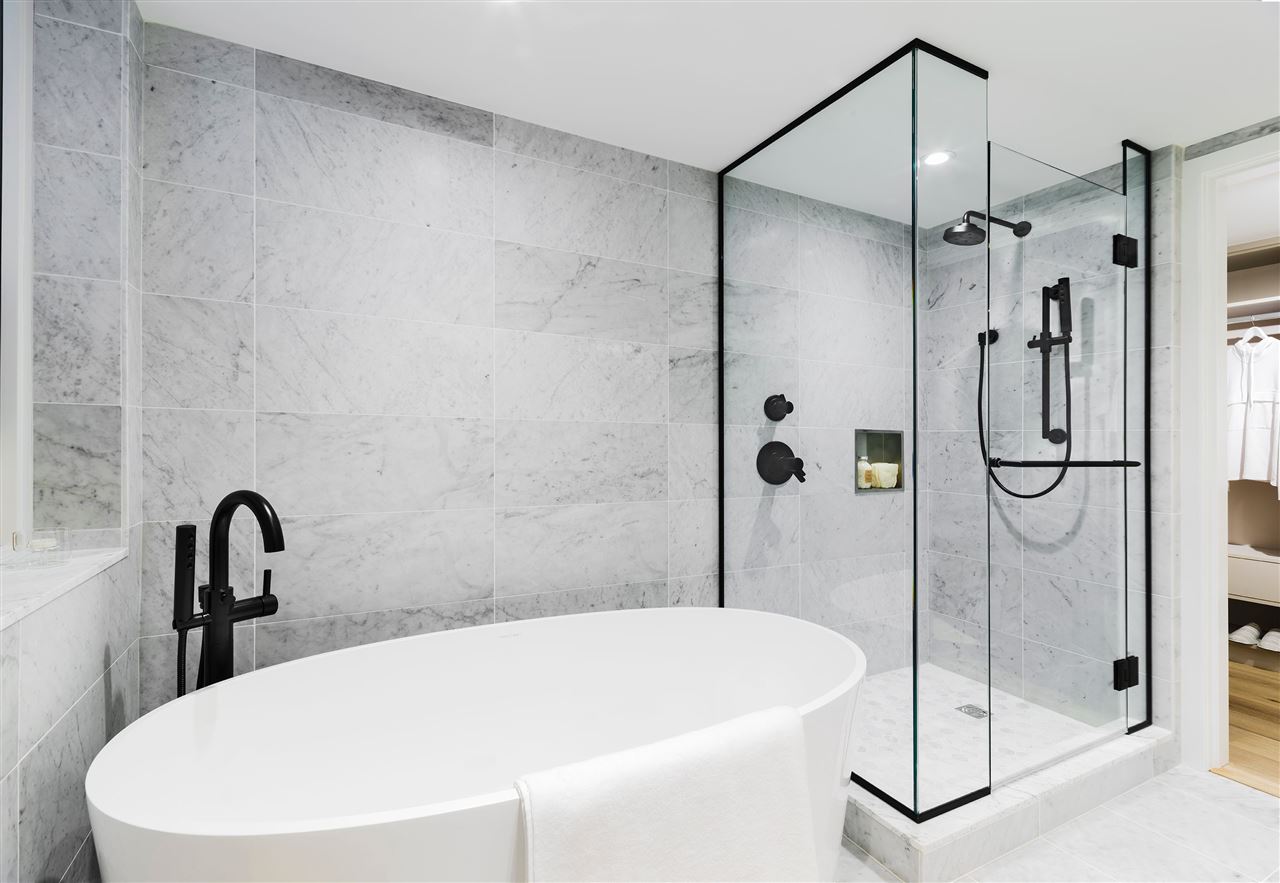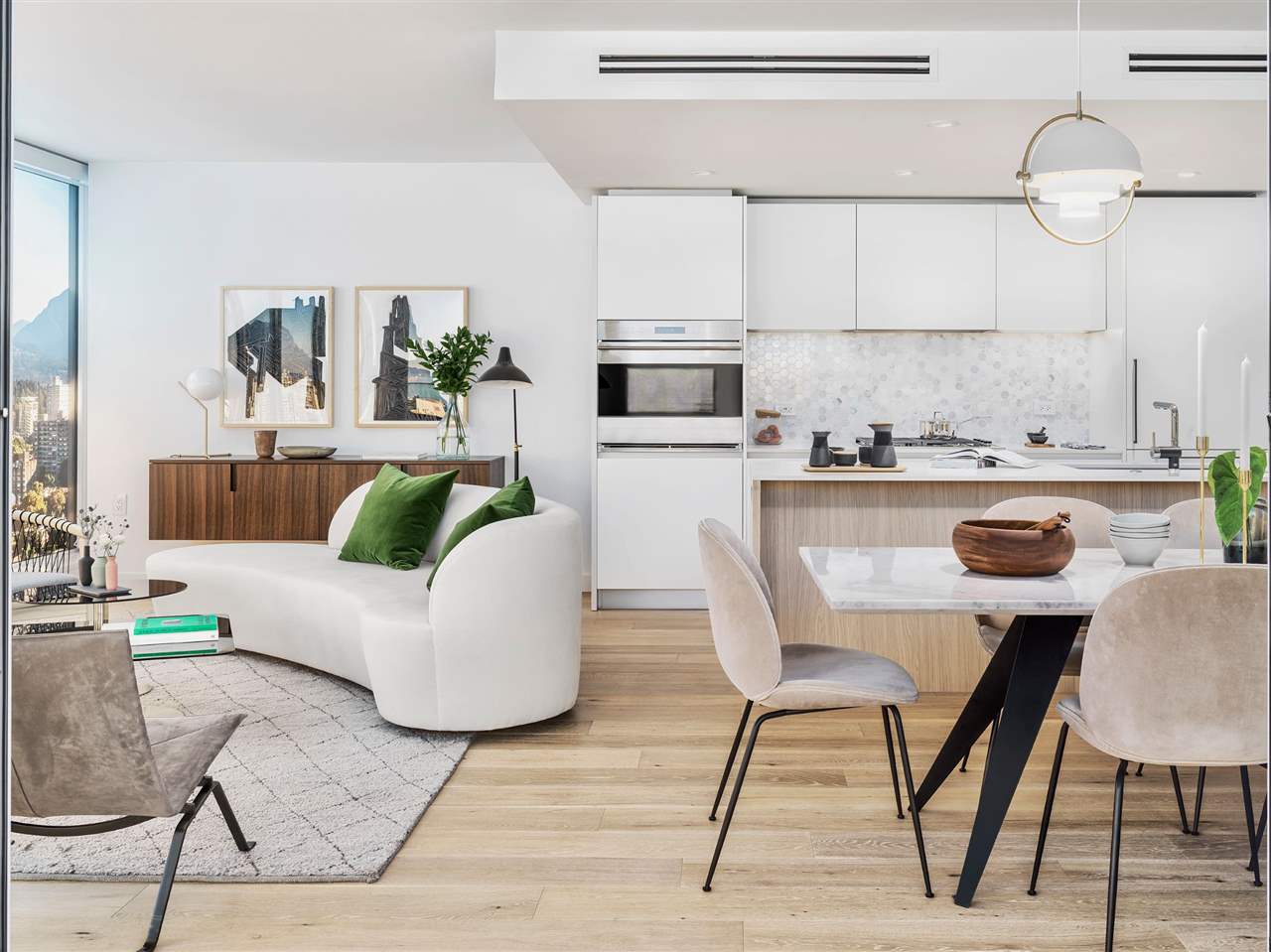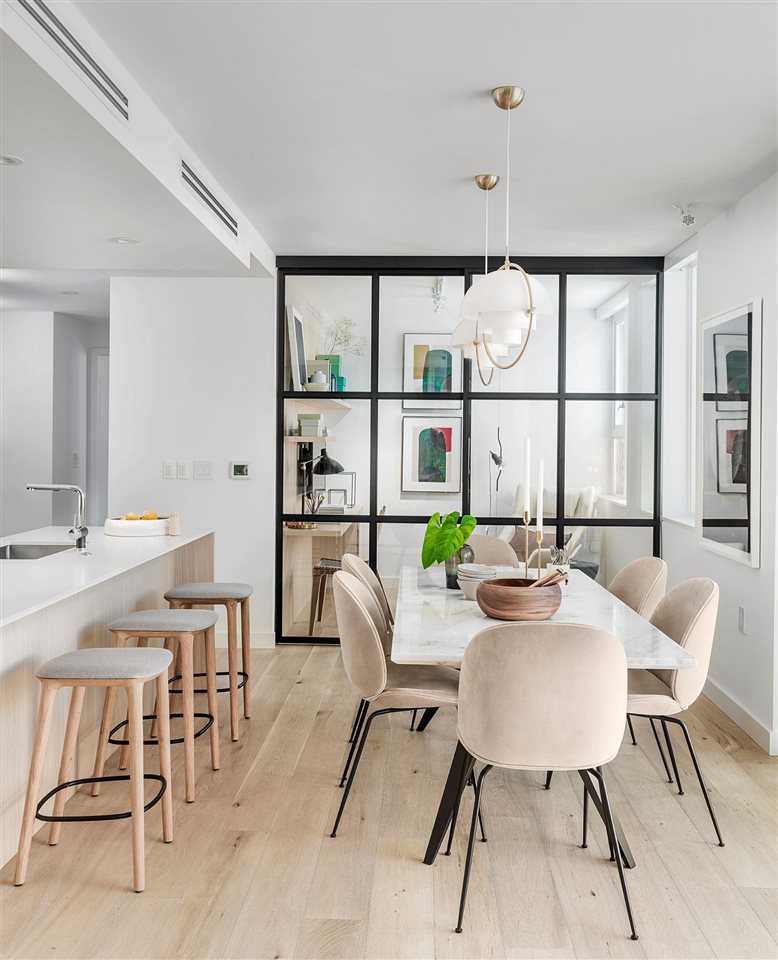 Mirabel by Marcon. Overlooking the charming West End into the ocean views of English Bay a modern developement with time. Quality modern homes inside & out with large patio spaces and beautiful views with Marcon quality construction & timeless modern design. Henriquez Partners spectacular architecture & famed interior design by Alda Pereira. Solid quality kitchen equipped with integrated Sub Zero & Wolf appliances, Italian Miton cabinetry, Bosch dishwasher, solid quartz counters, Blanco faucet, and recessed LED pot lights. Muted modern bathrooms are equipped with Brizo fixtures and marble counters, ledges and walls. The large patio spaces on some homes make for a perfect Oasis with planters, good views, entertaining area and water & gas outlets. Many thoughtful details throughout including high-efficiency heating and A/C system for year-round comfort, handy USB outlets, Low-E2 panoramic windows, rich engineered wood flooring and time-honoured materials throughout.
12. POMARIA - 1455 HOWE STREET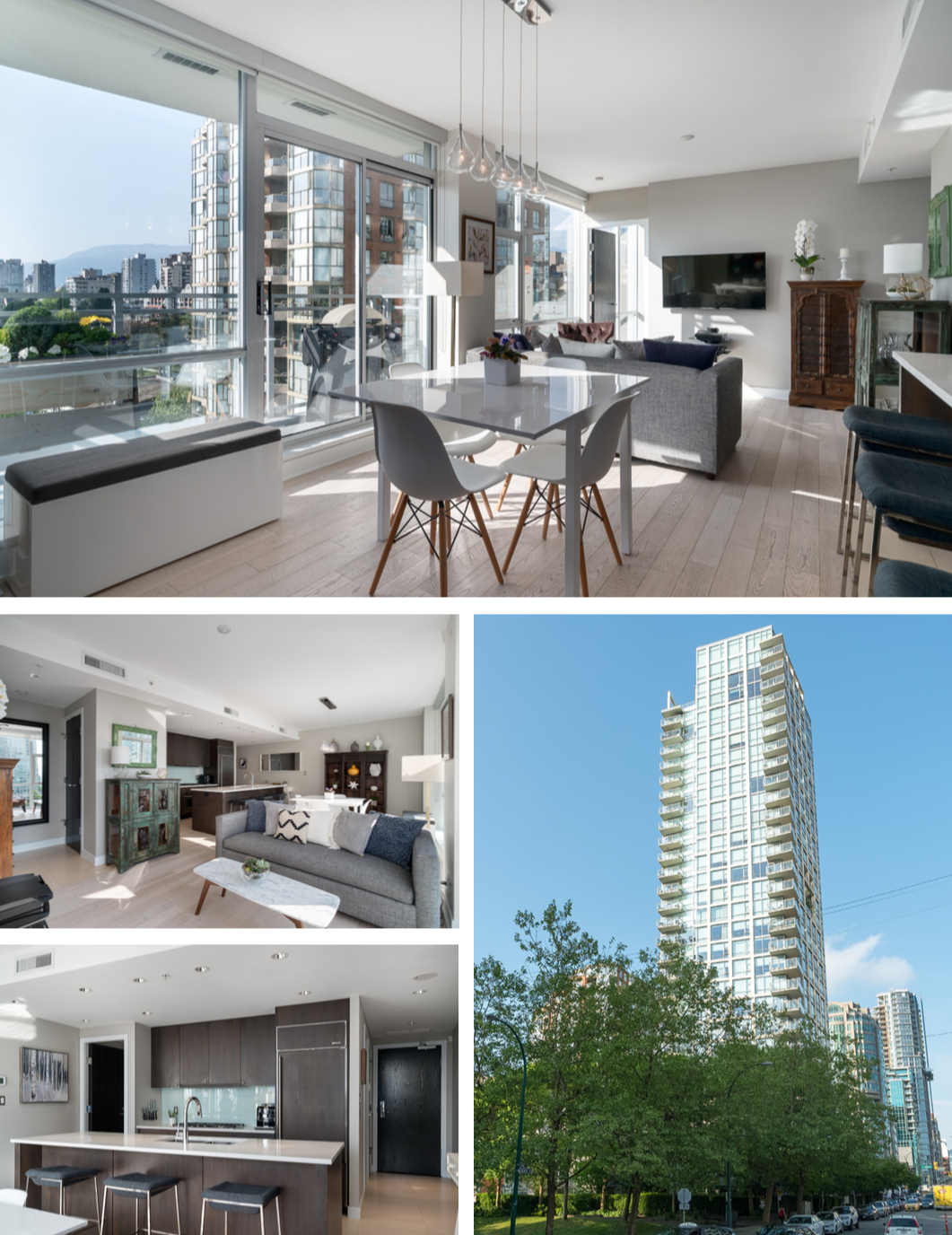 Pomaria is a distinguished Downtown Vancouver modern styled tower developed by Qualex Landmark and design by award winning Rafii Architects. Featuring architectural style residences with interiors designed by Robert Ledingham. The design focus of Pomaria was to create unique open concept homes finished by high-end fixtures and fine finishes. Suites offer stunning contemporary styled kitchens with sleek flat-panel oak cabinetry, stone surfaces, and Chef style appliances from GE Monogram and Sub-Zero. The bathrooms feature matching oak cabinetry, European glass tile work, walk-in showers, soaker tubs, double flush water conservation toilets by Kohler, and nickel door hardware.This unique building offers sleek design and high-end finishings throughout. The location is just steps from the seawall & Yaletown's shopping district. This was the first building in the area to receive LEED Silver certification achieved by efficient design, state-of-the-art building technology and a geothermal heating and cooling system. More building info & Photos.
Sold Properties at Pomaria:
#1001 - 1455 St - Pomaria Condo - Sold by Albrighton
1447 Howe St - Pomaria Townhouse - Sold by Albrighton
#1503 - 1455 Howe Street - Condo - Sold by Albrighton
1451 Howe St - Pomaria Townhouse - Sold by Albrighton
#1001 - 1455 Howe St - Condo - Sold by Albrighton (2013)
13. SHIFT - 5089 QUEBEC STREET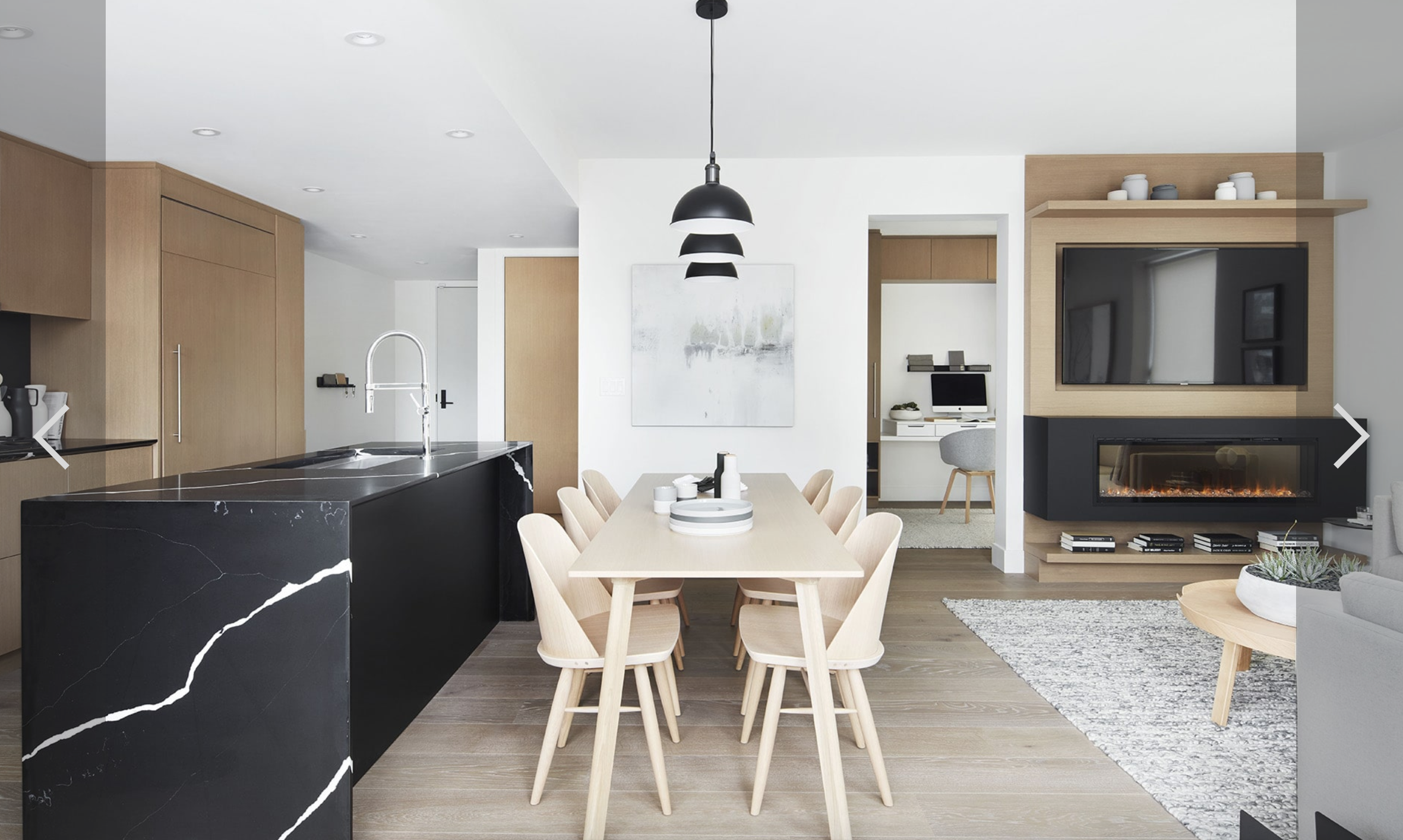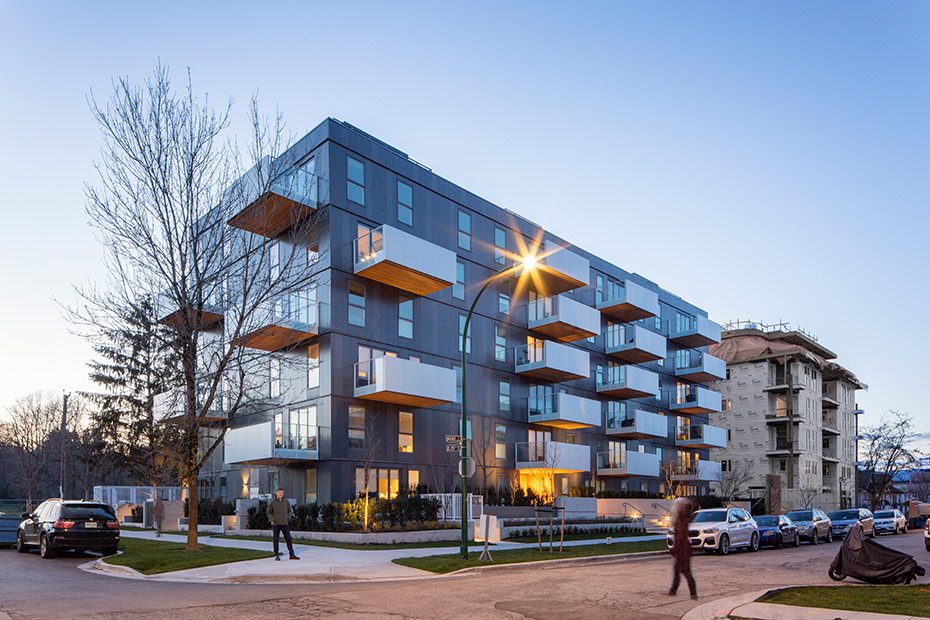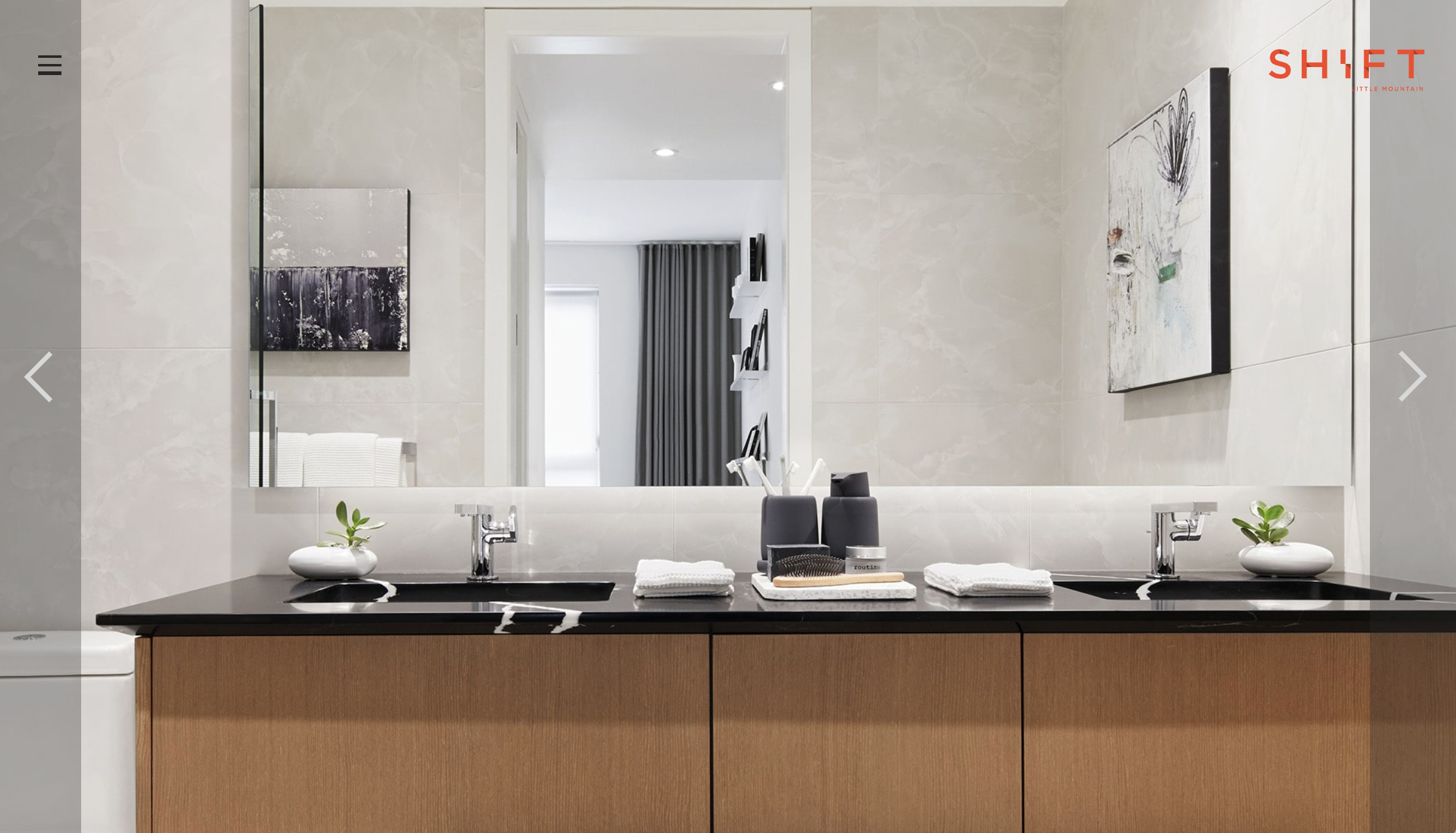 Aragon's newest modern development "Shift" near Queen E Park and South Main also known as Little Mountain. Beautifully appointed stylish interiors with folding glass wall system for easy indoor/outdoor living offering. Inside are 8 and 1/4" Oak engineered matte hardwood flooring throughout. Monogram series professional grade appliance package. Mitered edged quartz counter tops in black or white in the kitchens and bathrooms. The living areas feature wall mounted linear fireplace with custom wood mill work surrounds. Energy efficient heating and cooling system for added comfort all year. Custom built walk through closets in Master bedroom, en-suite features double sink vanity, rain shower, in floor heating creates a spa like ambiance. Thoughtfully designed spaces with luxury living in mind. Located just off Main St, Hillcrest Community Center, Nat Bailey Standium & Queen Elizabeth Park. ALso a short stroll to Matchstick Cafe Riley Park. Timeless modern design by OMB and developed by Aragon Properties. More building info.
14. THE JERVIS - 1171 JERVIS STREET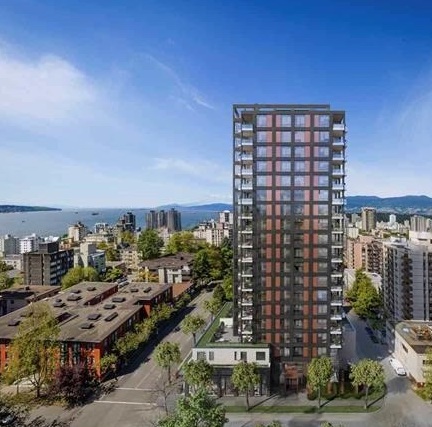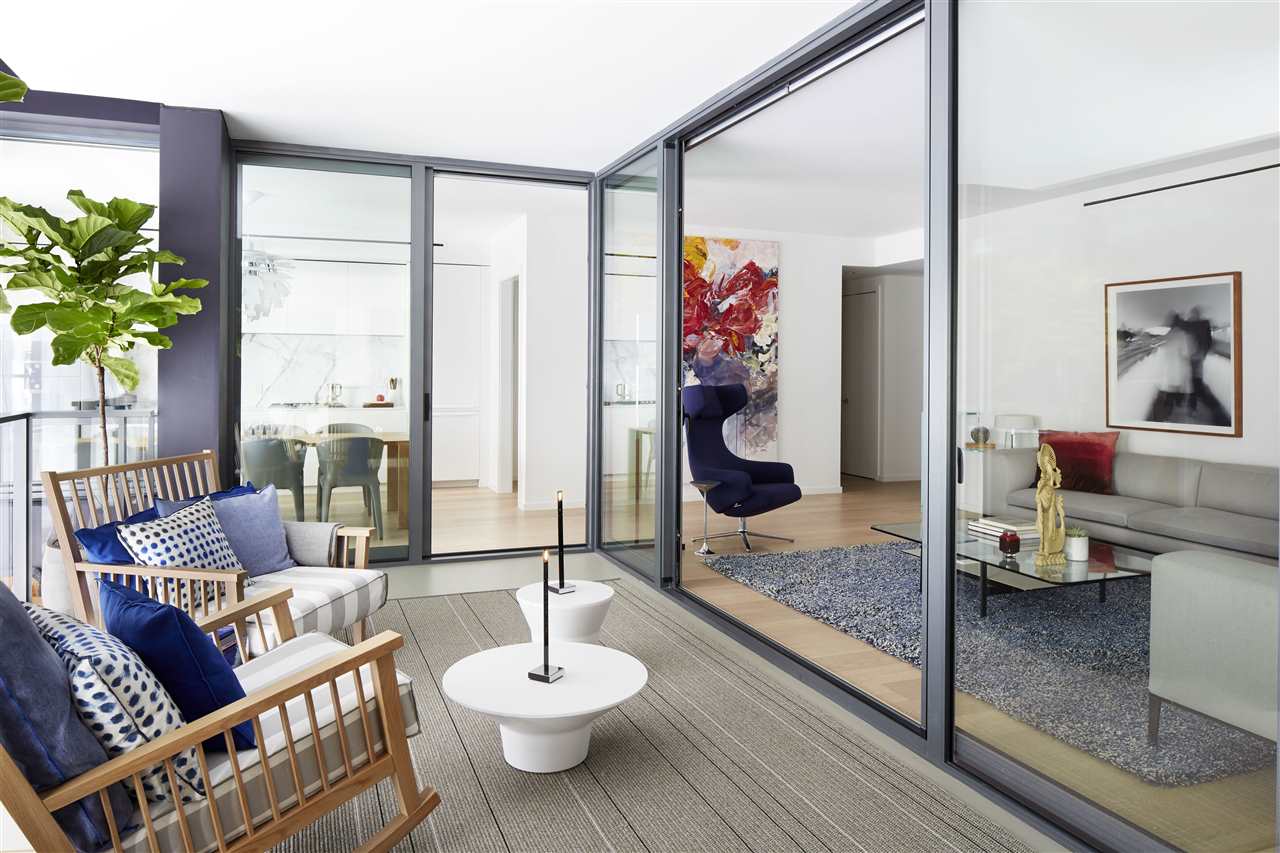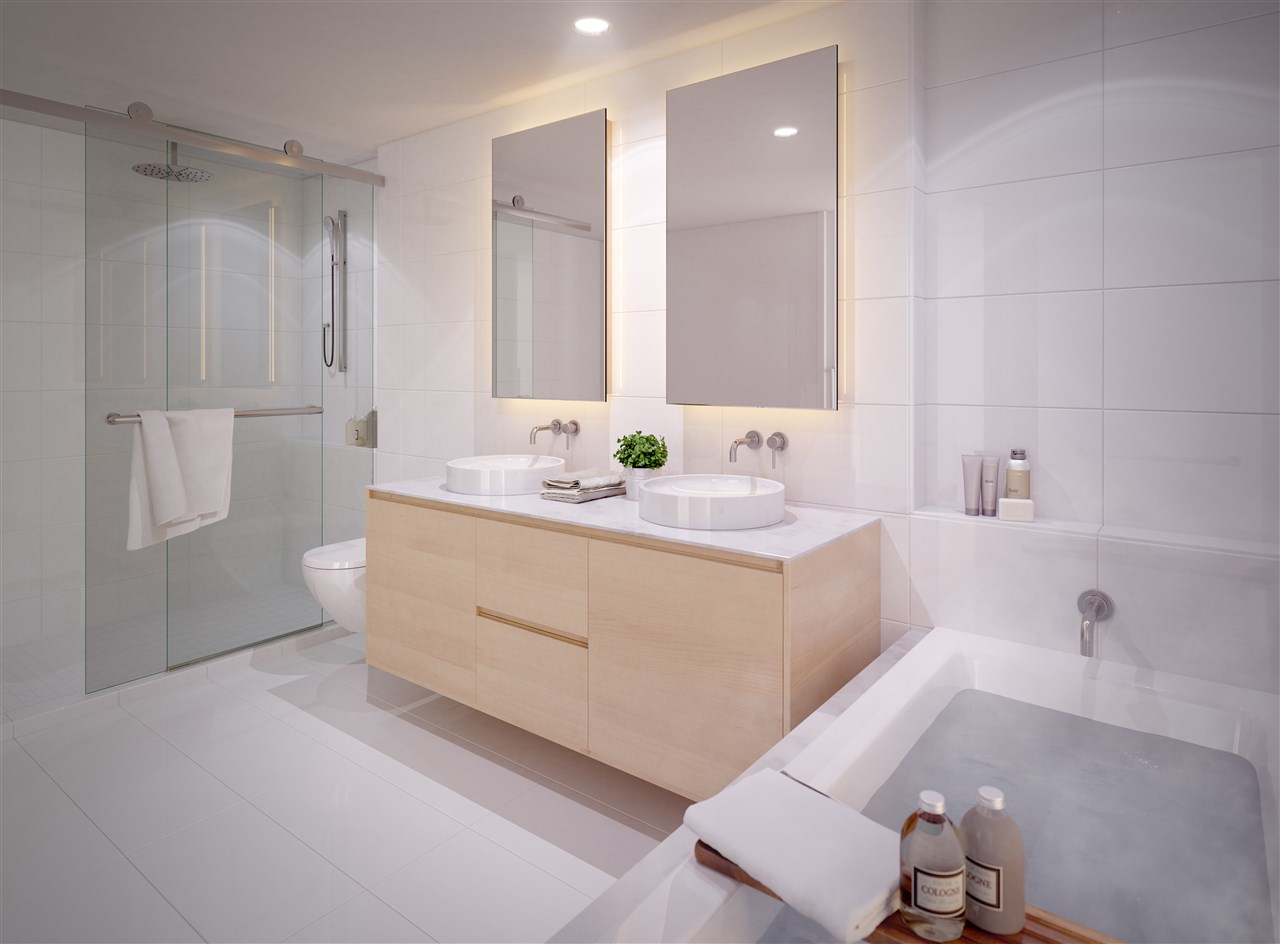 The Jervis, 1171 Jervis Street, Vancouver, BC, V6E 0C9, is a boutique 19 storey high rise consisting of only 58 units. The design theme uses clean lines, sleek Scandinavian inspired modern interiors and with extra large windows and balconies that have minimal transitions allowing for an expansive indoor-outdoor feel within each unit. Developed by Intracorp and Designed by NSDA Architects, Richard Henry Architects, Trepp Designs and Niels Bendtsen of Inform Interiors. The first 3 floors of the tower are home to social housing organized by the City of Vancouver, and with the remaining floors being private residences, there are 2 Penthouses on the top 19th floor. The tower is recognized for its dark exterior design with metal hilghlights that have higlighed metal trim showing patina. The building features concierge service, a gym and air-conditioning. The lobby is cladded in marble, with tall ceilings, and there are exposed concrete feature walls throughout the common area hallways. More unique features within the units include Italian cabinetry, quartz countertops, complemented with a beautiful Bianco marble backsplash. Top of the line Gaggenau appliances, and stylish fixtures have been used in the kitchen. The spacious bathrooms are covered in more marble and feature floating style vanities and wall mounted faucets. Wide plank oak flooring (dark or light options) and over height ceilings, with floor to ceiling windows allow for an abundance of natural light in each home. The Jervis has gained a reputation of style, elegance, and a unique location in the West End which is not home to many other modern high-rises. More building info.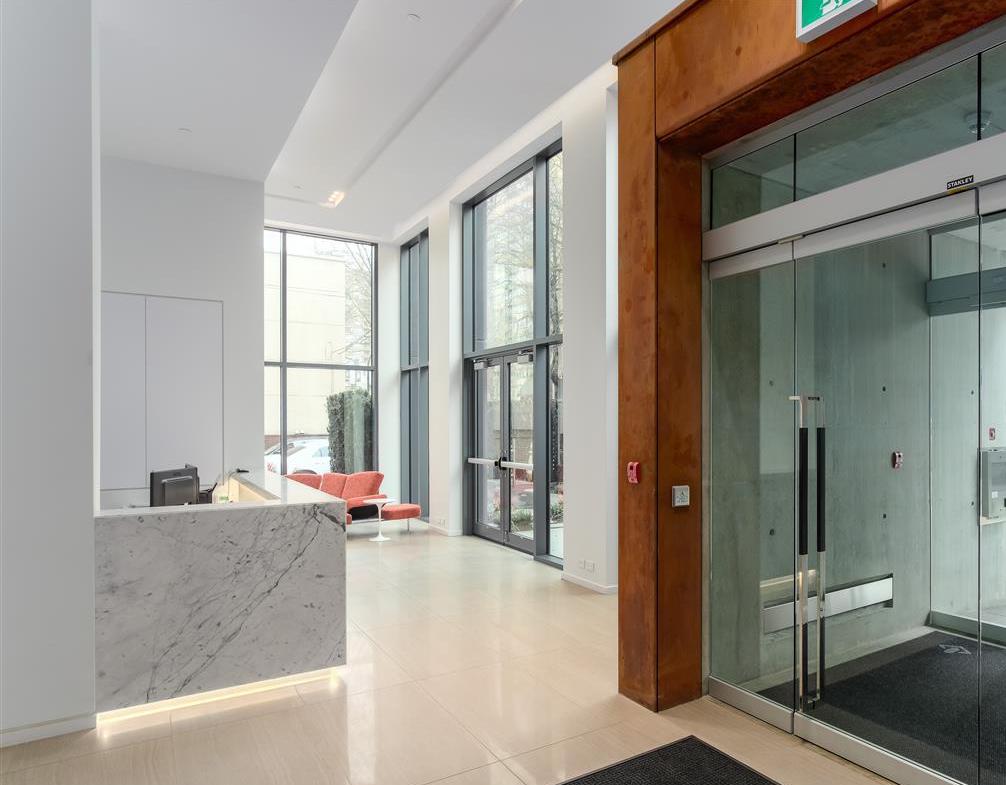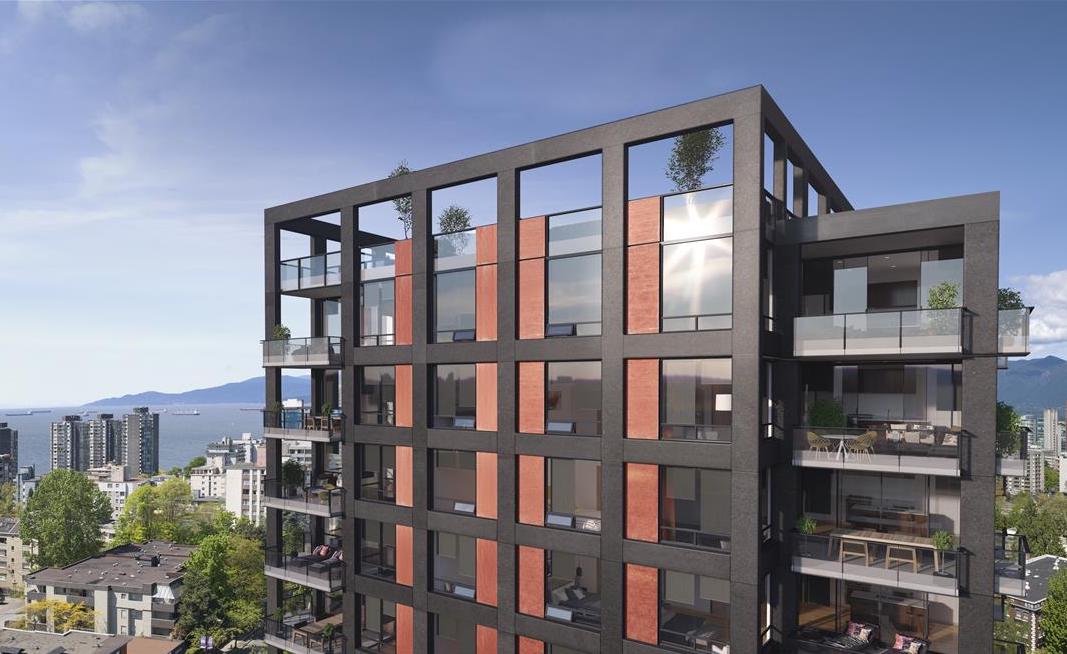 15. THE CARDERO - 620 CARDERO STREET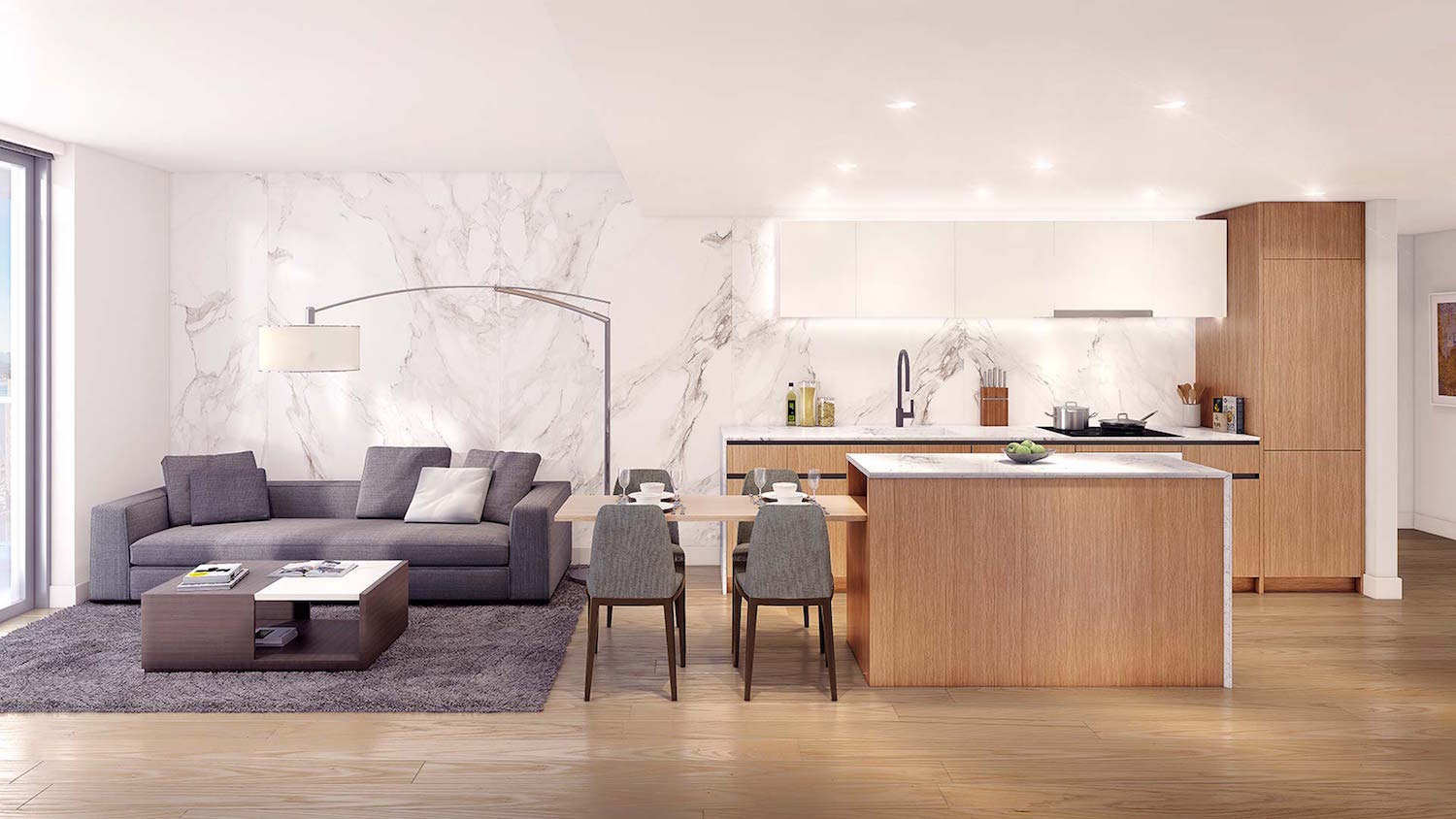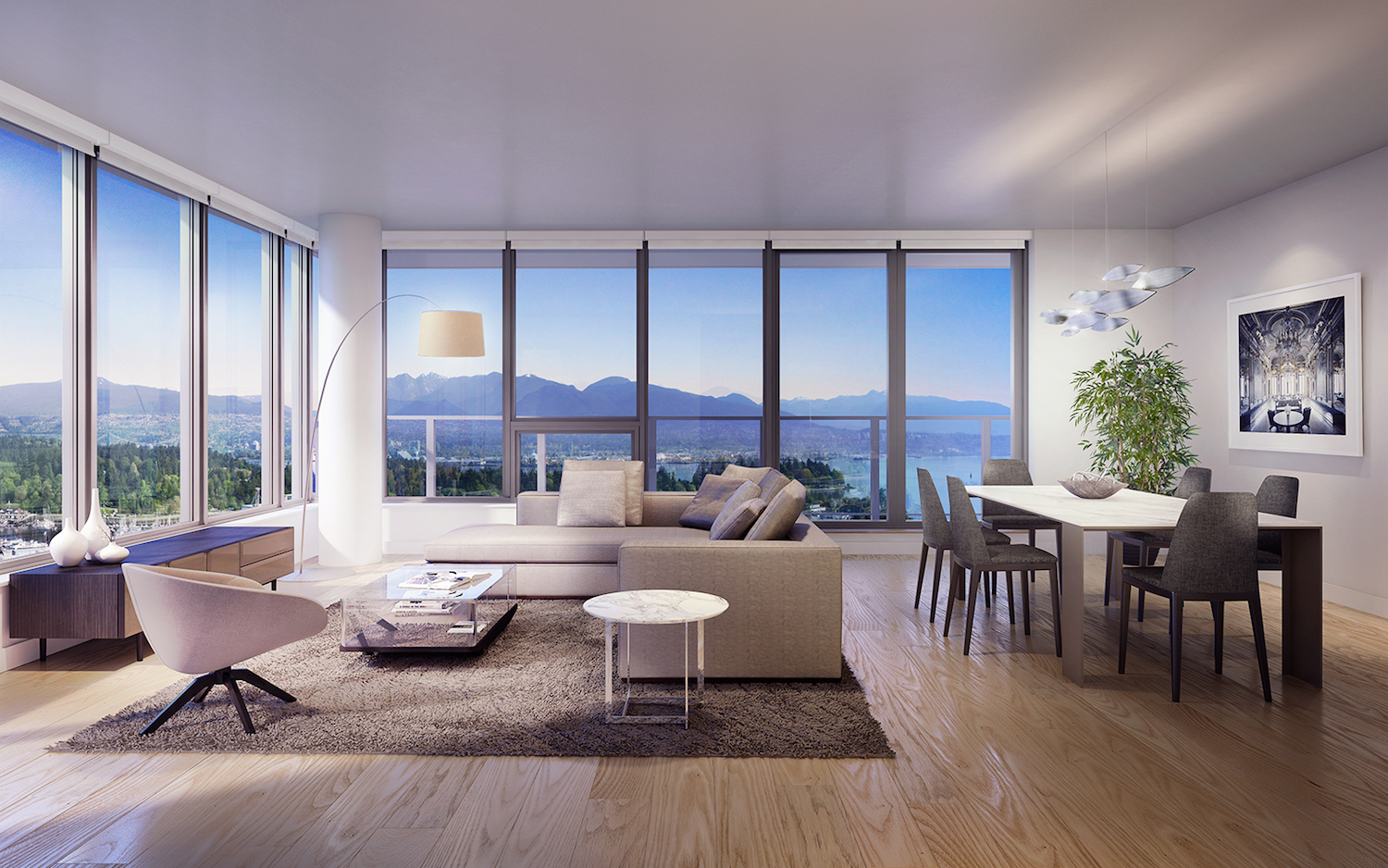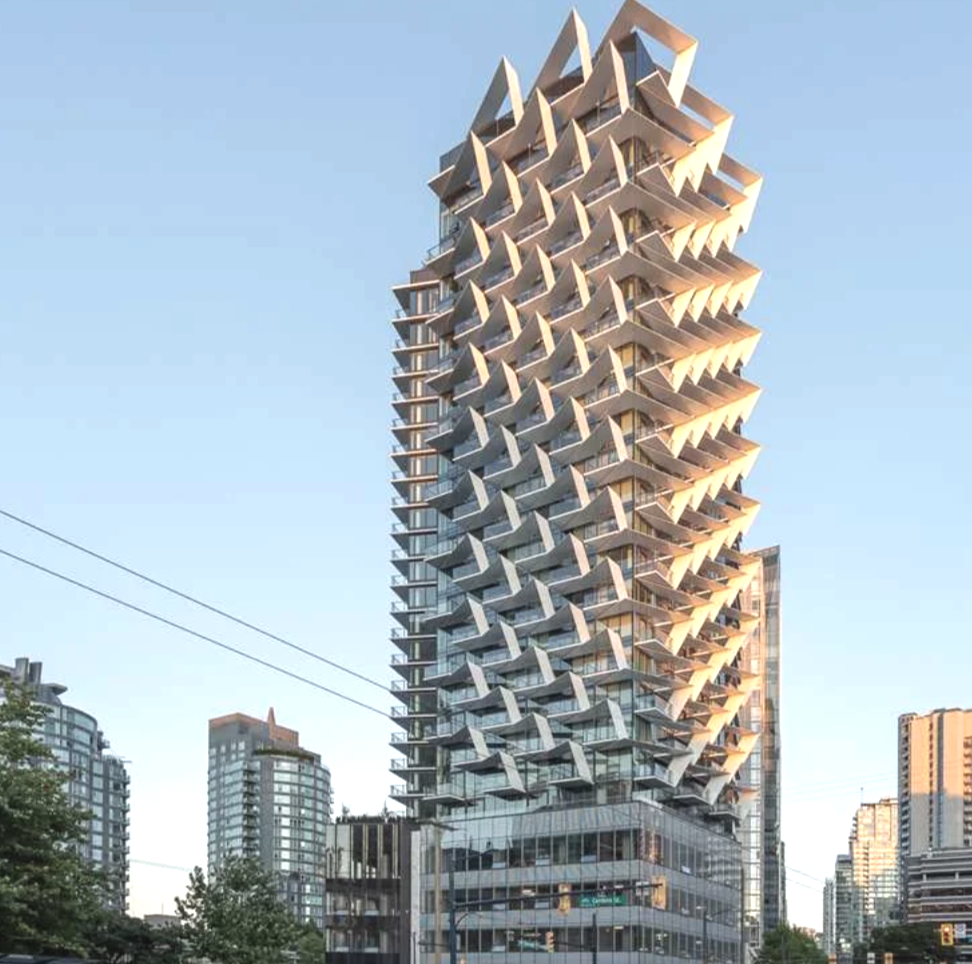 The Cardero by Bosa. Designed to blur the defining line between structure and sculpture, Cardero turns heads and creates an eye-catching landmark for Coal Harbour. Bold yet elegant, it's the cornerstone of a new district celebrating architecture and design.Unique features and finishings have been carefully curated to stand among the finest residences in the world, creating innovative interiors that are as intelligent as they are beautiful. Imported Italian kitchens are crafted by master artisans, and complimented by premium Miele appliances and integrated technology, offering enhanced form and function. Bathrooms are calmed spaces created by a rich palate of materials, designed to be innovative, inspired, and utterly stunning. Generous storage includes large cabinets and ledges incorporated into a clean design.
Developed by Bosa Properties and completed 2020.
Building info & units for sale.
16 .FAIRMONT PACIFIC RIM - 1011 W CORDOVA STREET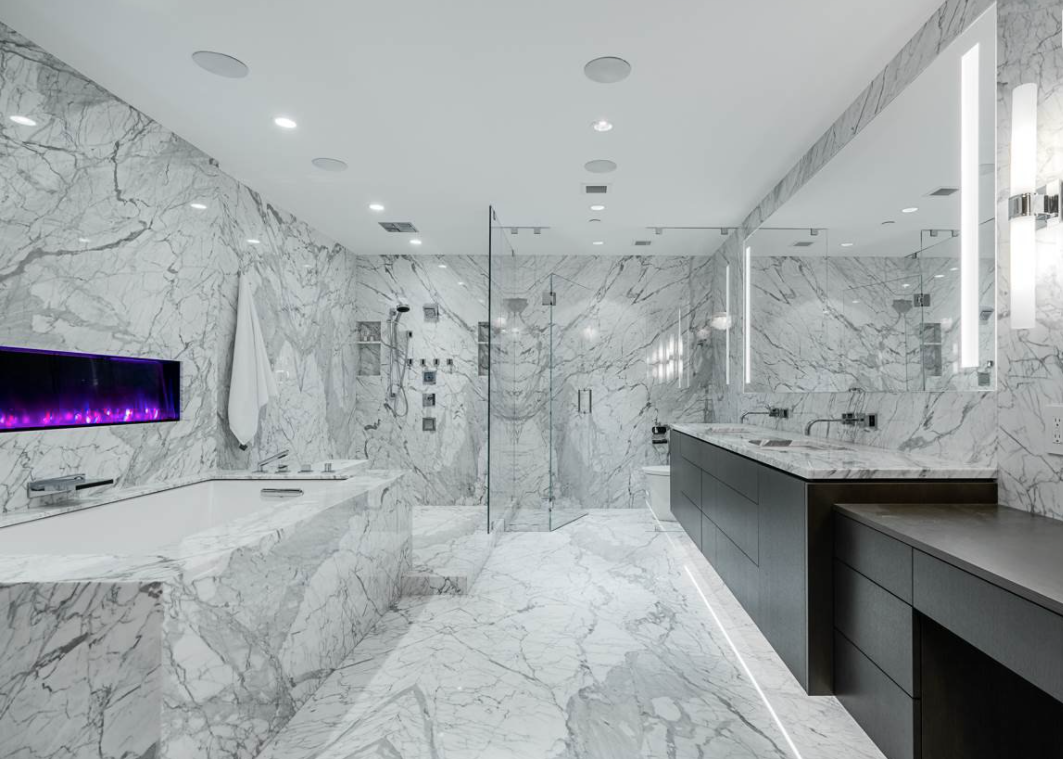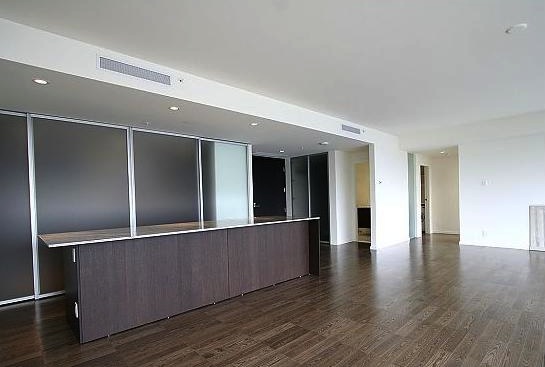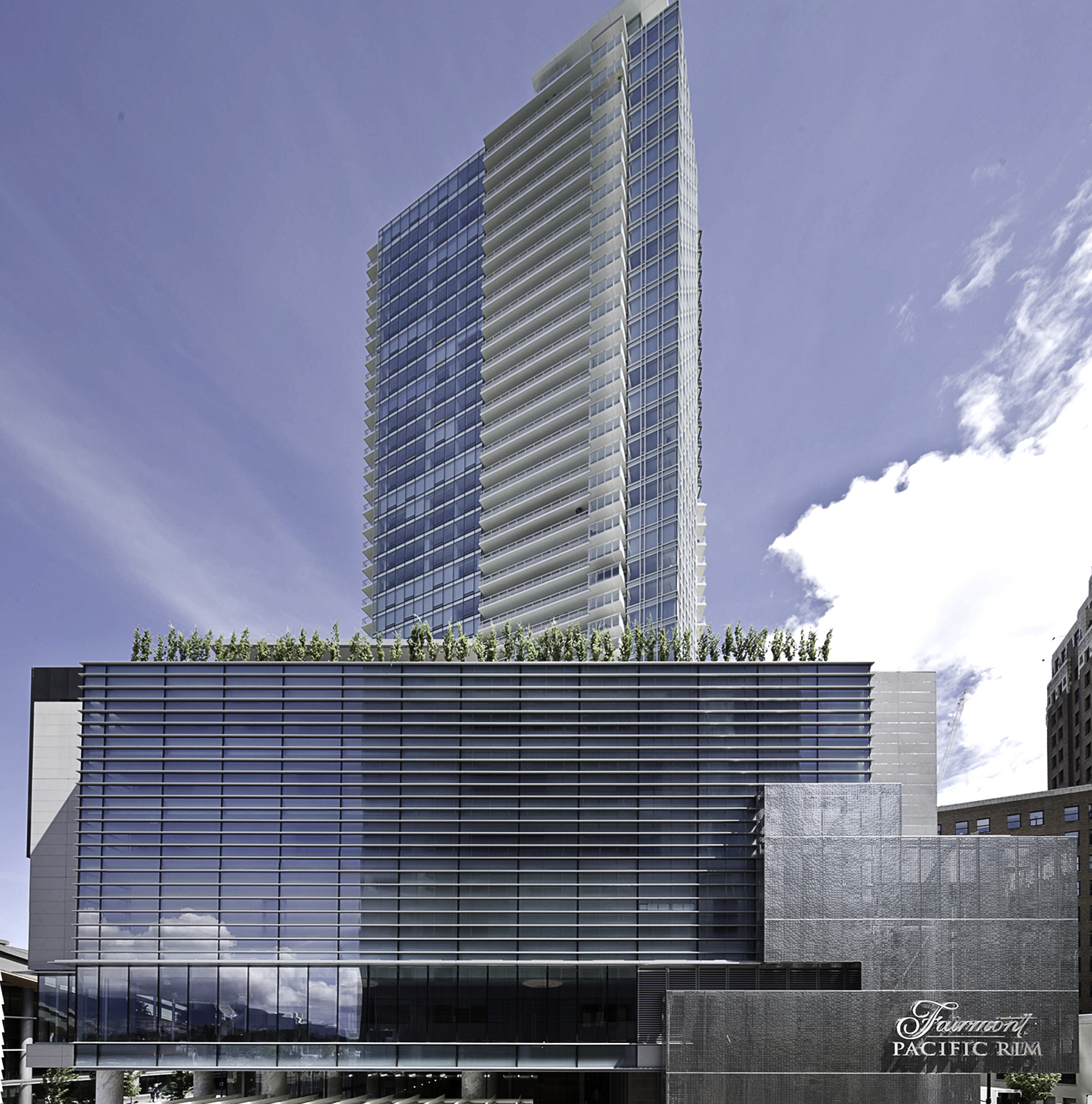 Fairmont Pacific Rim Estate Residences - A Vancouver World Class, luxury waterside development in Coal Harbour developed by Westbank properties and designed by famous James K.M. Cheng architects. These architectural harbour front condos feature modern luxuries not found elsewhere. Breathtaking views of Coal Harbour, Stanley Park, the ocean, mountains and Downtown. The spacious interiors feature top-of-the-line Italian Boffi kitchens, appliances from Sub-Zero and Miele, endless limestone and marble bathrooms, all matched with 5 star hotel amenities including a pool, world class gym, and Willow Stream Spa. Also below is a great cafe, well known lounge and bar, and Bella Geleteria. Located just a few steps from the seawall, Vancouver's best restaurants, and the Convention Centre. More building info and listings for sale.
#4304-1011 W Cordova St - Sold by Paul
17. THE ERICKSON - 1560 HOMER MEWS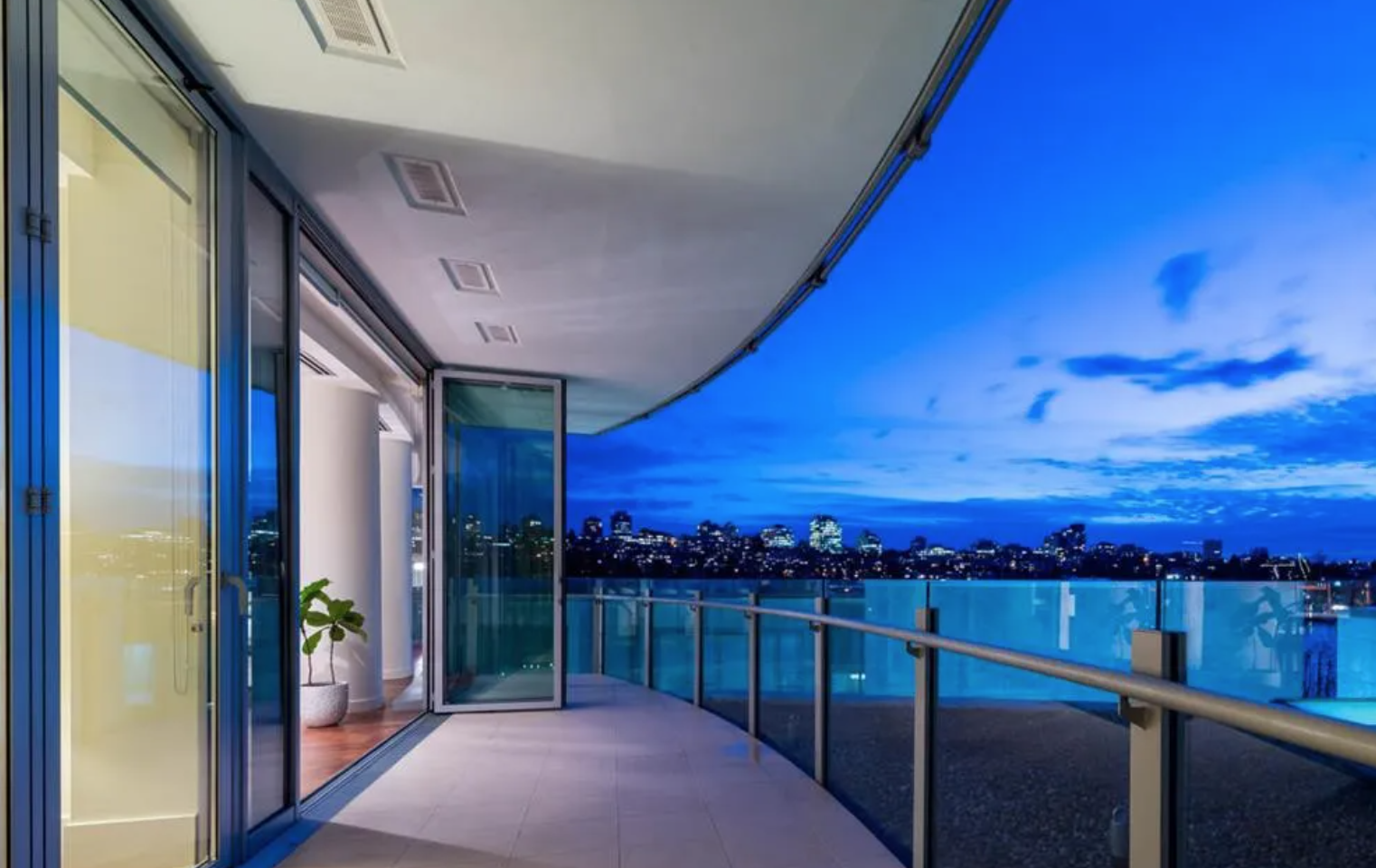 "The Erickson" a timeless masterpiece by Vancouver famous architect Arthur Erickson & Nick Milkovitch Architects, and developed by Concord Pacific. It is home to ultimate luxurious waterfront condos matched with breathtaking modern "aquatic inspired" architecture. Details include unique curved architectural features and seamless contours and frames. Open concept floor plans walk onto private sun decks with large sliding door openings, and flush transitions - connecting the outdoors to the indoors. Hidden features include limestone floors, ultra-modern kitchens, unique spa bathrooms, built-in TV mirrors, private garages, 24 hour professional concierge and great amenities including a large pool. Located adjacent to Yaletown's beautiful sunny seawall in a piece of Vancouver Livable Art. The building contains 60 units total, and 15 beautiful townhouses. Listings & Building link.
18 .SHAW TOWER - 1077 W CORDOVA STREET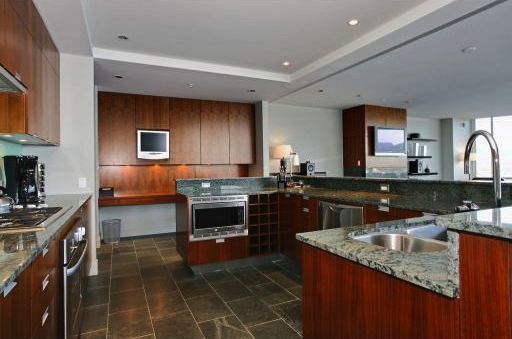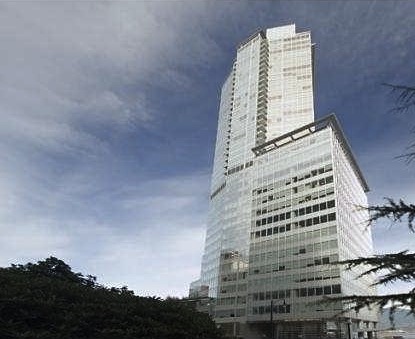 Coal Harbour Architectural Modern Waterfront Residence. Designed by James K.M. Cheng Architects Inc. and Developed by Westbank Properties. This architectural 42 storey tower sits on the waterfront of Vancouver's coveted Coal Harbour area, bordering Vancouver's financial district. The suites at Shaw tower offer up-scale modern design, top of line finishings, with a sophisticated touch. State-of-the-art architecture, contemporary seamless style interior designs and top grade European fixtures and Sub-Zero friges. and high-grade appliances make suites at The Shaw Tower in a league of their own. The first 16 level are high-end offices with their own lobby, and the 130 residences are from levels 17-47. The prestigious condos ranging from 786 sq.ft condominiums to "sky-estates" with over 7000 sq.ft. High level suites at Shaw Tower offer stunning panorama views of the ocean, mountains, city, and Stanley Park. #2405 - 1077 W Cordova St - Shaw Tower Condo Sold by Paul.
More building information.
19. FLATIRON - 1277 MELVILLE STREET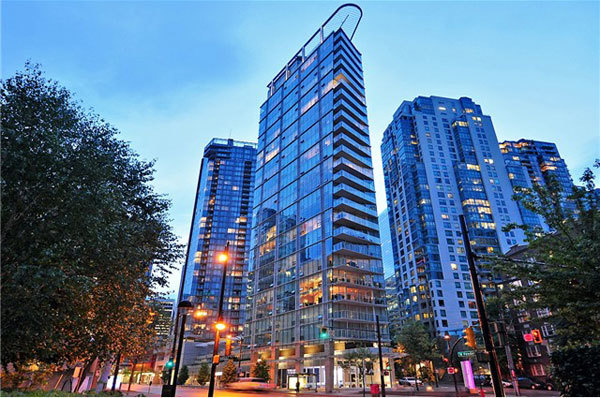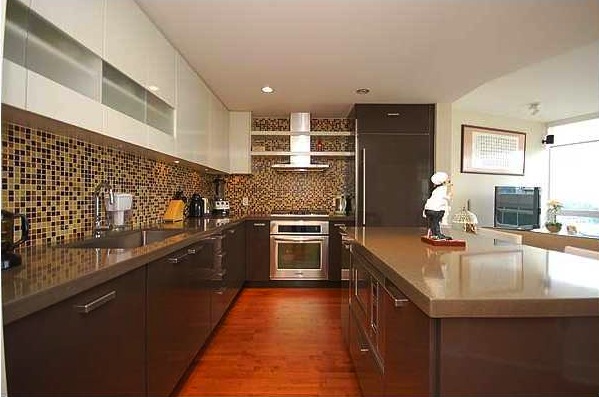 Coal Harbour Modern Architectural Condo Building. Flatiron stands out for being one of very few boutique Coal Harbour buildings with 28 floors and only 52 suites. This one-of-a-kind modernist styled building features only two units per floor complemented by endless glass and expansive views of Coal Harbour and Stanley Park. The Architecture is simply stunning, designed by Busby & Associates Architects now Perkins and Wills Architects. It was developed by Cathedral Development Group and constructed by Intertech. The exterior theme is a a tall sheet of glass with straight concrete panels shooting up to the sky all in the shape of an iron wedge - giving this tower a very tall presence. The modern design features large living rooms, two tone kitchens, and luxurious modern spa-like bathrooms. An open concept styled lobby has high ceilings, exposed concrete, and floating styled glass/concrete staircases. This is one of Coal Harbour's finest unique residences. Past Sale: 1001 - 1277 Melville St - SOLD by Paul Albrighton. More building info.
20. THE GRACE - 1280 RICHARDS STREET & 499 DRAKE STREET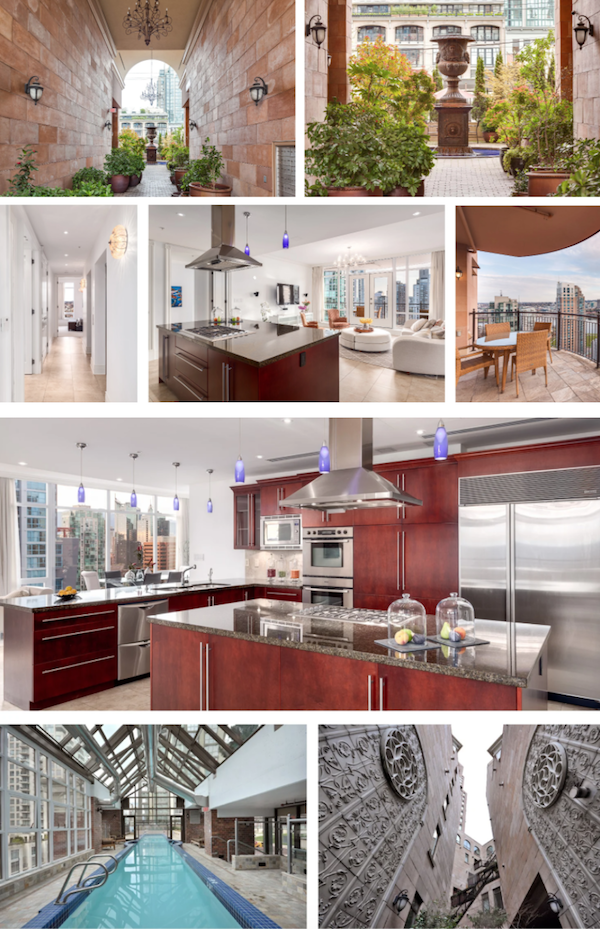 The Grace Vancouver at 1280 Richards St. Vancouver, BC V6B 1S2. This is the second phase of the Grace development by James Schouw. Again, timeless European classic design matched with a taste of Tuscany in a modern setting. The Grace tower offers true unique style and luxury. Including limestone style ceramic flooring, 10' ceilings, detailed mouldings, 9' high doorways, this one-of-a-kind Yaletown inspired building is amongst the most unique developements in the City. This tower has a total of 49 suites from 1117 sq.ft. city lofts to sky penthouses with 5000+ sq.ft. layouts. This building stands out in the city with its unique architecture, large balconies, and copper cathedral stlye roof. More info on: Tower Phase 2 & Low-Rise Phase 1.
Pauls past building sales:
Albrighton sale, #2500 - 1280 Richards St
Albrighton sale, #401 499 Drake St
Albrighton sale, #502 1280 Richards St
Albrighton sale, at #302 499 Drake St
Albrighton sold - Grace city villa. #502 1280 Richard St