real estate marketing
GET YOUR PROPERTY SOLD

For clients who are sourcing a local expert to market their modern home or are seeking to purchase a unique property, Paul Albrighton Personal Real Estate Corp. is the one to call. He offers a great eye for design, and will provide buyers with an investment analysis and sellers with an effective marketing plan for selling their property. Albrighton's extensive portfolio consists of unique properties located around Vancouver, BC. Paul Albrighton also work with a Mandarin speaking team member, Tom Wang which opens his listings to a variety of international markets.
中文服务请发电子邮件至 [email protected]

Direct & targeted marketing
Full colour flyers, feature sheets, open house advertising, and floor plans are used. This presents property with first class elegance, which paints a very positive image for buyers. High-res images, precise details, and large distribution channels the ingredients to draw many buyers to our property listings and our websites. Albrighton Real Estate uses targeted flyers that are distributed to modern houses, local condos, and loft buildings throughout the City of Vancouver and West Vancouver. Our residential targeted list exceeds 4500 modern homes and condos.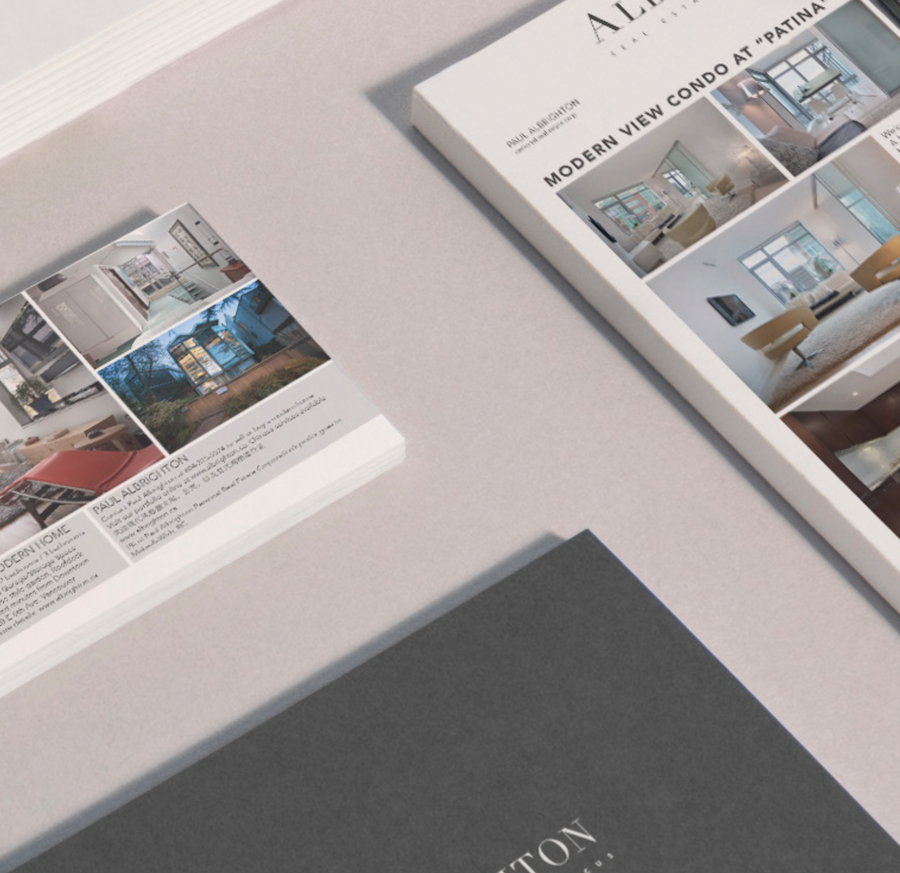 Visual masterpiece
We are always striving for the best. This includes giving you the best representation of your property listing. A perfect presentation is the key to generating initial interest on property listings. To do this properly we use a professional photographer, videographer, floor planner, and graphic designers. Together with professionally photography, 3D renderings, and video tours we create a visual masterpiece that sets our property listings apart from the competition. Click here to watch a Albrighton sample property video.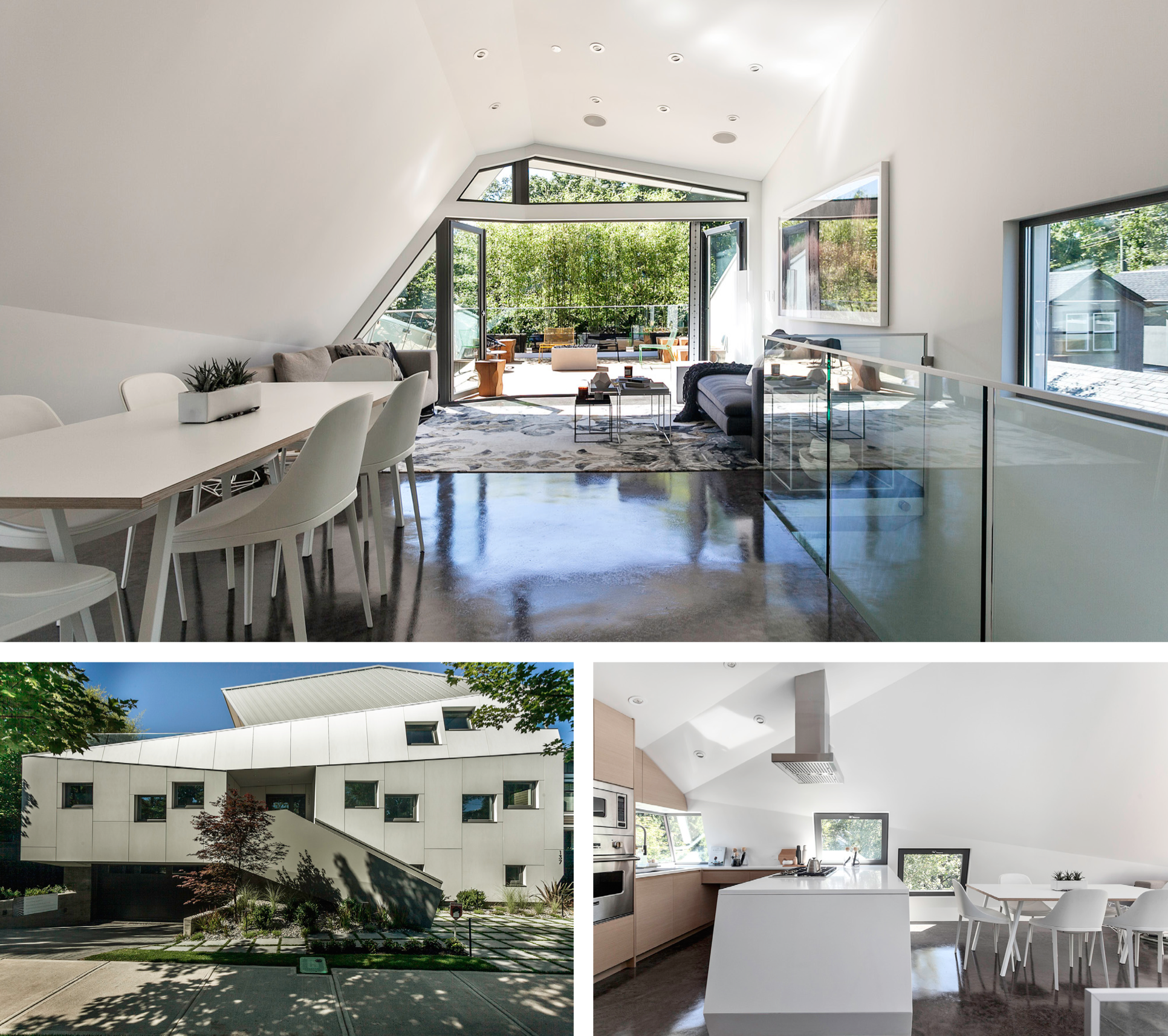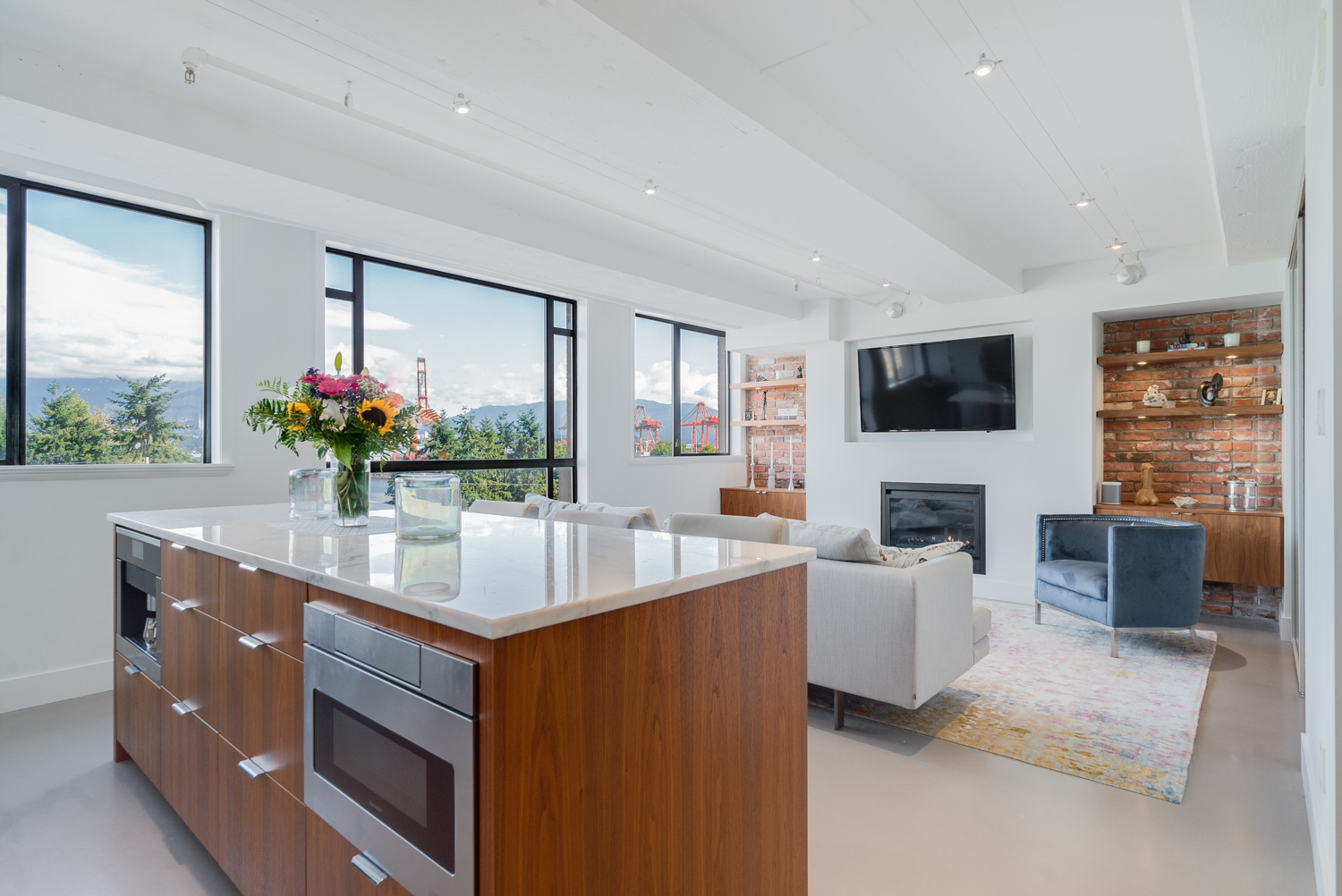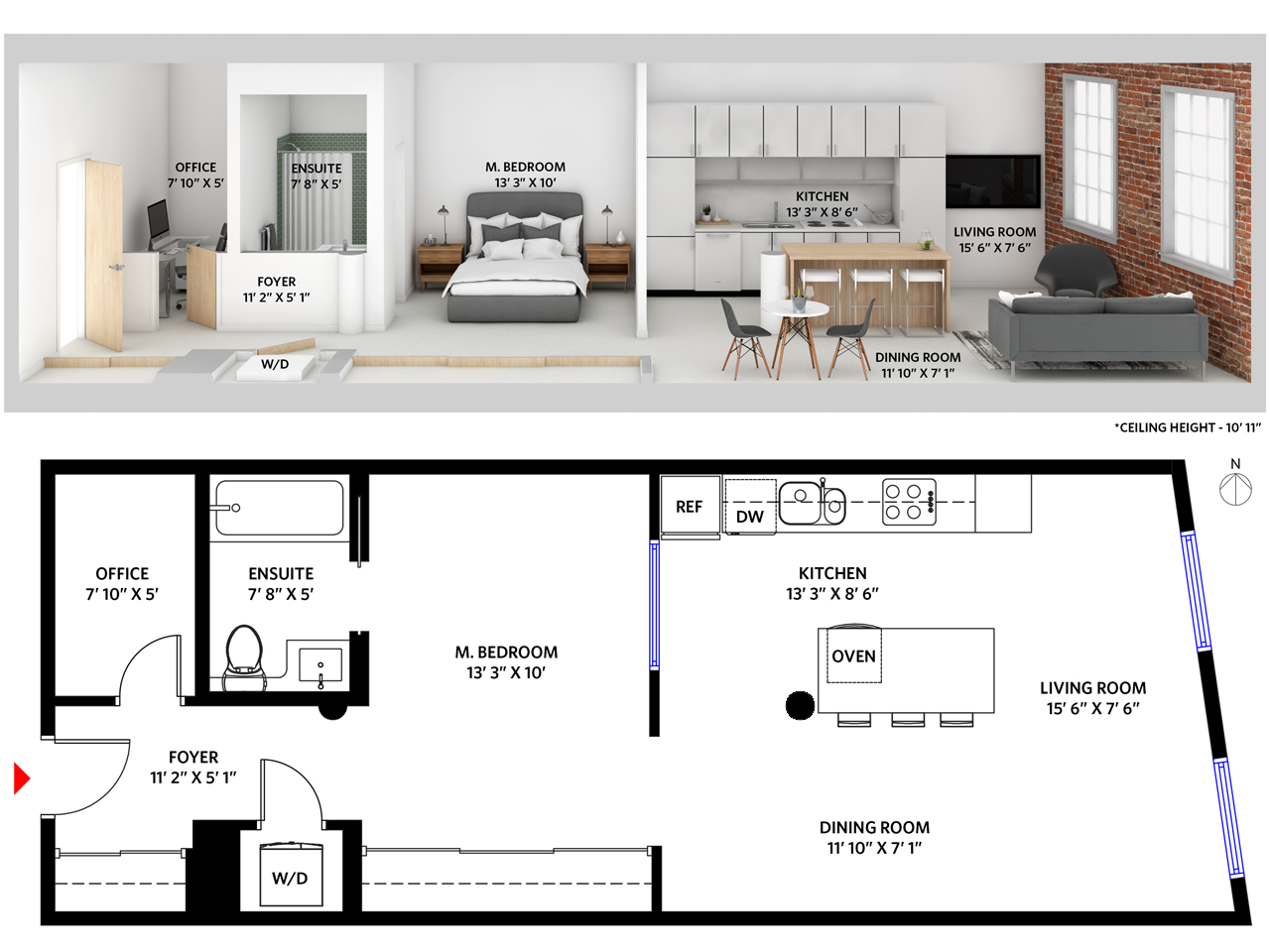 Un-matched Vancouver focused e-marketing plan
Albrighton 其他主题的网站

Numerous leading high-traffic websites draw over 300,000 hits per month of people looking for unique, modern interesting listigns in Greater Vancouver. 40% of our visitors are from other countries, leading to 15% of our annual sales to non-Canadians. Our websites, including albrighton.ca give your listing more exposure. Our web visitors are loyal to our websites, with 55% of our monthly visitors being repeat visitors. Our web marketing efforts provide useful information in a clear and concise manner. Websites are responsive and are optimal with all types of mobile and tablet devices. See the details and websites below: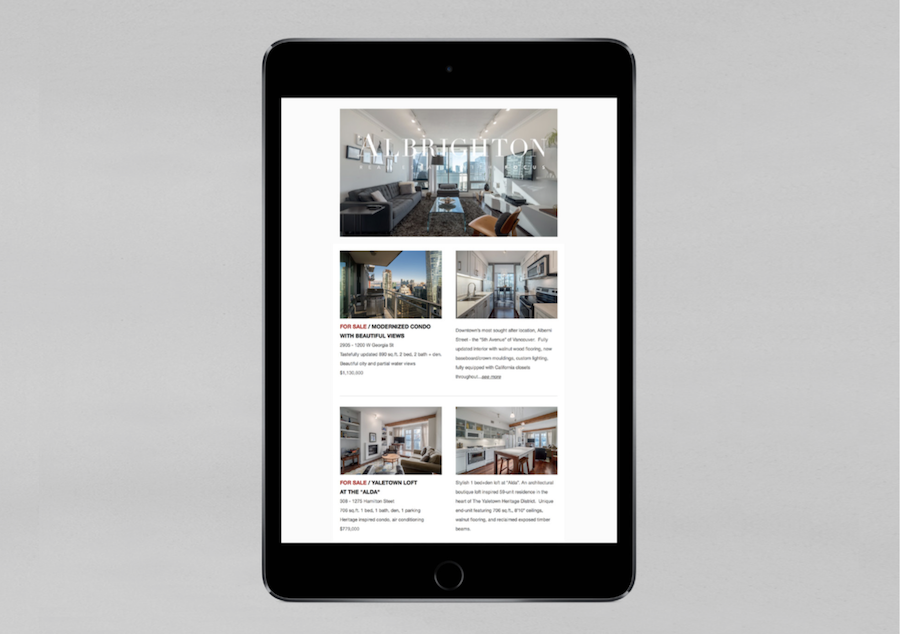 albrighton.ca Albrighton's objective is to offer efficient focused marketing and real estate services for both buyers and sellers of unique properties in Vancouver, BC. With a personal passion for architecture and design, Albrighton has lead his real estate business to an international scale, servicing clients from all over the globe. For clients who are sourcing a local expert to market their modern home or are seeking to purchase a unique property, Paul Albrighton is the one to call. He offers a great eye for design, and will provide buyers with an investment analysis and sellers with an effective marketing plan for selling their property. Albrighton's extensive portfolio consists of unique properties located around Vancouver, BC. 中文服务请发电子邮件至 [email protected]

elan-yaletown.ca Elan Vancouver is a thriving site that tailors specifically to all condos and city homes located at 1255 Seymour Street. Fantastic style, great views, and a central Downtown location. Designed for people looking for a well-built, good quality concrete high-rise, stylish Downtown condos. This website draws a large audience condo oriented audience from Downtown and Yaletown Vancouver.



shangri-la-condos.ca Vancouver's premier high-rise international residences. This website is focused around the famous "Shangri-la Vancouver" residence located Downtown at 1111 Alberni St. and 1128 W Georgia St. The architecture and design at Shangri-la is world class and has been widely recognized. This site contains overall building information, all property listings, video tours, and fantastic photos. This website has a large international reach.



thespacelofts.com - The Space Lofts is a perfect spot for a loft enthusiast in Downtown Vancouver. This special 32 story tower features double level loft condos from 500 sq.ft to 1200 sq. ft. Thespacelofts.com is a complete building resource for all marketing activity within 1238 Seymour St. This website reaches first time loft buyers across Vancouver, BC.
Social Media
As market leaders for modern condos, lofts and unique homes, Paul Albrighton has developed a large Social Media following of people within the design and real estate industry, including: 100's of previous clients, Vancouver property investors, designers, architects, developers, and many top selling realtors who have recognized Paul Albrighton for continously marketing unique homes across Vancouver. We connect with our audience by offering a fresh supply of new listings, architectural buildings around Vancouver, and information about exciting upcoming developments and design related articles. Buyers want information quickly at the palm of their hands, with Social Media we can bring our listings to the open market in minutes.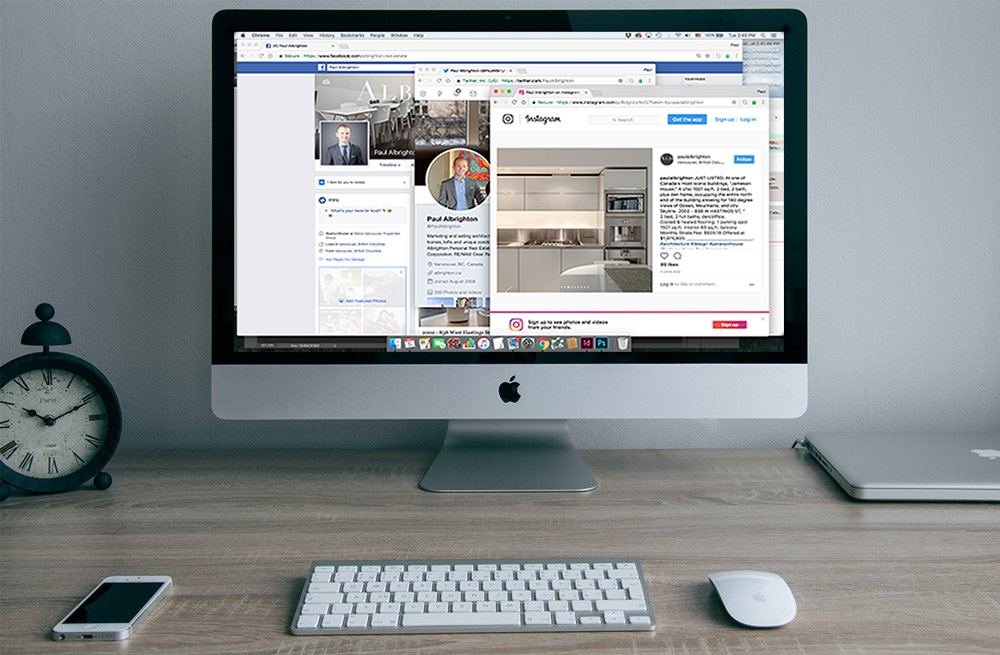 International Marketing
International recognized websites display properties around the globe to targeted audiences looking for unique properties. Our listings are advertised to global Asian markets through online and in-print medias.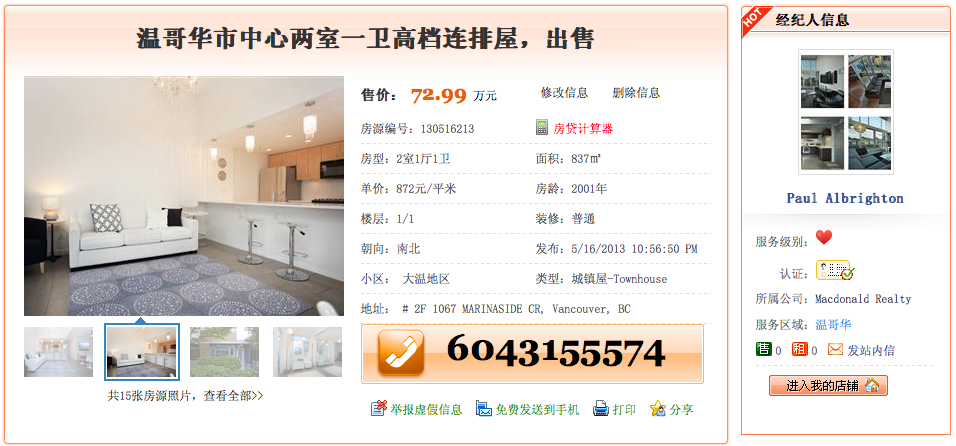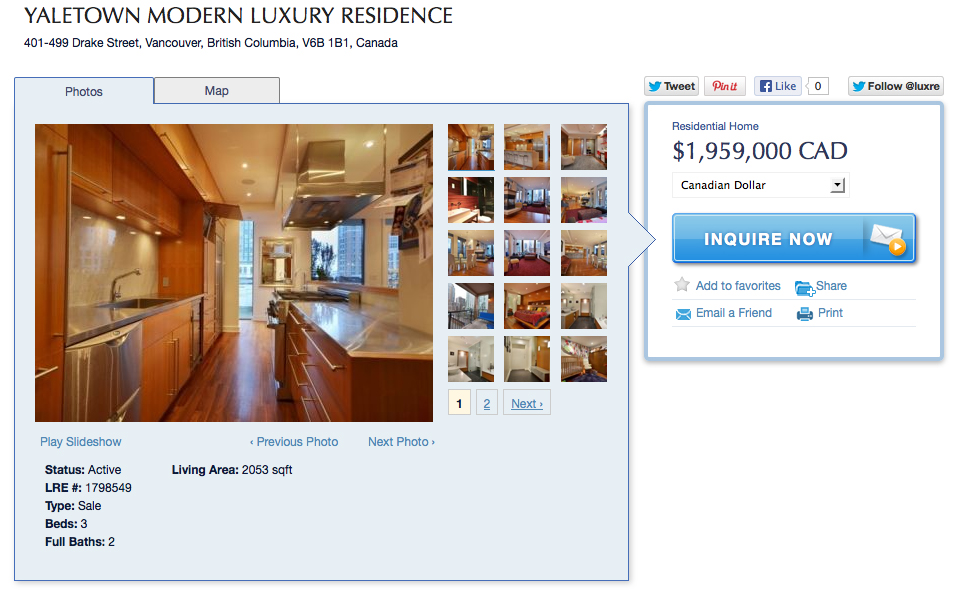 Vancouver focused property marketing
Our website generates over 300,000 hits per month. Return visitors value our website for its unique features, including: our daily updated blog, featured modern properties, newly-listed pages, organized easy-to-search menu's, and our selection of high-quality listings. Our goal is to feature the best homes that offer unique design and high quality to our visitors. These websites are rich in contents and are heavily promoted through a variety of medias. Our print marketing materials are sent to modern homes, selected condo buildings, and lofts throughout Vancouver. Residents of these properties are most likely to purchase or invest in our properties we list for sale.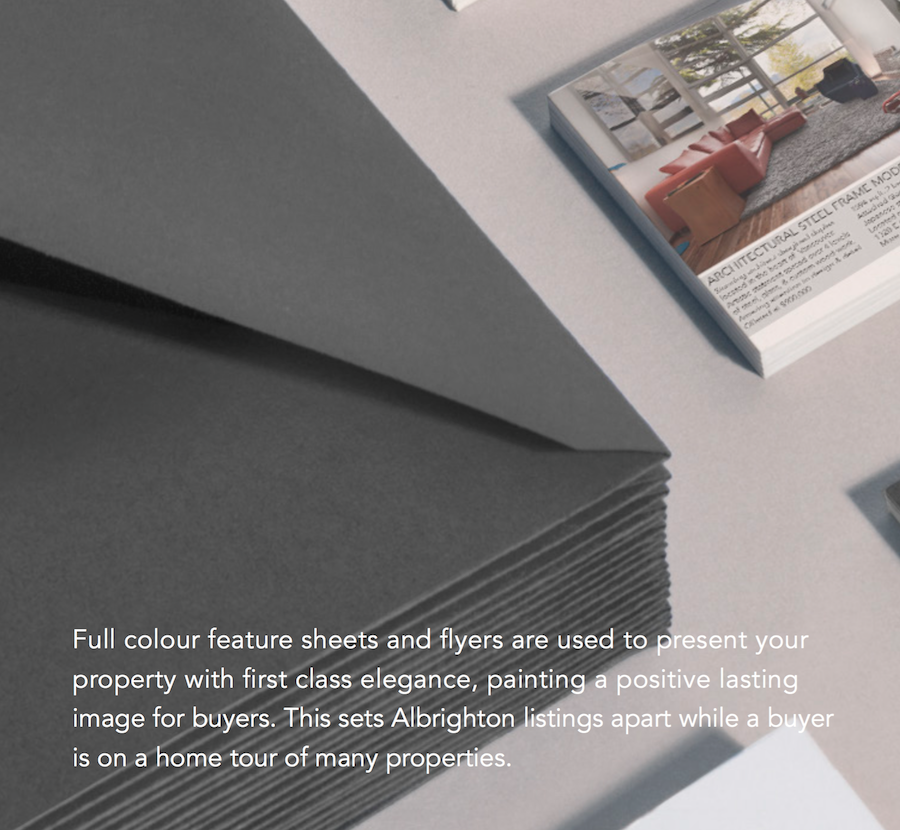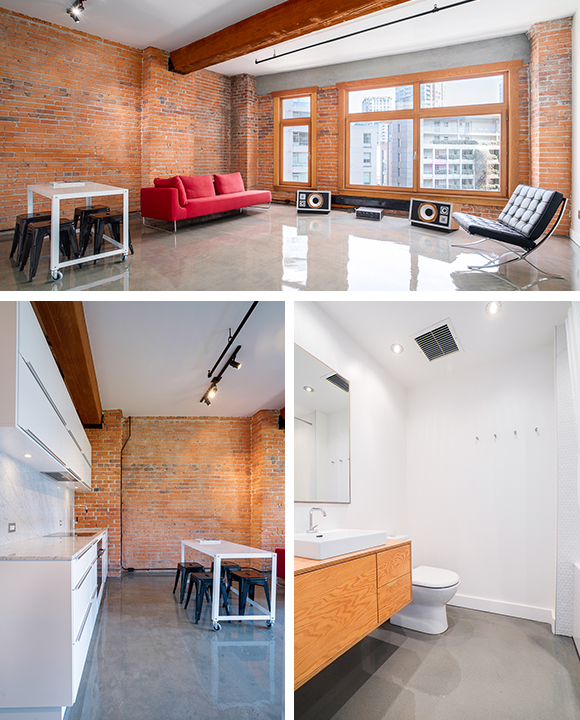 Public Relations Strategy
Paul Albrighton is constantley in touch with the press and local medias, often getting unique architectural properties featured, or news stories about unique sales we acheive. By getting noticed in publications such as The Globe & Mail, Huffington post and blogs including UrbanYVR, we get more exposure to our websites, social media channels and listings. See our media page for our coverage history.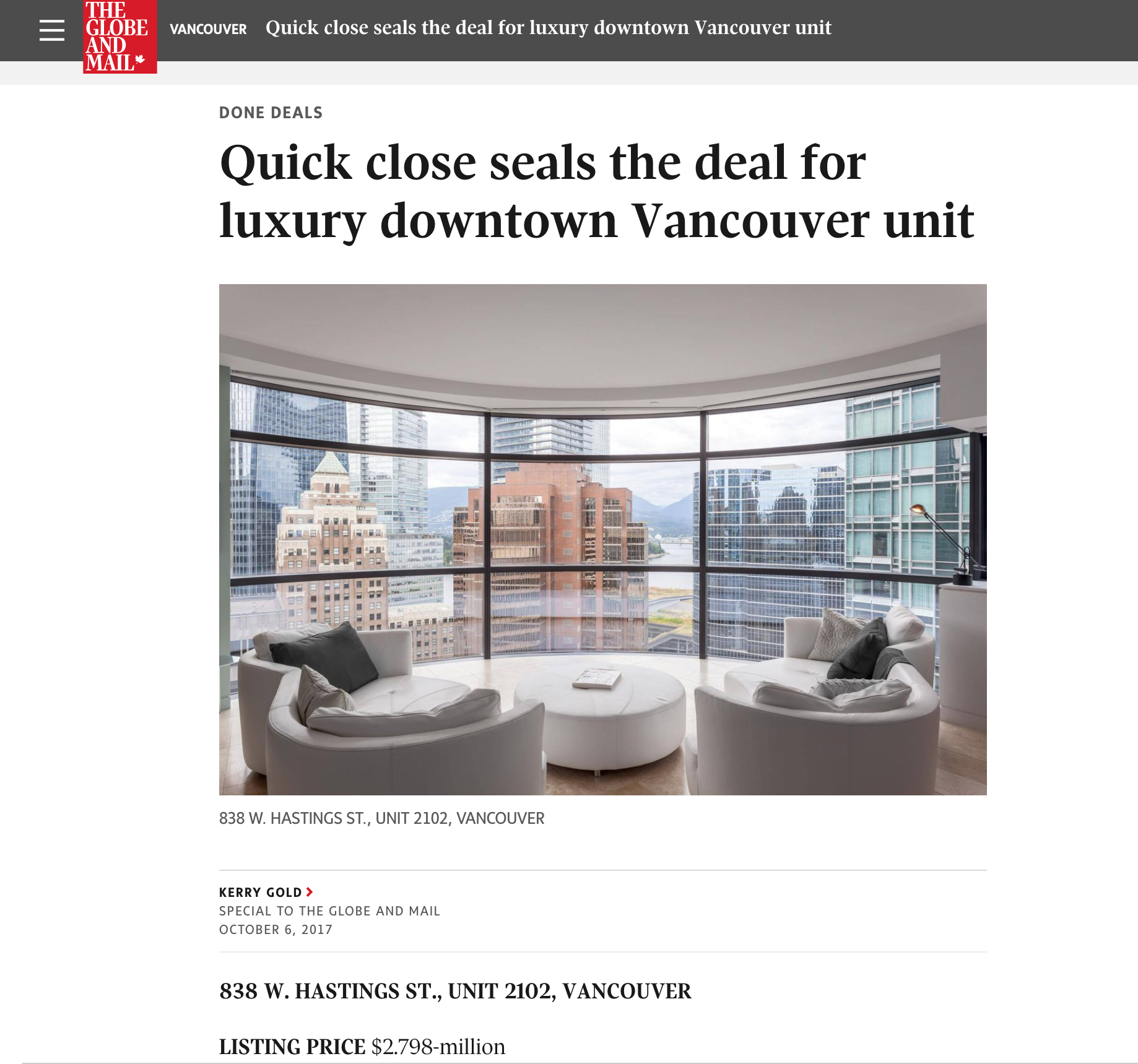 Paul Albrighton & Tom Wang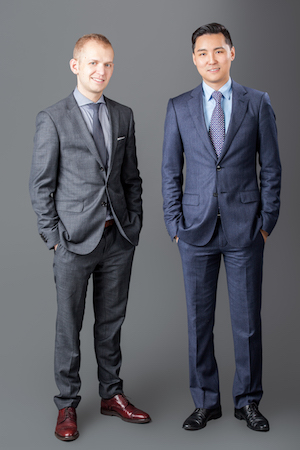 Paul Albrighton & Tom Wang are consistently ranked as the top real estate agents in Vancouver. Marketing condos, homes and lofts from West Vancouver, Downtown, Gastown, Yaletown, to Eastvan. Some key facts about Albrighton's marketing are:
- Albrighton real estate has the most dynamic selling system that guarantees maximum sales exposure -
- We receive over 100 buyer inquiries and over 300,000 page hits from our websites every month
- We distribute over 40,000 mail pieces and 50,000 email pieces per year
- Albrighton understands 21st century buyers and what they require to act on a property listing
- Paul Albrighton uses a team; you get more than one person working for you
- Paul Albrighton advertises your property to an international market
- Paul Albrighton performs at the top 2.5% of all Reatlors in Greater Vancouver
- Paul Albrighton is a "Hall-of-Fame" and "Titan Club" achieving realtor at RE/MAX
- Paul Albrighton and Tom Wang offer Chinese speaking services
- Paul Albrighton has been selling Vancouver real estate as a top performer since 2007
- Paul Albrighton & Tom Wang have sold over $300M worth of Vancouver real estate
- Can you afford not to use Paul Albrighton to sell your home?

Contact
For a market evaluation of your subject property contact:
PAUL ALBRIGHTON
Personal Real Estate Corp
Direct 604-315-5574
1428 West 7th Avenue
Vancouver, V6H 1C1
BC, V6H 1C1
Office 604-602-1111
我们提供中文服务