December 31, 2012
---
MARKET UPDATE AND NEWS FOR VANCOUVER LOFTS
Currently there are a variety of options and pricing on the market, the past 12 months has shown mainly flat pricing for most Vancouver lofts. As in most market conditions, lofts and unique condos will hold and increase in value better than conventional style condominiums. The overall Vancouver condo market has shown slower numbers than seen in 2011:
1. 3-5% sale price decline
2. 25-30% lesser number of sales
These figures show strong demand, as prices have not significantly dropped, yet the number of sales have. The challenge in today's market is finding unique high value properties, as many sellers of these properties tend to hold back listing their properties during price decline periods. The quest for a unique well price condo or home is not impossibly, this is our speciality as a business - brining you the best properties and helping you find the most unique property that suits your taste at the best price.
For sellers, appropriate pricing matched with Albrighton's international marketing will lead to a sale in today's marketplace. Never has presentation, marketing and a professional approach, been so necessary for a property to sell.
Contact Paul for more information about selling your Vancouver Loft or Unique Home.
Paul Albrighton is an expert when it comes to selling and buying modern properties & lofts in Vancouver.
If you are planning on selling or buying a condo or loft, please contact Paul Albrighton today at 604 315 5574.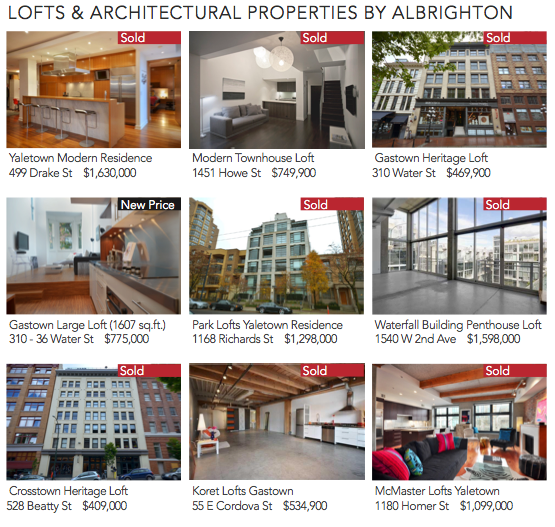 ---