July 31, 2010
---
Modern Vancouver Condos for sale
Priced from $430,000 - $560,000. Here is a recent selection of some current condos for sale that offer either ultra-high quality or some extra patio space. Refer to the link and notes below:

PROPERTY LINK: http://mlslink.mlxchange.com/Pub/EmailView.asp?r=1295601104&s=BRC&t=BRC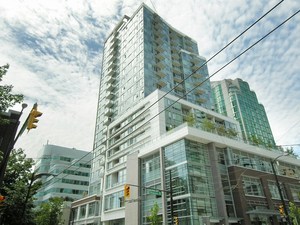 #503 821 Cambie St - Raffles on Robson - This unit has great value. The interiors are quite high quality, and much nicer than typical Concord Pacific developments. The condos at Raffles offer modern European appliances by Bosch, stone counters, and overall nice finishing. The bathrooms have a separate walk-in shower and tub. The patio is approximately 500 sq.ft and faces North, but there isn't a large view. For the price this is a great unit and the interior space is sufficient.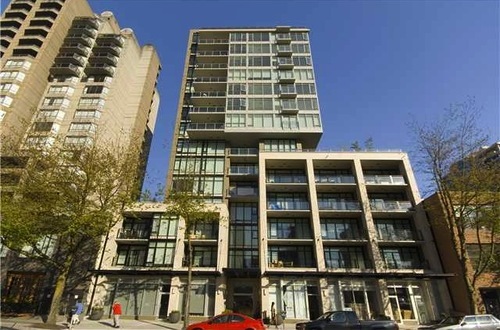 #603 1252 Hornby St - Pure - The unit does have large balcony and it is connected to the common patio so you could entertain outdoors very easily. The interiors are quite modern with clean lines, high ceilings, and nice bathrooms and kitchens. Although the interior space is only 535 sq.ft., the design is very good, so it does feel a bit bigger. I really recommend the building, as the architecture and design is more unique than most. This information page on my website has some more info and pictures: http://www.albrighton.ca/1252-hornby-st-pure.html

#310 788 Hamilton St - TV Towers - This is a typical Concord Pacific development. The buildings are good quality, but some of the finishing is not the greatest and very average. Plus there are quite a few rentals in the building. This unit has 698 sq.ft. and a 300+ sq.ft. private patio, so it may be worth a look as the price isn't too high.
#503 833 Homer St - Atelier - This is the unit you mentioned on the phone. It may be worth a look as it is almost brand new and relatively good quality with a large patio. The interiors are nice, and one step nicer than Raffles, but not as nice as the Le'Hermitage unit below.
#3305 1189 Melville St - The Melville - I included this suite because it does offer great value. It doesn't have a large patio, just a typical balcony. However; the building has a common rooftop patio, pool, hot tub, gym and garden on the 41st floor - which is simply amazing, and the highest common rooftop in Vancouver. The layout, quality, and design of the interiors are nice, and the location is great. From the 33rd floor you'll also get some pretty nice views. This building was built by Amacon in 2007.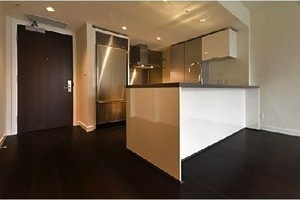 #1404 788 Richards St - L'Hermitage - This unit doesn't have a large patio, but it is very nice. If you are open to other ideas, this unit offers really good value. The bathrooms and kitchens are beautiful, with ultra high-end materials, fixtures, and appliances - including Sub Zero and Miele. The patio still has room for a small table, 2 chairs, and a BBQ. There is a common patio on the 5th floor too. Also, this is the only unit in this mix that has air conditioning and Hotel Concierge included. (Air-conditioning is very hard to find under $1.0M) Information page: http://www.albrighton.ca/l-hermitage-788-richards-st.html
---