October 31, 2017
---
DECOIST - A POPULAR DESTINATION FOR ARCHITECTURE & DESIGN
WRITES ABOUT ANOTHER ALBRIGHTON LISTING
"Dreamy Sunsets, Ocean Views and Urban Luxury: 36th floor Vancouver Condo has it All!"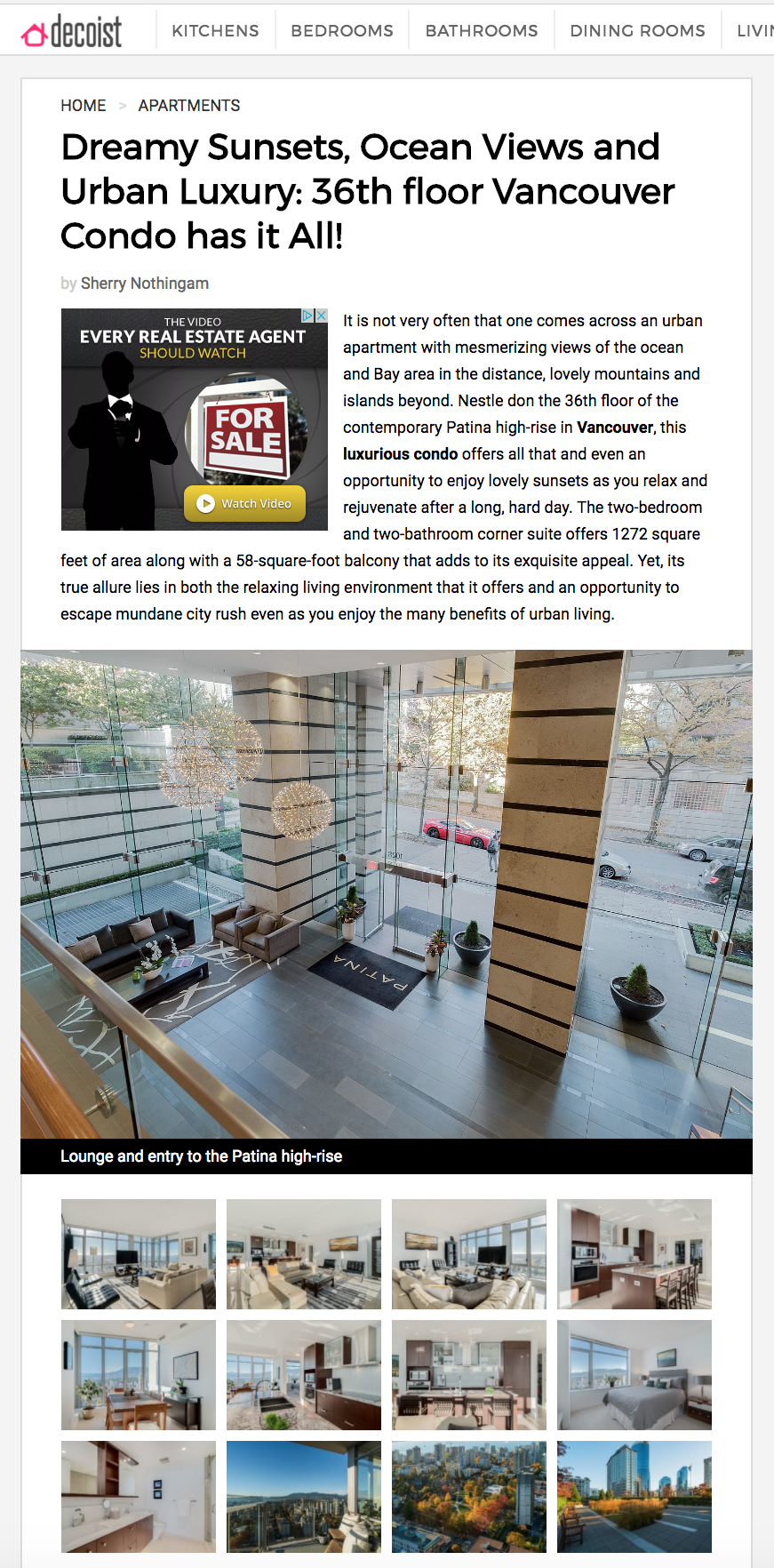 From the article:
"Rejuvenate after a long, hard day. The two-bedroom and two-bathroom corner suite offers 1272 square feet of area along with a 58-square-foot balcony that adds to its exquisite appeal. Yet, its true allure lies in both the relaxing living environment that it offers and an opportunity to escape mundane city rush even as you enjoy the many benefits of urban living." Read the full article here.
Paul Albrighton's Media Plan
We are constantley sending our listings and business profile and storey, to different media outlets that target either Vancouver property buyers, international design enthusiasts, and investors. This exposure increases the reach of our listings and captures the eyes of more buyers, than most Realtors or brokerages can offer. Our brand and listings are recognized across the world for offering quality and design. The high-quality marketing materials we use, are picked up on by the media, and often exposed and written about as they are appealing and draw interest. When you list your property with Paul Albrighton and his team, not only do we market thorugh the traditional local sources such as the MLS, Realtor.ca, Rew.ca, Albrighton.ca, and Remax.net, but we reach out to different blogs and news outlets to feature our properties to reach larger audiences from across the world. Many of the design Magazine type websites we focus on feature unique properites from around the world.
We have met buyers with this strategy, and closed sales to buyers who first heard about our listing or business profile from one of the news outlets or magazines. Its not uncommon, when people have come through our listings, they often mention having seen our properties or previous listings in the past on different website or newspapers. We have been featured by many media outlets including:
The Vancouver Sun, Globe & Mail News (over 20 times), Decoist online Design & Architecture Magazine, Urban YVR, Daily Hive Vancouver, Tower Trip Magazine, Huffington Post, Curbed.com, Shaw TV Dream Homes, and more. See our full list of media mentions and articles: http://www.albrighton.ca/media
---