25 GORE AVENUE, EXTRA LARGE 2 LEVEL LOFT
THE EDGE LOFTS IN GASTOWN / RAILTOWN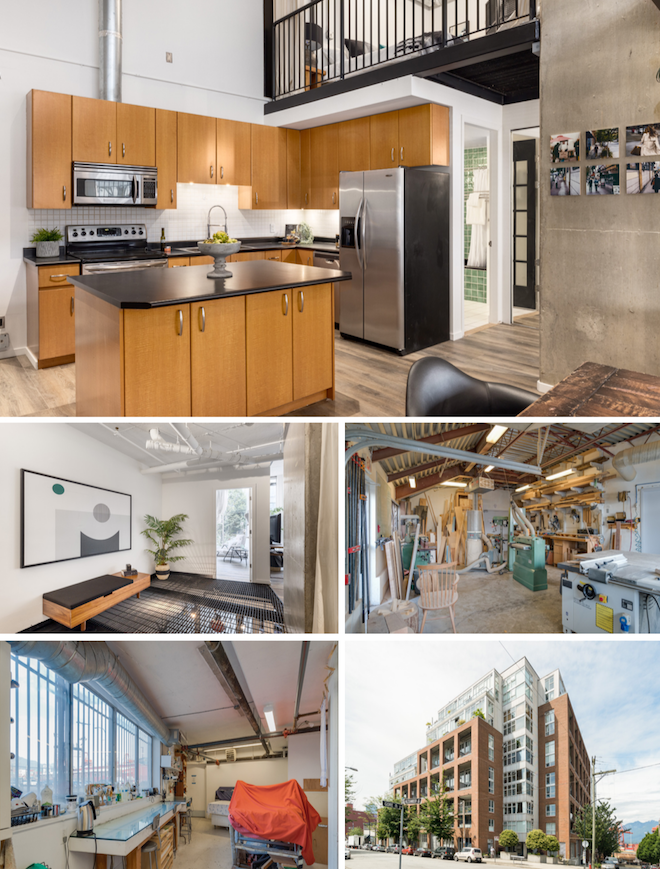 | | |
| --- | --- |
| Bedrooms: | 2 |
| Bathroom: | 1 |
| Listing Type: | Townhouse |
| Sqft | 1,544 |
| Built: | 1999 |
| Mgt Fees: | $399 |
| Price: | $1,125,000 |
| Listed By: | RE/MAX Crest Realty |
| MLS: | R2507284 |
25 Gore Avenue: Mixed use commerical & residential. 2 level 1554 sq.ft. concrete loft, with 2 beds, 2 living areas, and 2 parking. Nicely designed with industrial concrete and steel elements throughout. The building, "The Edge lofts", is a concrete well maintained building located just East of Gastown, with expansive amenities and workshop space, including a metal & wood shop, photograph dark room, music room, pottery room, rec room, and gym. More info and photos.
Building information: A unique Gastown concrete loft building, containing 165 suites, which most of them are loft two level suites, and with large spaces on the main floor. This building is just East of Downtown Gastown, in Railtown, which is a growing semi-industrial area with some of Vancouver's fastest growing companies and boutique restaurants, including: Railtown Cafe, St. Lawurence, Cuchillo, The Mackeznie Room, Ask for Luigi, Belgard Kitchen and Postmarket Brewery. Railtown is also home to offices of Aritzia and Herschel bag company.
These units feature modern two level layouts, concrete features, exposed pipes and vents, and some suites have great Northern ocean views. This building contains Live/Work style suites with zoning allowing for mixed use. This is a highly desired building with great layouts and functionals designs. The Edge, features a large massive 7,000 square foot amenity room with gym, metal and woodworking shops, darkroom etc... Both pets and rentals allowed as well (restrictions may apply). 289 Alexander St, Vancouver, BC, V6A 1C2. Built in 1999, 165 loft and loft style suites, concrete construction More building info.
25 Gore Avenue Property Video: