VANCOUVER LOFT AND PAUL ALBRIGHTON
IN THE GLOBE & MAIL NEWS
"DONE DEALS" - HOW MUCH DID THIS VANCOUVER HERITAGE LOFT GO FOR (IN A SOFTER MARKET)?
Paul Albrighton is often quoted for his expertise with lofts and Vancouver properties. Recently the Globe & Mail News reached out to Paul Albrighton for information on a recent sale, a loft on Beatty Street, #3-528 Beatty St. This historic loft was unique with its architectural features. Read more by following the links below.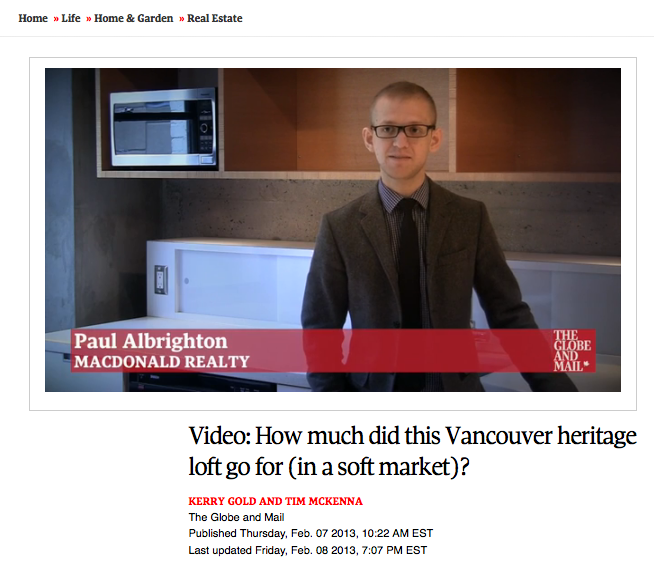 Video Link: http://www.theglobeandmail.com/life/home-and-garden/real-estate/video-how-much-did-this-vancouver-heritage-loft-go-for-in-a-soft-market/article8306806/

Text Version: http://m.theglobeandmail.com/life/home-and-garden/real-estate/soft-market-trims-price-on-vancouver-heritage-loft/article8330215/?service=mobile
Quoted from the article:
"The property was listed at $429,000, reduced to $409,000 after several weeks without selling and was reduced again to $399,000. It finally sold 51 days after being listed for $395,000.
What they got: Because Vancouver hasn't got a lot of lofts, the lofts that do come on the market go for a price that's generally slightly higher than the average. This loft at 528 Beatty, known as Bowman Lofts, is a warehouse conversion by Salient Group in the neighbourhood of Crosstown, which intersects three neighbourhoods: Yaletown, Gastown and Chinatown. It's on a highly desirable street, close to trendy upscale restaurants as well as the hockey arena and movie theatres.

The agent's take: Realtor Paul Albrighton is a loft specialist whose listings usually come up in places like Crosstown where the buildings were formerly used for light manufacturing and warehousing. In the current market, "we are seeing more investor style clients that are planning to purchase properties either as holding property or rental properties because they recognize that prices have come down," Mr. Albrighton said. "The purchaser of this place is planning to rent it out for the long term, as it's a unique place and the price was very attractive."

If you are looking to buy or sell a Vancouver property, contact Paul Albrighton, 604-315-5574.