PAUL ALBRIGHTON'S LATEST SALE AT SHANGRI-LA WAS FEATURED
BY THE DONE DEALS SECTION IN THE GLOBE AND MAIL
PUBLIHSED NATIONALLY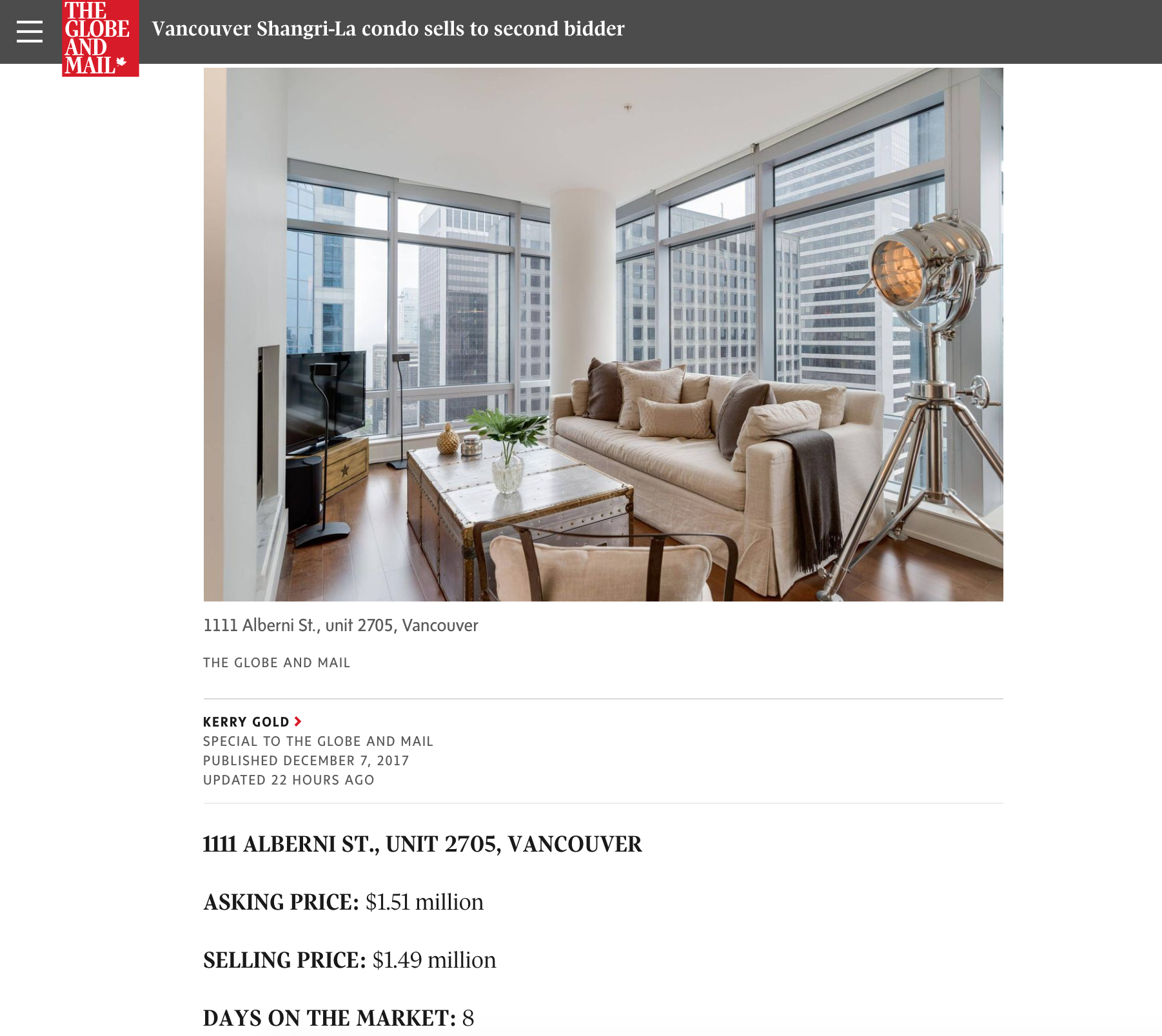 Property Advertisement Link: http://www.albrighton.ca/property_details-3-119797.html
Suite 2705-1111 Alberni St, Shangri-la Vancouver. It was a nice NE corner unit, 1094 sq.ft. 2 bedrooms, 2 bathrooms, and a small den with some city views, and a corridor water view. The unit was in original condition, but very well kept as it had been owner occupied for most of its life. It was listed at $1,510,000 on September 19th 2017, and sold in 8 days for $1,490,000 ($1361.97/sq.ft.). We showed it to about 15 groups within the week. We had one offer within 6 days, which was slightly too low for the seller to accept, and after declining that initial offer, we then received a better offer the next day which after some negotiation landed within 1.3% of the asking price.
The seller had initially purchased this property as her primary residence in September 2015 for $1,090,000. The 37% appreciation over 2 years is beyond the average for most Downtown condos in this price range, however; the building Shangri-la has become extra desirable with nearby high-rises including the Trump Tower with similar units now selling at $1700 - $2500/sq.ft. Shangri-la has always been popular for its location, 61-storey height, views for the upper units, modern styling, and being connected to an international destination hotel. Read the full Globe & Mail Story here:
https://www.theglobeandmail.com/real-estate/vancouver/vancouver-shangri-la-condo-sells-to-second-bidder/article37195406/
We have sold 5 condos at Shangri-la Vancouver, and have a dedicated website for this building, www.shangri-la-condos.ca which is also in Chinese. 50% of our visitors are from out of country, we have met many buyers and international clients through this website.