MARKET UPDATE - INVENTORY INCREASES
CREATING BUYING OPPORTUNITIES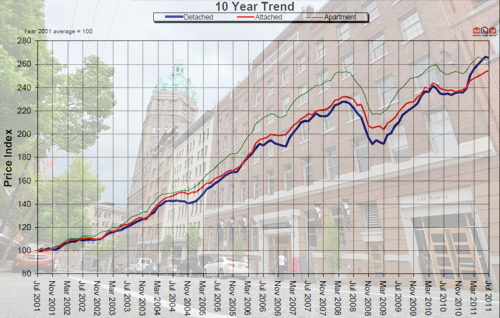 This past summer has been the result of a typical hot spring market, increased inventory at higher prices driving the recent sales numbers slightly down. The Vancouver Westside/Downtown real estate market for condominiums and townhouses has seen a 4.4% increase over the past 12 months. Much of this price gain was from late 2010 until mid April 2011. Inventory was low, interest rates were kept low, and the global market was very positive. This along with the amount of new foreign buyers across all markets in Vancouver drove prices a few percentages higher than those seen in 2010. After this short term price gain, the typical cycle continued. More people listed their places for sale at higher than recent pricing. More expensive overpriced listings being poured onto the market resulted in buyers slowing down on their purchasing decisions. Sales slightly slowed after April because of the increased inventory and the "higher than ever pricing". The only sellers who are succeeding into today's market are competitively pricing their homes for sale, and selecting good agents who can make a listing stand out from its competition. Promotion, adverting and presentation make a large impact and difference in today's market.

"We're seeing less multiple offer situations in the market today compared to the last few months, but our members tell us that homes priced competitively continue to sell at a relatively swift pace," Rosario Setticasi, REBGV President

Unique homes, condos, townhouse and lofts are still selling at a quick pace, but pricing is very important given the amount of inventory added on the market. We currently have over four months supply of average sales numbers on the market available, making it slightly more favourable for buyers. The challenge we've seen while working with buyer clients is seeing great listings for sale, but many of them are significantly overpriced as if the market has continued to increase all year. The reality from the statistics is that the market has cooled since April. Competitive pricing will get a property sold in today's market. Again, the work of a good Realtor who understands buildings, negotiation and analysis can help you achieve a great purchase price.
Sources: Real Estate Board of Greater Vancouver