INTERNATIONAL PROPERTY MARKETING BY ALBRIGHTON
We cater to an international audience who appreciates design, architecture, and unique properties. Our efficient website, www.albrighton.ca is a great source for showcasing property listings along with two international partnerships that draw extra attention to our property listings and web-traffic to our sites. Please take a moment to view our most recent Luxury listing at #401 499 Drake St, and our partnership websites.
Luxury Portfolio, www.luxuryportfolio.com
Background: "Luxury Portfolio International TM is the luxury face of Leading Real Estate Companies of the World® the largest global network of premier locally branded companies dominated by many of the world's most powerful independent luxury brokerages. Our award-winning website was launched in 2005 and in its first year featured more $1 million-plus residences than other luxury real estate organizations. The network continues to grow and now markets over 25,000 of the world's most remarkable homes annually and attracts over 1.2 million high-net-worth visitors a year. By presenting a gallery of the finest luxury properties and brokerage worldwide, our brand is recognized throughout the world as the luxury standard of excellence."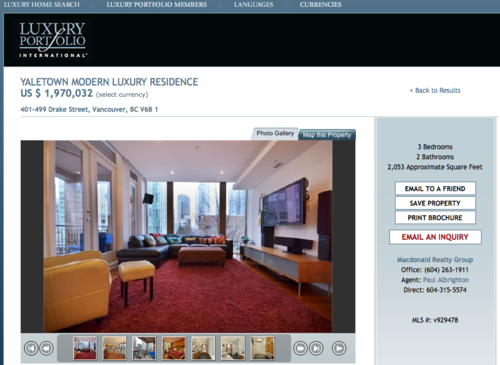 Luxury Real Estate, www.luxuryrealestate.com
Background: "Who's Who in Luxury Real Estate and Luxury Real Estate Magazine is a compendium of the finest residential real estate firms from around the world. Inclusion in our directory is by my invitation only. "