GLOBE AND MAIL FEATURES PAUL ALBRIGHTON
"One man's happiness project moves ahead"
This news story was picked up by Kerry Gold at the Globe and Mail, as Paul Albrighton is a recognized leader in the Vancouver Real Estate Industry. His sales ablilites and contribution to the Make-A-Wish BC chapter has received attention from the media.
From Globe and Mail Website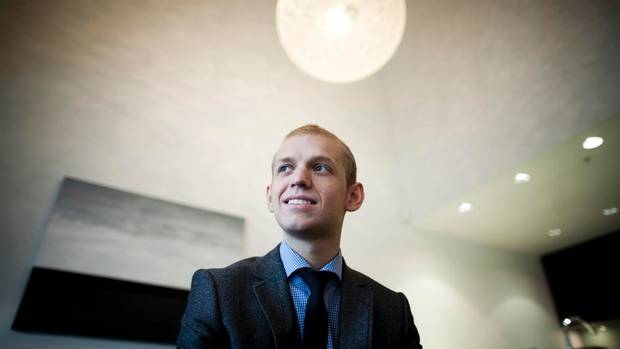 Above: Paul Albrighton photographed in his loft, December 18 2012. Photo by Rafal Gerszak

Paul Albrighton is the kind of 27 year old who could pass for a teenager wearing a nice suit. He's got a wide grin, a wiry build, and the polite exuberance of a young salesman who might have taken in a few Tony Robbins how-to-be-your-best seminars.
His optimism, though, hasn't got that dogged spiritual-boot-camp feel to it. Mr. Albrighton has arrived at his daily up-with-life mantra as a response to childhood health setbacks that linger into his adult life. In other words, he's happy to be alive. In fact, he's so happy and goal-oriented, he tells me, that his mind is even working while he sleeps.
"When you give yourself good thoughts before bed, you do a little dreaming about what you want," he says, seated in a Gastown coffee shop. "Your body and mind work over time when you are focused, even when you are sleeping. Define what you want, make it realistic, and go for it with passion," he says.