THE ULTIMATE LIVE WORK BUILDING
THE WORKSHOP AT 1220 E PENDER ST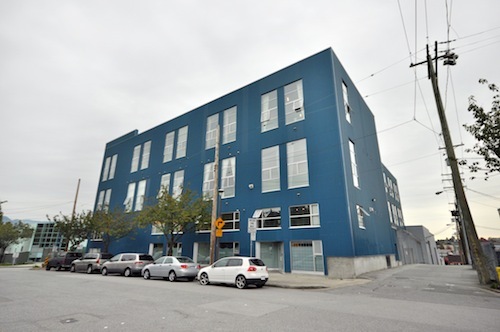 Above: Outside "The Workshop" from E Pender St
THE BUILDING
The workshop was first built as a commercial building around 1999. It was soon converted to a live/work zoned building as it helped sell the building to the public. The spaces were bare minimal concrete open spaces ranging from approx 1000 sq.ft. – 1300+ sq.ft. The spaces were left as raw spaces, with concrete floors, walls, with all the bare construction materials exposed. The building was constructed with concrete, cinder block, steel and finished with metal cladding on the outside. There is one level of parking (P1) below the ground. There is an open style workshop area/parking area at the back of the building. This area is used for the parking for some of the ground floor units and some local residents use this area for crafts/workshop area. The hallways are very bare concrete shells, hiding some very unique spaces.

Above: Common workshop/parking area. Above Right: Concrete minimal common hallways
LOCATION
Located just east of Clarke Dr along Pender St, and just north of Hastings St. Bordering Mount Pleasant and Strathcona. This unique loft building, divides the heritage residential area of Strathcona populated with restored old homes, tree-lined streets, and early built schools to the industrial world. On the east side of The Workshop you will find light industrial buildings, where workshops, car repairs, and other light industrial/commercial business are located. Due to the grade of the land, there are some great views for some units facing either West or North. West facing Workshop units get a great skyline views of Downtown Vancouver, some Northern exposure units get views of the North Shore Mountains and the local Port/Docks. This building is located very close to the thriving Commerical Drive district – populated by fantastic ethnic grocery stores and restaurants, and some of Vancouver's newest hippest eating and dining spots.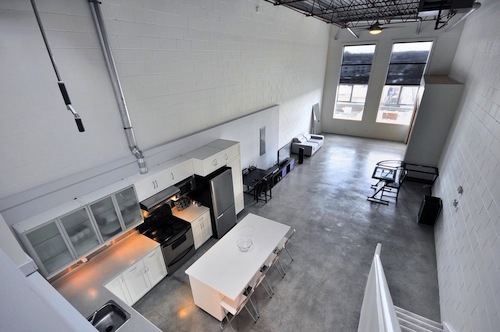 INTERIORS & UNIQUE SPACES
Since the building was first populated around 2000-2001 plenty of suites have been customized from their original blank canvas/raw loft state. Plenty of owners have made their own loft creations. Some people have made beautiful open concept modern bright lofts – painting everything no colour, but "white" . Other loft residents have warmed their spaces using natural materials such as concrete, stone, and wood. Each loft at the Workshop is a creation of its own. As you can imiage, the building is home to many creative people. Some of the residents include: musicians, designers, photographers, and even pottery makers. The residents at The Workshop have chosen this building to utilize the amount of space and the live/work zoning.

Above: Country Style Loft. Above right: Minimal Modern Loft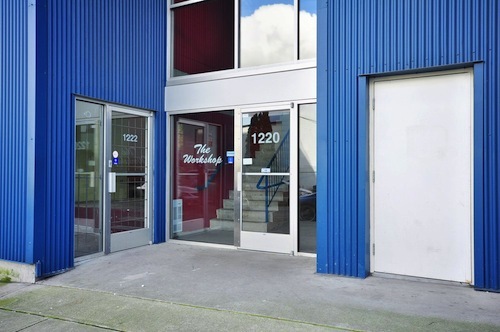 LIKE NO OTHER LOFT BUILDING
The workshop is a great loft concept. Unique ultra-large open spaces, located on the edge of town – simply waiting for your inspiration! The large amounts of space combined with 16'+ ceilings allow for plenty of flexibility for people's creative ideas.
View some of our recent properties and photos at the Workshop:
#2 Country Style Warm Loft - currently for sale
LOFTS FOR SALE
You can view the current MLS listing at the Workshop on this page: http://www.albrighton.ca/1220-e-pender-st-the-workshop.html. Contact Paul Albrighton directly to buy or sell a loft in this building.