Buschlen Mowatt Galleries Newest Exibition
Canadian Artist Yehouda Chaki Revisits the BC Landscape in His New Series of Paintings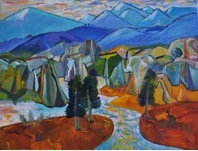 Art fans come visit Buschlen Mowatt's latest exhibition.
Vancouver, BC - Long-time Vancouver-based art dealership and member of the Art Dealers Association of Canada, Buschlen Mowatt Galleries proudly presents popular artist Chaki's newest paintings inspired by the Toba River Valley.
These new works extend Chaki's exploration into the British Columbian landscape; his initial introduction to which occurred when he visited the valley with Plutonic Power Corporation's Donald McInnes to view their green energy corridor. Traditionally a painter of Middle Eastern deserts that marked his Israeli heritage, Chaki's colour palette, style and passion for the Canadian landscape was forever changed as a result of this journey.

The new paintings will be on display alongside past works in a miniature retrospective that highlights Chaki's breadth.

This year, Buschlen Mowatt Galleries celebrates 25 years of representing Yehouda Chaki. His work is held in the permanent collections of over seventy-five museums and corporations including The Montreal Museum of Fine Art, Musée D'art Contemporain de Montreal, Fort Lauderdale Museum; Eretz Israel Museum; Musée de Toulon; and the Museo de Arte Moderna in Rio de Janeiro, Brazil.

Chaki: Recent and Selected Works from 1979-Present will be on display at Buschlen Mowatt Galleries from September 13th- October 12th with a reception held with the artist in attendance on September 30th from 6-9 pm. Chaki will be signing catalogues that commemorate the partnership between Chaki, Buschlen Mowatt Galleries and Plutonic Power Corporation at Sutton Place Hotel on September 29th from 6-8pm. A special BC-themed menu will be available that evening in the Fleuri Restaurant at Sutton Place Hotel in celebration of Chaki's newest landscapes.

For viewing appointment and further details contact Michelle McLean, Sales Representative, Buschlen Mowatt Galleries at [email protected]m or 604.682.1234.