Clean Modernist Condos - Vancouver Architecture for you
These are not true lofts, but do get considered "loft style condos". Why? Open concept design, continueos clean lines, high ceilings, visually unique designs on the inside and out, and becuase of the extra details put in from the original construction date.
PURE - European Inspired "Purism" Design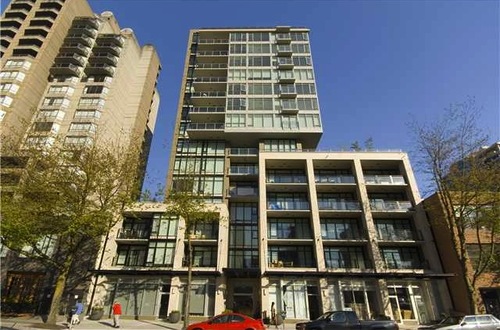 Pure 1252 Hornby St - Features open concept designed high quality condos. Properties at Pure have ceiling heights from 8'6" up to 11" high giving a great sense of open space. The use of very "white and clean" designs, complimented with either white ceramic tile floors or a bleached style engineered hardwood floors make each room for together. The well-thought-out kitchens are compact and practical, inspired by European designers. The appliances are slightly smaller, touched off with dark wood with no contours, minimal handles, and white ceaser stone counter tops. All the fixtures used throughout the apartments are of stainless steel and high quality, giving a "quality" feel to opening every door or cabinet.
Directly Above: Front of Pure from the street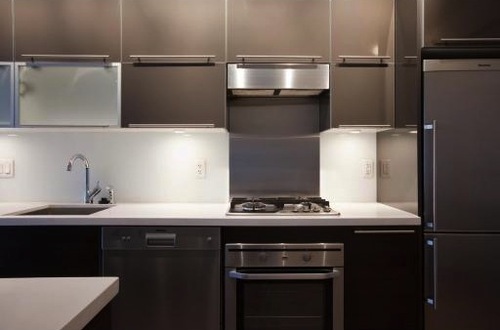 The bathrooms have minimal chrome touches, and "acid-wash" style wall tiles, topped off with floating style mirrors. Some of the condos at Pure have open bedrooms only separated by lower 4-5' pony walls allowing for more light and unique floor plans. When you get to the higher floors there are some great views of Downtown, False Creek, and South Western Ocean. Most suties are complimented with a larger than average sized balcony ideal for a BBQ and patio chairs. The attention to detail, design, and aesthetics put Pure amongst the top of the list for Modern "Clean-Lines" Condos. Constructed in 2009 by Bogner Developments Ltd.
THE QUBE - "Timless Form, Changing Function"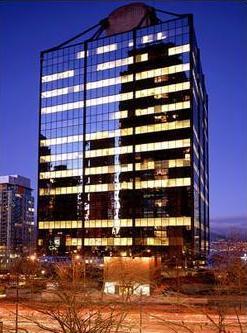 Qube 1333 W Georgia St - Features open concept modern condos. The Qube was originally constructed in 1969 as a "structuralism" masterpiece. It has a core tower which suspends the remainder of the building from the top of the tower. This suspended design has only been used twice in North America. Most of the Qube's life was used as a commercial building and has also been the building used on film sets in the past. The residential conversion was completed in 2006. At that time the developer Anthem Properties enhanced the strength the building by wrapping the core of the tower in a type of Carbon Fibre. Numerous structural upgrades were made, a new
glass exterior was fitted, and clean contemporary designed layouts were composed. Inside the Qube today you will find beautiful spacious studios, New York Style One bedroom lofts, two sizes of typical one bedrooms plans with large living rooms, and the corners of the tower are made into 940 sq.ft. two bedroom plans. Units facing North have beautiful Coal Harbour/Stanley Park Views. The building is known as "classically" modern with its heritage and unique architecture. The Qube was ahead of the time in 1969 and it still is today.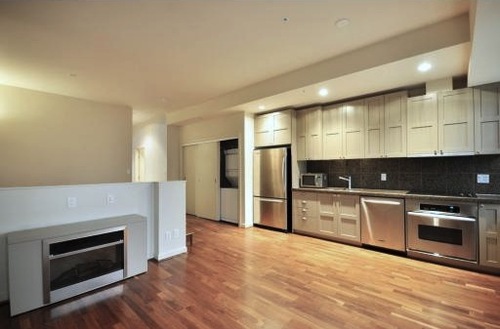 Each suite at the Qube has been very well thought out, and there are no angles within any of the floor plans, utilizing all spaces, and complimenting the exterior "Qube" look. The kitchens and bathrooms have been fitted with high-quality stone surfaces, wood cabinetry, and top of the line Kitchen Aid appliances. The bathrooms are spacious with seperate tubs, walk-in showers, marble surfaces, and floating style mirros. This building is in a great location and offers a type of home that is special and truly unique.
Above Right: The Qube at Night - Developer promotional photos. Directly Above: A New York Loft style unit