Top 10 Vancouver Lofts
Here is a selection of the TOP 10 Vancouver lofts currently for sale. These lofts have been selected for outstanding design, great styling, functional layouts, good value, and some sort of unique attribute. For more information on these lofts and their availability contact Paul Albrighton at 604 315 5574.

MLS Property link with property Details: link removed.... - Currently for sale as of April 26th 2010

The Line Up
#1- #604 1275 Hamilton St.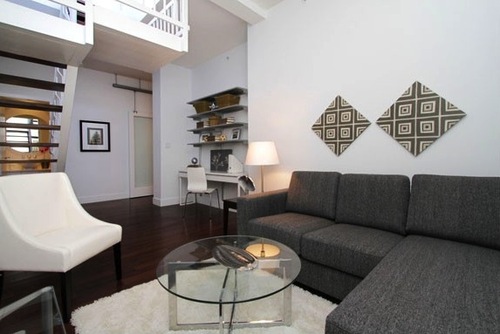 What an amazing Yaletown Loft. This unit has over 12' ceiling, 1400+ sq.ft., beautiful attention to details within the three bathrooms and open layout. A large bonus list includes: 400+ sq.ft. storage room, two underground parking stalls, and another storage locker, oh and did I mention the 900 sq.ft. private rooftop patio! The design and layout of this unique Penthoues at "Alda" is truly stunning. Addtionally the large master suite gives a romantic modern feel with the two way fireplace, patio, and walkthrough closet. Priced at $1,288,000. Listed by Remax Real Estate services.
#2 - #402 1180 Homer St.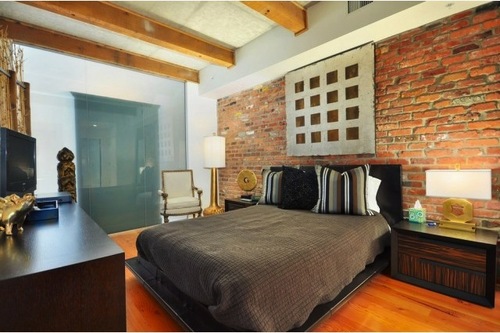 Welcome to the "McMasters", this large loft stands out for the best materials used. The polished concrete touches/walls, exposed wood beams, original brick feature walls, reclaimed wood fir floors, and top of the line European kitchen should tell the whole story. This 1355 sq.ft. loft has only the very best inside. The luxurious layout offers plenty of flexibility with sliding walls, and lots of storage, The master suite bathroom has a one-of-a-kind spa-like modern setting. Read a recent blog about this unit. Now Priced at $1,099,000 by Paul Albrighton Macdanald Realty.
#3 - Penthouse #603 55 E Cordova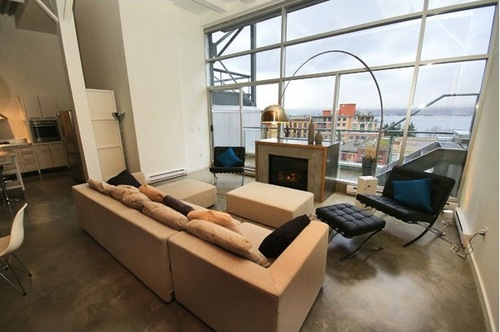 A modern open concept masterpiece. This Gastown penthouse loft has plenty of features to impress: an open concept living area with 1300+ sq.ft. 12'+ cielings and plenty of concrete and exposed industrial style materials. Walk up a curled outdoor staircase to your own private rooftop deck with great Northern ocean and mountian views. This loft at "Koret" makes a statement, and would works as a great canvas for large art pieces where light and sleek finishes are valued. Listed at $855,000 by Blu Realty.
#4 - Two Level Loft at #309 36 Water St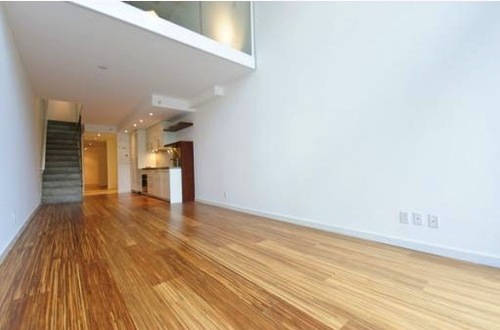 Beautiful ultra-contemporary two level minimalist style loft in Gastown. This two level 1477 sq.ft. long plan at Terminus has plenty of light with a double height living room and will make a statement amongst your friends. The linear plan with sliding walls, flush cabinetry and closets matched with "material-icous" touches will keep your eyes entertained. The European styled kitchens, and open style bathrooms are a true work of art. The concrete staircase, wood floors and white cabinetry make for a harmonized treat for the eye and touch. Priced at $798,800. Listed by Remax Real Estate Services and Remax Ken Leong.
#5 - #502 528 Beatty St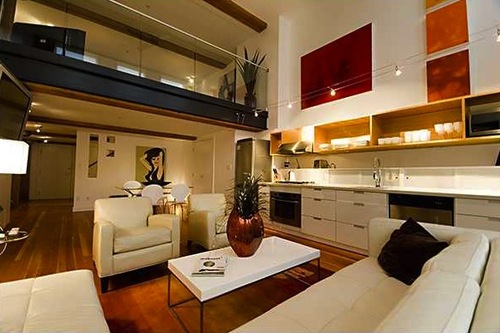 Two level heritage loft. First off this is extremely rare in Vancouver: two levels of living in a well-done heritage conversion building. First take notice of the reclaimed wood floors, exposed brick, steel beams, and polished concrete. Matched with modern efficient deisgned kitchens and bathrooms, this Bowman loft offers a true loft feel, and in a central location within Crosstown. Nicely priced at $749,000 which is 615/sq.ft. Listed by Century 21 Intown Realty.
#6 - #7 850 W 8th Ave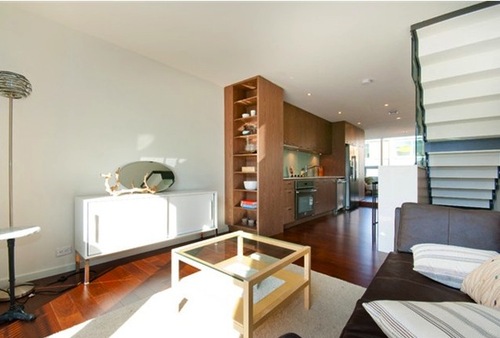 Koi Townhouses are outside of Downtown in quiet Fairview - just east of Granville St along 8th Ave. Minimalist styled three level homes. Sleek design, linear plans, amazing floating staircase, and North city views say it all. These homes are unique and have seperated bedroom levels giving privacy for small families or work spaces. The use of wood and concrete matched with European style architecture make these lofts a top selection. Listed at $749,900 by Remax David Campbell Realty.
#7 - #403 1066 Hamilton St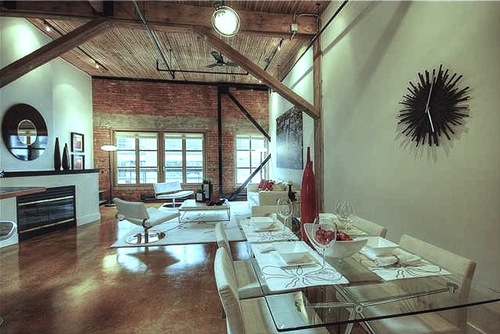 Unique Heritage loft in Yaletown. These lofts have preserved plenty of the old features inside. Take notice of the wood beams on the ultra-high 13' cielings, Plenty of light and old-world charm within this 1004 sq.ft. loft. A nice blend of modern and heritage. This top floor residence also includes a rooftop patio perfect for outdoor entertaining. Listed at $669,000 Century 21 Intown Realty.
#8 - #703 546 Beatty St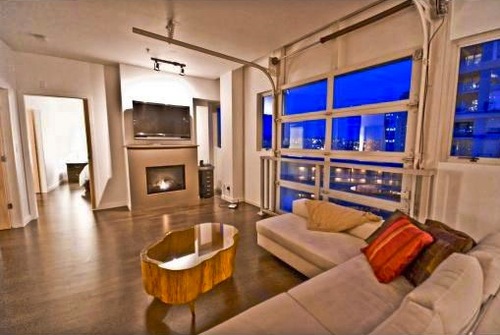 Large outdoor club-style patio and plenty of space inside this modern penthouse loft. Built ontop of the heritage buliding known as "Crane", this modern styled unit features garage door style doors allowing plenty of light and air into the 1369 sq.ft. living space. The private outdoor space has its own fireplace and measures over 1200 sq.ft. Listed at $1,198,000 by Tac Real Estate Corp.
#9 - #270 256 E 2nd Ave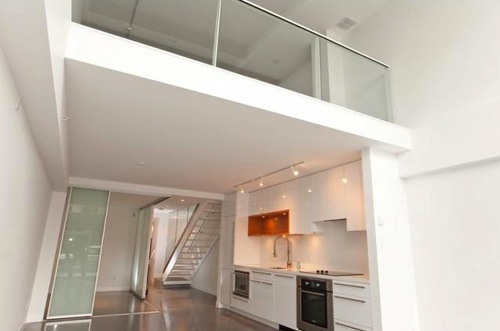 Live/Work two level loft in Mount Pleasant. Modern sleek design, newly built, live/work zoning, and direct street access. Planning on running a business out of your home? This architectural European influenced unit may offer a great opportunity - live upstairs, work downstairs as it is zoned live/work. Plenty of light, bright modern finishes, 1200+ sq.ft., two bathrooms, and polished concrete floors make this Jacobsen loft a special unique loft unit, and into the Top 10. Listed at $665,000 by Century 21 Intown Realty.
#10 - #1608 1238 Richards St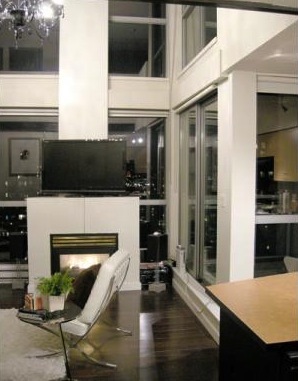 Live in central Yaletown in a two level view condo. These city-lofts offer plenty of light, unique two level spaces, and make a great "city-pads" for young couples or first-time loft buyers. An efficient plan in a well maintained 1999 built tower named "Metropolis". Listed at $499,000 by Sutton Group Winnie Lam and Assoc.