Where can you find two level lofts in Downtown/Yaletown?
1238 Richards St, 1238 Seymour St, 1238 Seymour St. ratings
They are very rare! The top three and only towers (10 storey plus concrete structures) containing primarily lofts are located at 1238 Seymour St, 933 Seymour St, and 1238 Richards St.
How do they rate: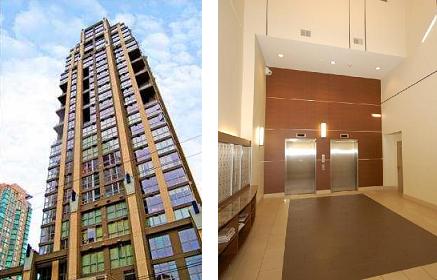 Albrighton rated #1 loft tower - 1238 Richards St, known as Metropolis is by far the best loft tower in Vancouver. This 1998 built concrete tower features high-quality finishing's in the lobby, hallways, and updated amenities. The lobby was recently refurbished with 20' + high ceilings and modern wood panelling. Suites that come up for sale in this building often are sold quickly. In the past 5 months at Metropolis many of the units sold ended up in Multiple offers, and sold relatively close to asking prices, or over asking. Residents and buyers love the Yaletown location, and the peaceful location on Richards St. This street is home to the Grace, at 1280 Richards St, one of Vancouver's most recognized architectural masterpieces. Additionally, Metropolis has been very well maintained. This building is home to only 100 suites with a two 28th floor penthouses. Past Albrighton sale at 1238 Richards st. See all the suties currently for sale at Metropolis.

Albrighton rated #2 loft tower - 1238 Seymour St, The Space. This is a very good value loft tower containing lofts from 550 sq.ft. to just over 1100 sq.ft. There are also studios, one bedrooms, and very few two bedroom condos in this concrete 1996 built tower. The lobby and hallways have an industrial 1990's theme making for a unique setting. These suites were originally built very simple with minimal features and finishing's. Some lofts have been upgraded to meet modern luxury standards and some of the lofts leave potential for new ideas. This is located Downtown Vancouver at Seymour and Drake. This tower includes 229 suites. Past Albrighton sale at 1238 Seymour St - more photos. See all the lofts currently for sale at The Space.

Albrighton rated #3 loft tower - 933 Seymour St, The Spot. This was built by the same builder as The Space, shortly after in 1998 with slightly better building standards. These suites were also finished simply and leave plenty of room for your ideas. This building contains 187 smaller loft suites ranging from 540 sq.ft. to over 900 sq.ft. with most suites closer to 600 sq.ft. This building is located very centrally in Downtown making for easy commutes, and it is recognized for its proximity to local amenities including: great restaurants, night life, food stores, and Downtown shopping. These suites make great "City loft condos". Recent sale with more photos. See all the current lofts for sale at 933 Seymour St.